Last Updated on November 21, 2022
Here is a magnificent freebie offer for residents of The UK. You can score a free Louboutin Mascara sample completely gratis.
Louboutin Yeux Noirs Ultima Lift Mascara is a new mascara that offers extreme volume and length and natural strength to lashes. It provides a dramatic effect thanks to the unique applicator. This type of brush makes it easy to apply the product in multiple strokes and layers with no clumps or spills. Feel your lashes naturally strengthened and lifted all day long.
The Lift Ultima formula is rich with pansy extract, to condition and nourish. It is long-lasting and offers 12 hours of resistance against humidity and heat. Here is how you can score a sample for free.
How to get a free sample of Christian Louboutin Mascara?
NEW! From Facebook / Instagram – AVAILABLE
It looks like the Louboutin Les Yeux Noirs Lift Ultima & Volumaxima Mascaras freebie event at Selfridges was such a hit, that the brand decided to also offer free samples through a sponsored post on Facebook and Instagram. The good news is, for this one, there is no need to go in-store, and it is open to all residents of the UK. Not only Manchester and London residents.
There is no direct link to the form since it's on a sponsored post. But here are some tips to increase your odds of spotting the ad in your feed and applying for it.
After that, keep both eyes open while scrolling through your social feed. Here is a screenshot of the ad you should be looking out for.
NOTE: Don't forget to Click on the option that visiting Selfridges isn't convenient for you when asked. When you do that, they will simply post the sample out to your home address.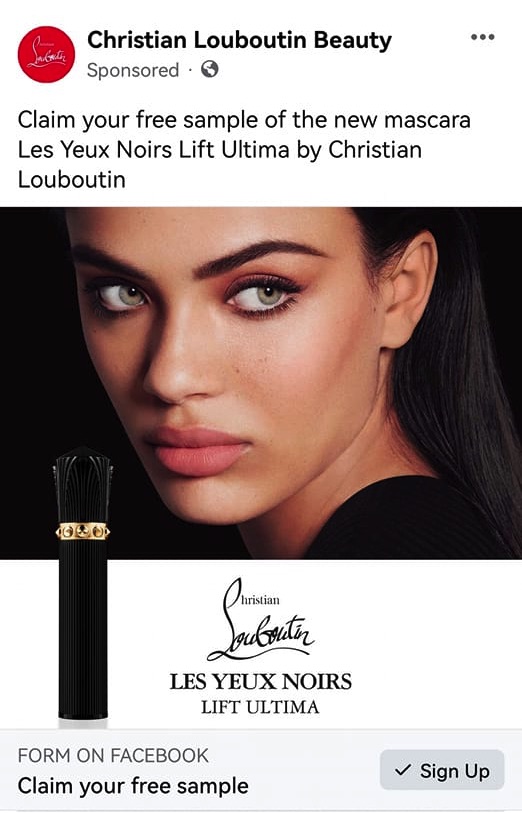 Once you see it, click on the SIGNUP button. Fill out the SoPost form and you're all set up.
As you can see, this advert is showing up to select users on Facebook and Instagram who are:
Female residents of the UK
Interacted with the Christian Louboutin Beauty page (Liked posts, etc…)
Who are aged between 25 years old and 55.
At Selfridges (London & Manchester ONLY) – AVAILABLE
Christian Louboutin is inviting you to one of their two locations to try their new Les Yeux Noirs Lift Ultima & Volumaxima Mascaras and receive a free sample of the one you like most.
This invitation was made via email to people who subscribed to their newsletter. But don't worry, you do not need any invitation or proof to claim the sample. You just need to head to one of the two participating Louboutin counters and ask for the new Yeux Noir Lift Ultima Mascara sample. The two locations are:
Selfridges London
400 Oxford St. Marylebone
+44 77 6660 2758
And
Selfridges Manchester
1 Exchange Square, Central,
Manchester M3 1BD
+44 16 1838 0547
Here is a screenshot of the invitation if you ever need it.
So don't wait any longer and go to one of the two Selfridges in London or Manchester to get your freebie. This offer is available for a limited time only or while supplies last. It's ONLY available at the two locations listed above.
No invitation, purchase, or additional fees are necessary. Just ask for it and if they still have it, you will get it. But remember to ask nicely though.
Be the first to get the latest freebies in your inbox