Last Updated on April 7, 2023
Here is a fun and creative way to celebrate Easter with your children or loved ones. The Entertainer, the popular toy store, is hosting a Free LEGO Easter Egg Make and Take event on Saturday, April 8th, from 2 pm to 4 pm. This event will be held in all The Entertainer stores across the UK, offering a fantastic opportunity for families to build memorable experiences together while creating unique LEGO Easter Eggs to take home. Here is everything you need to know.
How to participate in the LEGO Easter Egg Make and Take Event?
During the event, children will have the choice to build one of three different LEGO Easter Eggs, which they can then take home to proudly display or gift to friends and family. This event is not only an engaging way to spend time with your kids but also a chance to foster their creativity and imagination.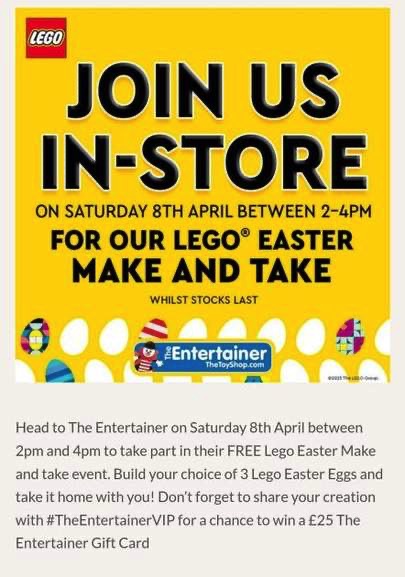 So, mark your calendar and head to your nearest participating The Entertainer store on April 8th, between 2 pm and 4 pm, for a delightful afternoon of LEGO fun.
List of participating The Entertainer Stores in the UK
Please note that this event excludes Tesco The Entertainer concessions and is only available at full-sized stores. Here is a list of participating stores:
Altrincham
Amersham
Ashford
Banbury
Barnsley
Barnstaple
Barrow-In-Furness
Basildon
Bath
Blackburn
Bournemouth
Bracknell
Bradford
Braehead
Bristol Cribbs Causeway
Bromley Lower
Burton On Trent
Cambridge
Cardiff
Broughton Park
Chesterfield
Chichester
Colchester
Corby
Cwmbran
Derby
Didcot
Doncaster
Douglas IOM
Dundee
East Kilbride
Eastleigh
Gloucester
Hartlepool
Hemel Hempstead
Horsham
Huddersfield
Hull
Ipswich
Jersey
Keynsham
Kingston Bentalls
Leamington Spa
Leeds Springs
Lincoln
Livingston
Llandudno
Merryhill
Newbury
Newport Wales
Newport IOW
Northwich
Reading
Sheffield The Moor
Glasgow Silverburn
Solihull
Southport
St Albans
Staines
Stirling
Stockport
Sutton Coldfield
Sutton Coldfield
Swansea
Telford
Truro
Uxbridge
Wakefield
Wandsworth
Warrington
West Bromwich
Whiteley
Winchester
Worcester
Wrexham
Yate
Don't miss out on this fantastic opportunity to create unforgettable Easter memories with your family.
Be the first to get the latest freebies in your inbox