Last Updated on April 4, 2022
Hurry up to score a free Lancôme Rénergie HCF Triple Serum sample in the UK while supplies last.
The Lancome Renergie H.C.F. Triple serum is a triple Active Serum with Hyaluronic Acid, Vitamin C + Niacinamide, Ferulic Acid. It promises to offer your skin its youth back from the first application!
The brand has launched a new sampling campaign on its website. You are invited to claim a free sample of the new Anti-aging Lancome Rénergie HCF Triple Serum to try out gratis.
How to get free samples of Lancôme Rénergie HCF Triple Serum by post?
NEW! Thru Facebook / Instagram – AVAILABLE!
Currently, Lancôme is giving away free samples of their Rénergie HCF Triple Serum through sponsored posts on Facebook and Instagram. This means we do not have a direct link to the form. However, there are a few actions you can complete to make the ad pop up in your social media feed and apply for it.
The actions we recommend you to do are :
Like and follow the official handles of Lancôme UK on social media (especially their Facebook page and/or Instagram account).
Engage with the brand by liking a bunch of recent posts and watching a video on their page.
Lookup the Lancôme Renergie HCF Triple Serum on the Facebook Search Bar or the internet
Please note that the sponsored post might take a couple of minutes, hours, or days to show up in your feed. So be patient and stay vigilant. Good luck. Below is a screenshot of the sponsored post you should be keeping an eye out for.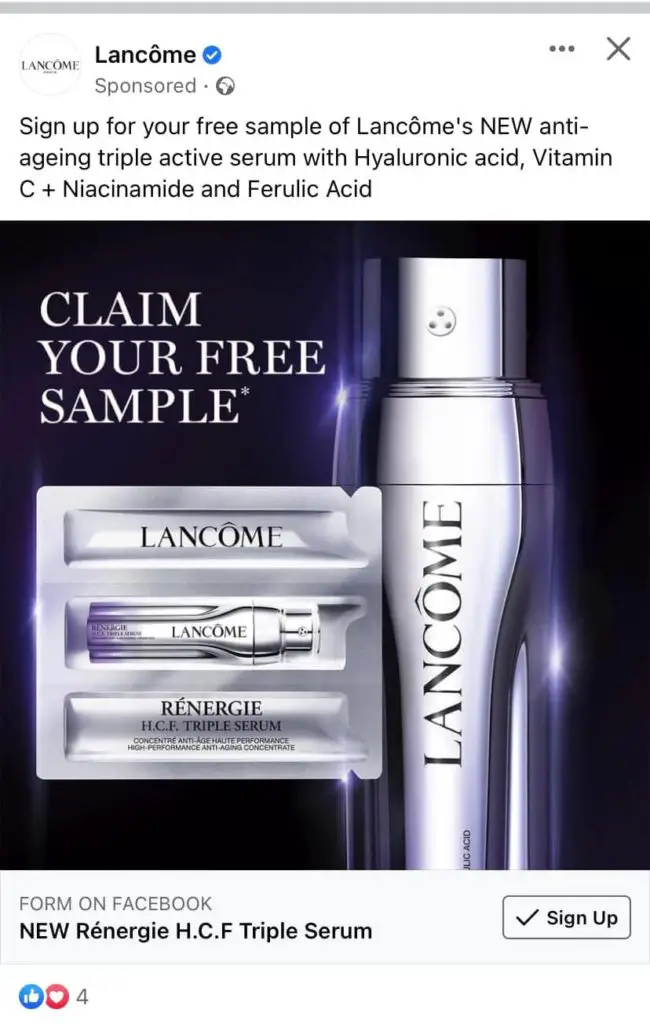 Thru Lancome.co.uk – SOLD OUT!
To get your hands on this great value freebie, simply follow this link to the offer page on Lancome.co.uk. Fill out the form present there and you're all set up. As easy as that.
Please note that there are 50,000 free samples available for 7 days. Each day, there will be 7,143 samples available per day until March 7, 2022. So if it says sold out when you check the link, you can always retry tomorrow. But do it as early as possible.
This offer is available for a short period of time only or whilst supplies last.
Open to all residents of the UK.
Please note that Lancôme is currently hosting several sampling offers for the HCF Triple serum in multiple countries. You can check them out all here if you are not a UK resident. If you are a UK citizen, then this is the page for your country.
Be the first to get the latest freebies in your inbox