Last Updated on June 22, 2022
Be quick to receive a free La Roche Posay Serum sample by post while supplies last.
LRP is giving away free samples of their iconic Vitamin C Serum to select UK Residents. Find out how to get one gratis.
The La Roche Posay Vitamin C serum is a potent concentrate that can help reduce the skin's age spots, blemishes, and hyperpigmentation. Vitamin C has powerful antioxidant properties which protect against free radicals and prevent premature signs of aging.
How to get a free sample of La Roche Posay Vitamin C Serum?
The brand is hosting this sampling offer on Facebook and Instagram. So there is no direct link but a sponsored post. Follow the instructions below to increase your odds of getting this sponsored post to pop up in your social feed.
Follow La Roche Posay page on Facebook and Instagram

Interact with their page on social media – Like, comment, or watch recent videos or stories shared

Search La Roche Posay Vitamin C Serum on the internet and/or the Facebook Search Bar
As you can see in the screenshots below, that's what the sponsored post looks like and the targeting details. Meaning who this sponsored post is showing up to on Facebook. I hope this makes it easier for you to score this freebie.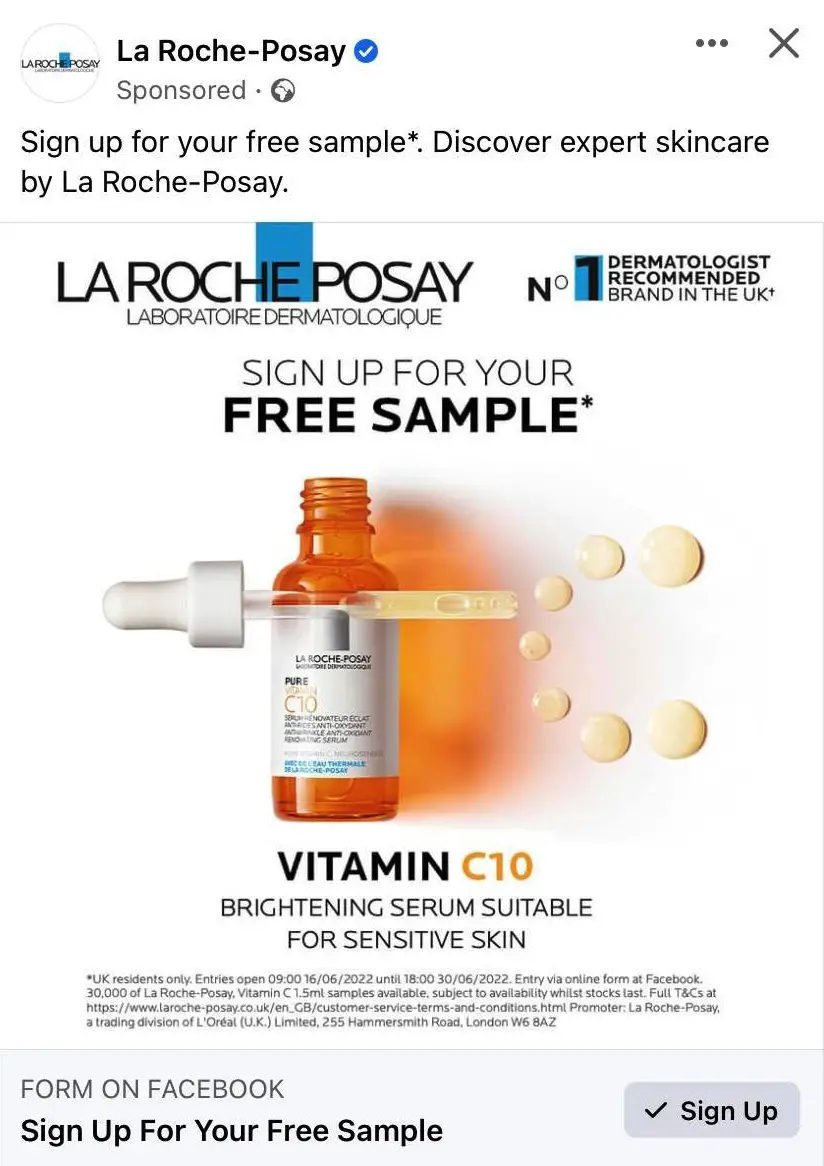 To sum it up, this advert with a free sample of La Roche Posay Vitamin C10 Serum is showing up to residents of the UK, who set their age on Facebook between 18 and 55 years old. And who have shown interest in Beauty and Personal Care.
Be the first to get the latest freebies in your inbox