Last Updated on October 20, 2022
Score a free Kiehl's Ultra Facial Cream sample to try out.
Kiehl's is giving away free samples of their Ultra Facial Cream, which is their #1 best-selling deeply moisturising cream. It offers up to 24-hour lasting hydration. Claim a sample by post to try this product for yourself.
How to get a free sample of Kiehl's Ultra Facial Cream by post?
NEW! Amid Magazine page – AVAILABLE
There is a new sponsored advert on a specific page of Women's Health Magazine offering you a free sample of Kiehl's Ulta Facial Cream. To get it, CLICK HERE to go to the page. Accept cookies and scroll up and down until you find it. If it doesn't show up on the first try, you can try using a new browser or incognito mode.
NOTE: Some users also got it from this page on Good Housekeeping Magazine. Try it as well.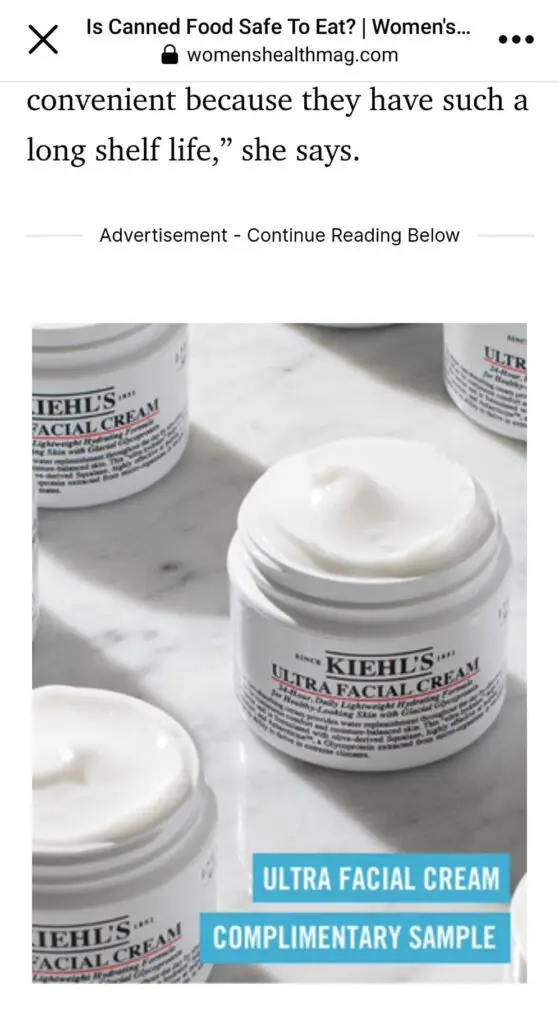 Thru Facebook / Instagram – SOLD OUT!
The brand is offering these samples through a sponsored post on Facebook and Instagram. So there is no direct link to the offer. However, you can complete a few actions to hopefully have the advert pop up in your social feed. I suggest :
Once done, keep scrolling your social feed until you spot the post with the button to the sample request form. Below is a screenshot of what it looks like.
Once you spot it, hit the button to access the SoPost request form.
Please note that confirmation emails could take a while to receive but they eventually do.
Stay in the loop for further details or a possible direct link.
Available for UK residents while supplies last.
Be the first to get the latest freebies in your inbox