Last Updated on October 17, 2023
Do you like Kiehl's products? Don't miss out on this new offer to get your hands on a free Kiehls serum sample.
Kiehl's launched a new serum: the Kiehls Retinol Skin Renewing Daily Microdose Serum. And for a limited time, you can try it for free.
Read on to find out all the available offers and how to get your freebie.
How to get a free Kiehls Retinol Serum sample?
From Facebook / Instagram – Available
There is a new sponsored post ongoing on Facebook and Instagram for select UK residents. Spot the post to sign up for a free sample of Kiehls Retinol Skin Renewing Daily Microdose Serum. To increase your odds of seeing the post while scrolling through your Facebook or Instagram social feed, I invite you to follow the steps below.
Like and follow Kiehl's page on Facebook and/ Or Instagram
Engage with the brand by liking recent posts or watching a video they have shared
Keep an eye out for this sponsored post to pop up in your feed right after. That's where the form is at.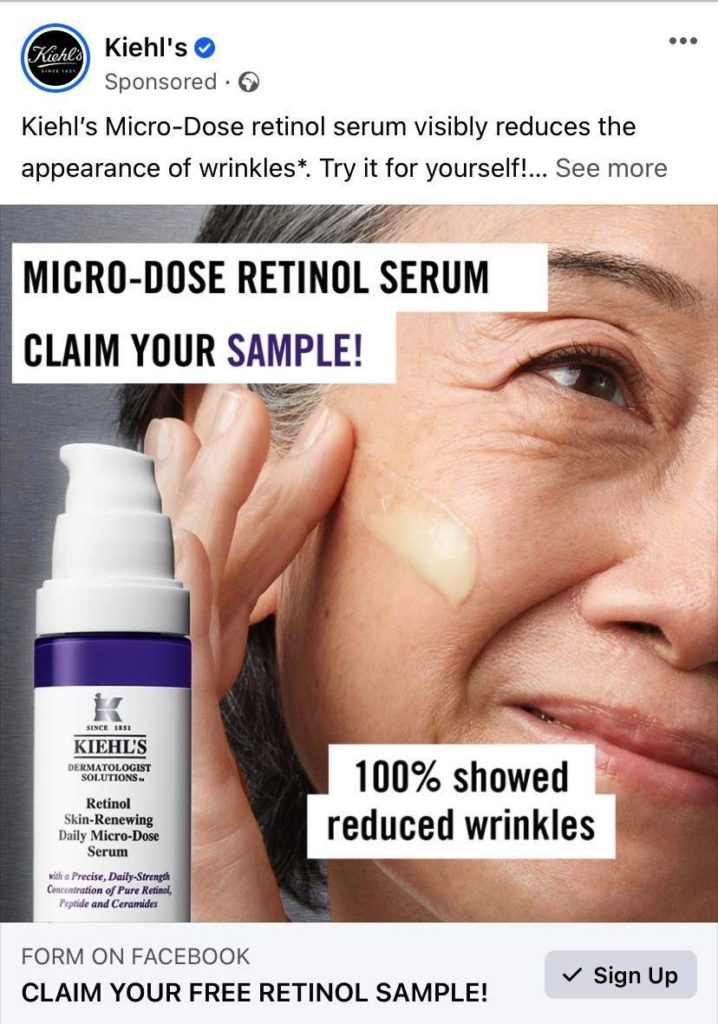 And this offer is also available on TikTok as a sponsored ad. You can follow the brand there and use the search bar to look up Kiehl's Micro Dose Serum and wait for the advert to pop up in your feed.
Here is what it looks like: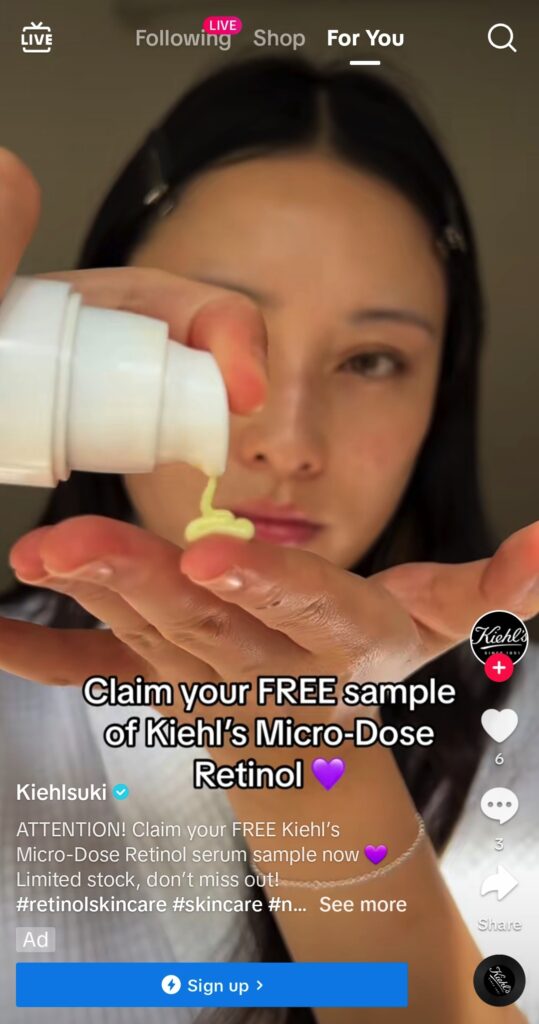 Direct Link to Odore form
Hurry up to score a free sample of Kiehl's Retinol Serum through a direct link to the Odore form. CLICK HERE to go to the form and simply complete it with the required details.
IMPORTANT: If it says you do not have access to this link, just keep trying or change your browser etc… You can also try to copy paste the following link directly into your browser https://app.odore.com/api/v1/link/campaign/6f45d6ca-109a-4b30-96a8-fd293054d559/ui/
In-store at Kiehls counters – SOLD OUT
Kiehl's UK announced on social media the launch of the new Retinol serum and invited people to claim a free deluxe sample in participating Kiehl's stores across the United Kingdom. Click here to see the post by Kiehls UK.
This is an in-store freebie. Which means simply head over to the nearest Kiehls counter and simply ask about the new serum and mention the sampling campaign.
This offer is open to all residents of the United Kingdom at Kiehl's stores. There are 7000 samples available. The sampling campaign ends on August 23, 2023 or when the total quantity of samples have been claimed.
The Kiehl's Retinol Skin Renewing Daily Microdose Serum is an advanced retinol serum that helps to minimize the look of lines, wrinkles, and uneven skin tone. It also helps to reduce the size of pores, minimizing oily shine.
This Kiehls Serum will give your skin the daily dose of retinol, peptides, and ceramides it needs in one application. So hurry up to a store near you to nab this freebie before they run out of supplies.
Be the first to get the latest freebies in your inbox