Last Updated on January 31, 2023
Hurry up to claim a free Juicy Couture Perfume sample in the UK while supplies last.
Juicy Couture is giving away free samples of Viva La Juicy Perfume to UK residents. Here is how you can score one.
Juicy Couture Viva La Juicy perfume is the newest release from the timeless line that started it all. This new fragrance provides a refreshing burst of fruity, floral notes that will be perfect for anyone's day. From the moment you apply it in the morning, you'll start to notice your mood lighten and your spirits rise.
How to get a free sample of Juicy Couture Viva La Juicy Fragrance?
NEW! On TikTok – AVAILABLE
There is a new sponsored reel on TikTok offering select users a free sample of Juicy Couture Perfume. You can get one if you manage to make the sponsored post show up in your feed. I suggest you follow the steps below to increase your chances.
Like and Follow the Juicy Couture account on TikTok
Interact with the brand by liking their recent posts, leaving comments, etc…
Use the TikTok Search Bar to look for the Juicy Couture Fragrance
Once done, keep an eye out for sponsored reels coming on your social feed. Here is a screenshot of the ones you should be looking out for.
From Facebook / Instagram
The brand is offering these samples to select UK residents through a sponsored post on Facebook and Instagram. So, to get one, you need to complete a few actions. Hopefully, the sponsored post will pop up in your social feed right after. Thus, be able to access the SoPost request form and score your sample.
The actions I recommend you follow are:
Like and follow the Juicy Couture UK page on Facebook
Engage with the brand on social media by liking a couple of recent posts, leaving a comment, etc…
Look up the Juicy Couture Viva La Juicy perfume on the internet or Facebook search bar
After that, keep an eye out while scrolling your social feed. Below is a snapshot I took of the post you should be on the lookout for.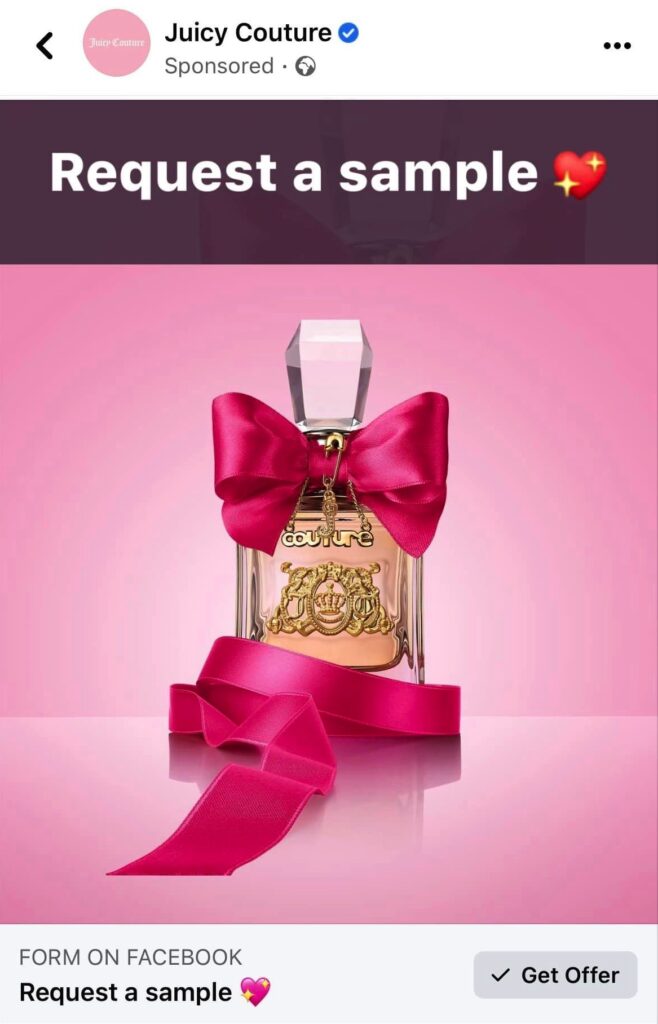 Once you spot this post, click on the 'SIGN UP' button to access the SoPost form. As simple as that.
As you can see in the advert targeting criteria below, this post is showing up to female residents of the UK who:
Aged between 18 and 30 years old,
Shown Interest in Fragrances, Beauty, Beyoncé and/or Kim Kardashian
Stay tuned for updates or a possible direct link to the SoPost form.
Good luck.
Be the first to get the latest freebies in your inbox