Last Updated on September 18, 2023
Dive into a new olfactory adventure with a free Jean Paul Gaultier Divine sample.
Jean Paul Gaultier introduces its latest women's perfume – Gaultier Divine. And what's even more enticing? For a limited time, you can immerse yourself in this enchanting Amber Floral scent through a complimentary sample.
Gaultier Divine Fragrance is an ode to the modern woman—bold, confident, and unapologetically herself. Every spritz unveils layers of aromatic notes that are bound to captivate your senses and leave an unforgettable impression on those you encounter. Curiosity piqued? Here is how to claim your sample.
How to claim a free sample of Jean Paul Gaultier Divine Fragrance?
NEW! From Boots sampling – AVAILABLE
Hurry up to claim a free sample from Boots Sampling. To get one:
Fill out the form with the required details
Available for a limited time only or while supplies last.
From Facebook / Instagram
Jean Paul Gaultier is currently offering free samples to those eager to be among the first to try this sensational scent through a sponsored post on Facebook and Instagram. So, to order a sample you need to spot the ad and fill out the request form. Here are some tips and tricks to help you find it:
Like and Follow the Jean Paul Gaultier page on Facebook and Instagram account
Engage with their posts by liking, commenting, or sharing their recent posts
Search for the new Jean Paul Gaultier Divine Perfume on the Facebook or Instagram Search Bar or the internet
After that, keep an eye out on your social feed. Here is a screenshot of what the sponsored post looks like: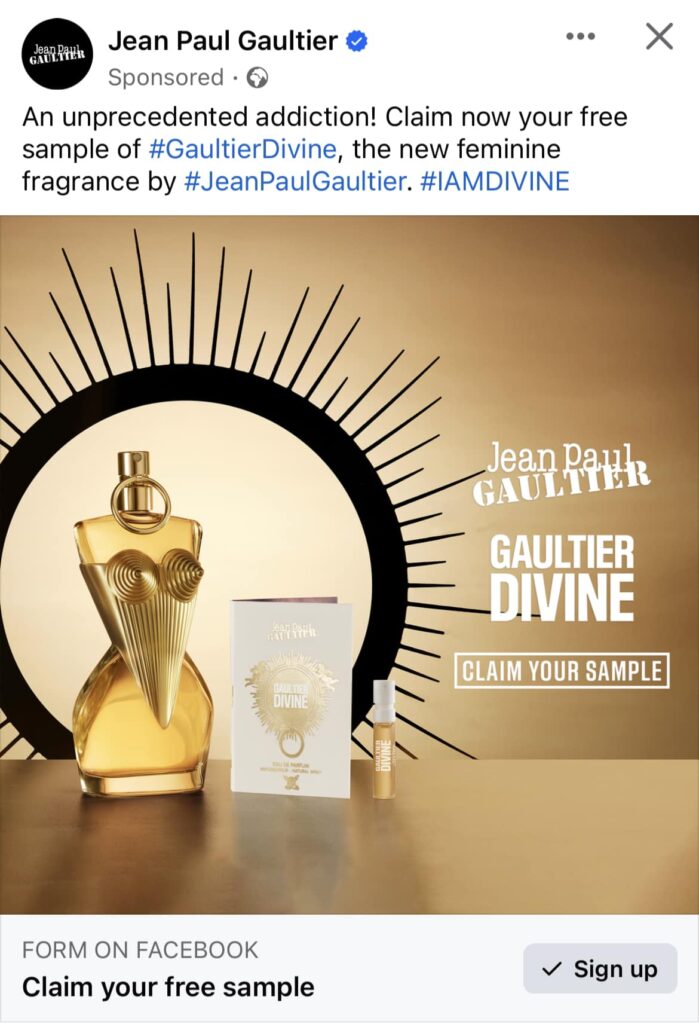 Once you find it, click on the 'SIGN UP' button and fill out the form to receive your freebie by post.
But hurry, as offers like these are highly sought-after and won't last long!
Currently showing up to select UK residents on Facebook and Instagram. So act fast to seize this exclusive chance to decide if this fragrance aligns with your personal style without spending any money at all.
On TikTok – AVAILABLE
This freebie is also available on TikTok as a sponsored post. To get a sample, proceed as usual :
Search and follow the Jean Paul Gaultier account on TikTok
Show interest by engaging with their content: watch and like recent reels, etc…
Use the search bar to look up the Jean Paul Gaultier Divine Eau de Parfum and check out the results for any ads
Here is what it looks like
Once you see it, click on the button and fill out the form.
Good luck.
Be the first to get the latest freebies in your inbox