Last Updated on January 17, 2023
For a limited time, you can claim a free Hellmann's Vegan Mayonnaise sample to try out in the UK.
Hellmann's has launched a new variety of its legendary mayo to appeal to Vegan consumers. Now, you can get your hands on a free sample of Hellmann's new Vegan Mayonnaise. It tastes quite like the regular one, but it's made without egg yolks or any other animal products. A vegan mayo that's so downright delicious it'll be love at first taste. Creamy and bursting with flavour, there's never been a vegan condiment like it – this is the only dip for your chips, and the only dollop for your burgers. Hellmann's Vegan Mayo is maybe the best mayo ever.
Hellmann's Mayonnaise has an excellent unchanged taste and matches the needs of many people. You can use Hellmann's mayo for cooking or at a table as a side. Grab your free sample to try out before the offer expires.
How to get a free sample of Hellmann's Vegan Mayonnaise in the UK?
NEW! From SoPost Link – AVAILABLE
UPDATE: I found a direct link to the SoPost form. To get your sample, CLICK HERE and fill out the form. X
From Facebook / Instagram
To score a Hellmanns Vegan Mayo sample, I invite you to follow the steps below.
The brand is offering this freebie through a sponsored ad doing rounds on Facebook and Instagram. So to get one, you need to complete the steps below to be able to see the post in your social feed. I suggest :
Once done, you just need to keep an eye out while scrolling through your social feed. Hopefully, you will be able to spot the sponsored post that contains the SoPost form to request this sample. Below is a snapshot of the post you should be looking out for.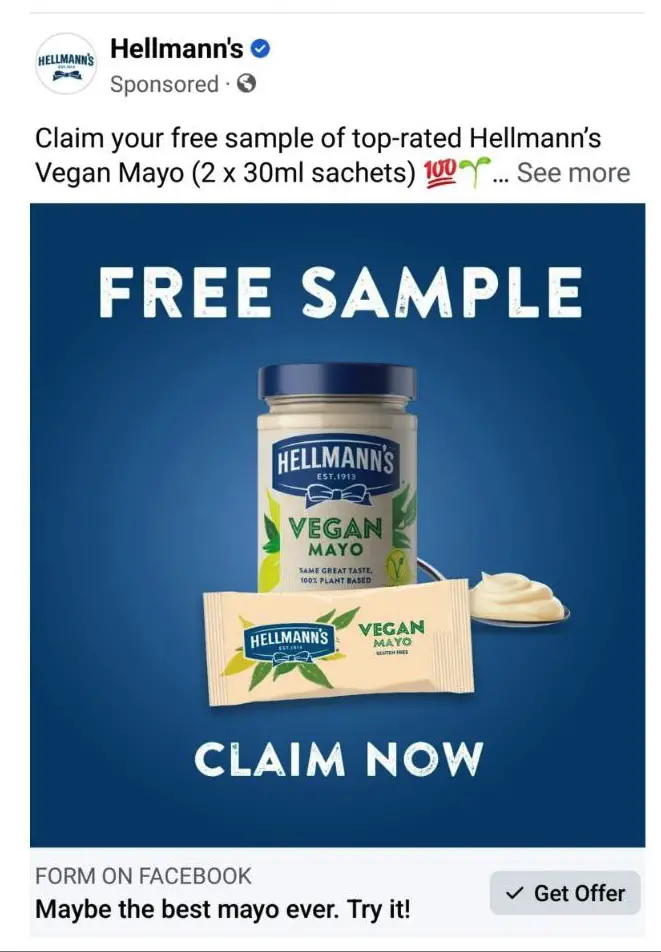 When you see the ad, just click on the 'Get Offer' button to get to the SoPost form you need to complete in order to receive 2x30ml sachets of Hellmann's Vegan Mayonnaise by post.
UPDATE: This is currently available to residents of the UK who are aged 18 and older, and who visited Hellmann's Website as you can read in the snapshot below.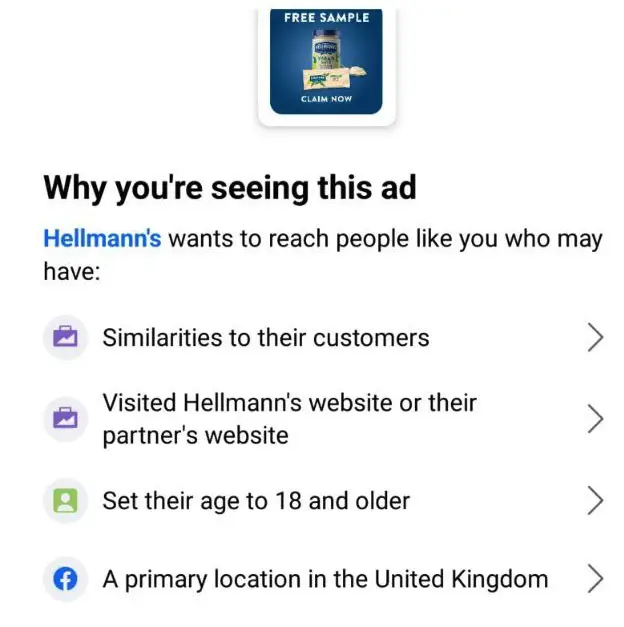 Stay tuned for more updates and a possible direct link.
Good luck.
Be the first to get the latest freebies in your inbox