Last Updated on February 16, 2021
Yves Saint Laurent is offering Free Yves Saint Laurent Libre sample perfume to receive by mail. Hurry up to claim your perfume freebie with YSL while the supplies last.
Keep an eye for this article for regular updates whenever this perfume freebie is available in the UK.
How to receive Free Yves Saint Laurent Libre Eau De Parfum sample by mail?
To get going and order your Free Yves Saint Laurent Libre perfume samples and receive them by mail within the UK, we invite you to follow this guide below.
As of February 16th, 2021 a new pop-up is LIVE on Facebook by YSL Beauty. The brand is reaching out to females (aged 25 to 55), who are interested in Fragrances and already watched a video on the YSL Beauty Facebook page. You know what to do!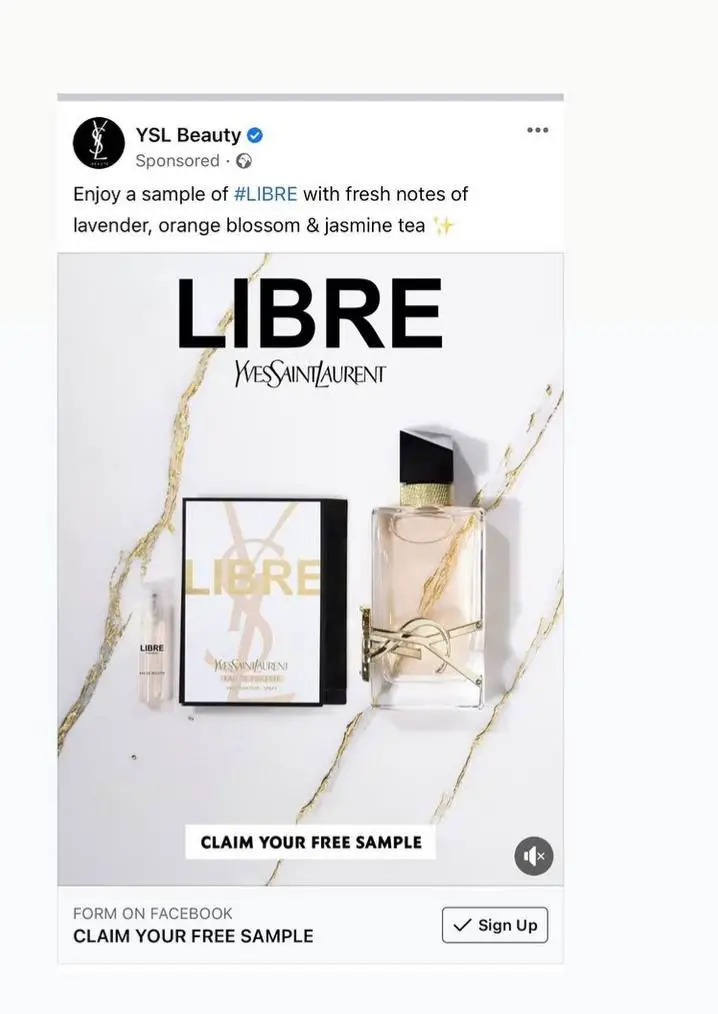 Once it shows up on your feed you can pop up your valid details and address to get your freebie by regular post.
More free perfume samples in the UK? Check out our listing updated daily with new perfumes freebies.
Previous updates on YSL Libre Perfume samples in the UK
UPDATE 7th of December 2020: new advert has been spotted on Facebook. Keep an eye for your social media feed to claim your FREE YSL Parfum sample. You don't know how? Here's the steps to follow.
This offer is currently running on the SoPost sampling platform. Which means it will only last for a day or so. (expired)
The Yves Saint Laurent Libre sampling offer is for UK residents ONLY.
UPDATE: The samples are now offered through a sponsored Facebook ad to UK residents.
To get yours, just hurry up to like and engage with the YSL Beauty page on Facebook to make the ad pop up in your feed then apply for it. The ad looks like the picture below (among other creatives)
We hope you get it :)
UPDATE October 21, 2020: The samples are now being offered by ELLE Magazine, you can hit the button at the bottom of this text, and look for the advert offering you the samples on ELLE Magazine. (see picture above)
UPDATE 23rd, 2020: New SoPost spotted on Pinterest this morning for a FREE YSL Libre perfume. Click here or hit the "Get this free sample" icon button to access it.
UPDATE October 25th, 2020: Available through a sponsored advert on Cosmopolitan magazine. Click here or on the button below to get it.
UPDATE November 4th, 2020: new link available. Look for a sponsored advert on this Elle magazine page. May work better with laptops than mobile devices. Click here or follow the link below to get yours.