Last Updated on March 7, 2023
Yves Saint Laurent is offering Free Yves Saint Laurent Libre sample perfume to receive by mail. Hurry up to claim your perfume freebie with YSL while the supplies last.
Keep an eye out for this article for regular updates whenever this perfume freebie is available in the UK.
How to receive free Yves Saint Laurent Libre Eau De Parfum sample by mail?
To get going and order your free YSL Libre perfume samples and receive them by mail within the UK, we invite you to follow this guide below.
Amid Magazine page – AVAILABLE
There is a new sponsored post amid an article in Cosmopolitan Magazine offering free samples of YSL Libre Fragrance. It's showing up to select people among other perfume samples. You can follow this link here to the page. Scroll up and down until you see the post, click on it, and fill out the Odoore form.
Please note that this is showing up for select UK residents only. Try using your smartphone or your laptop.
Thru Odore Direct Link – AVAILABLE
Besides getting the YSL Libre perfume sample from the sponsored advert on Facebook and Instagram, you can go directly for the direct link to the Odore form by CLICKING HERE.
If it says you do not have access to this link, you can try to copy paste the link below directly into your browser.
https://app.odore.com/api/v1/link/campaign/abad4bbf-4f39-49f0-a5f5-ce5f3fd8315e/ui/
NOTE: If it says the campaign is paused, simply retry later. Sometimes they pause it.
YSL Libre sample thru Facebook / Instagram – AVAILABLE
A new pop-up is LIVE on Facebook by YSL Beauty. The brand is giving away free samples of the new YSL Libre Fragrance to select UK residents.
There is no direct link as of now, but what you can do is follow YSL Beauty and engage with the brand by liking a couple of recent posts or watching a video they shared.
The ad looks like the snapshot below.
Will update you with further details as soon as I know more, or I find a SoPost direct link to the form.
Once it shows up on your feed you can pop up your valid details and address to get your freebie by regular post.
UPDATE: It looks like the brand is trying to reach female residents of the United Kingdom, who are aged 25 to 55.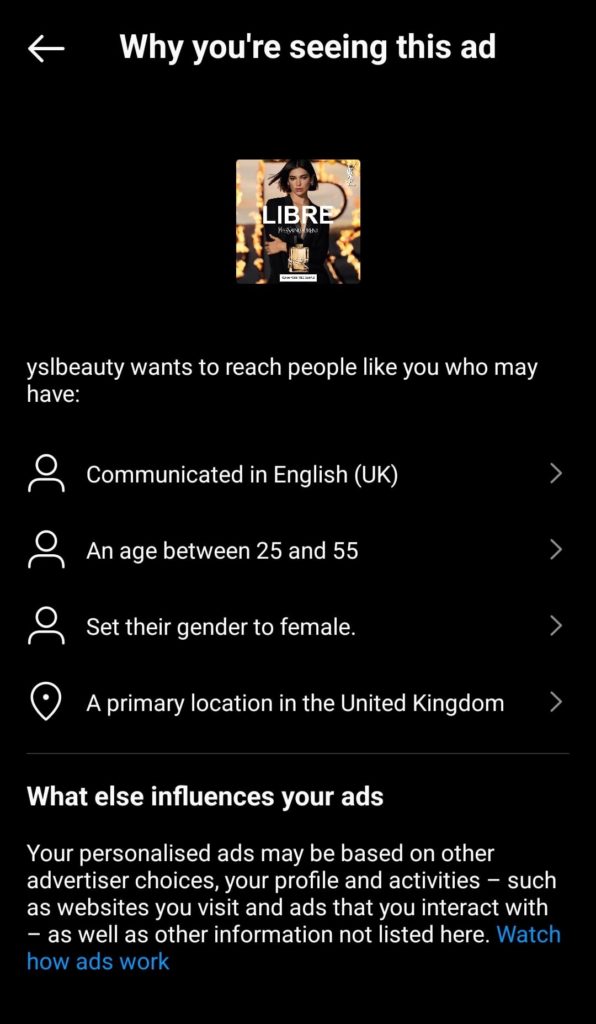 More free perfume samples in the UK? Check out our listing updated daily with new perfumes freebies.
Previous updates on YSL Libre samples in the UK
From Send Me A Sample
Send Me A Sample is now giving away 10,000 free samples of YSL Libre Eau de Parfum. If you are already a member, then you can get yours by simply saying to your voice assistant (Alexa or Google Assistant) "Ask Send Me A Sample For YSL Libre". If you are not a member yet, you need to create a free account to claim this freebie and many others.
Click here to go to YSL Libre sample offer on Send Me A Sample.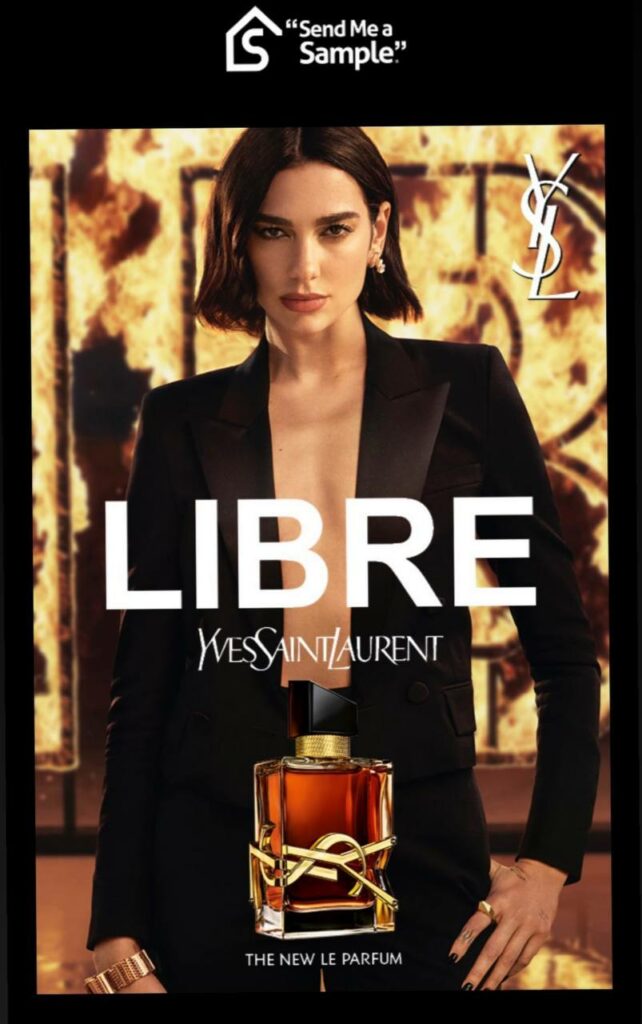 Might not be working anymore but there is also a sponsored ad currently on Facebook and Instagram. Read below how to get the sample through Social media.
From Boots – SOLD OUT!
Boots is giving away 2 free samples of YSL Libre Fragrance for Mother's Day. To get yours, simply go to the offer page by clicking here and fill out the form.
Hurry up. The quantities are limited so this going to go out of stock real quick.
10,000 free samples available for residents of the UK only.
We hope you get it :)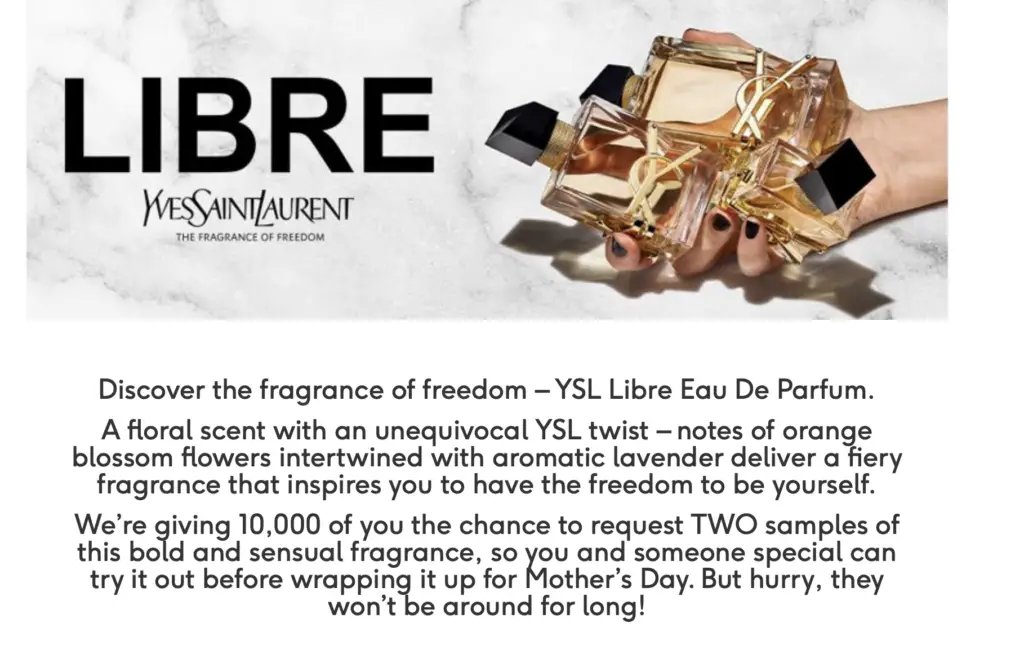 At your Local Boots on November 13 & 14, 2021 – EXPIRED!
This weekend ONLY (13 & 14 of November 2021), you can head to your local Boots store and to the YSL counter to claim free samples of their best-selling fragrances, including Libre Eau De Parfum, Black Opium or Y for men.
No voucher or purchase is required. Just ask and you will get your free bag of YSL perfume samples. You can screenshot the email below in case you need to show it.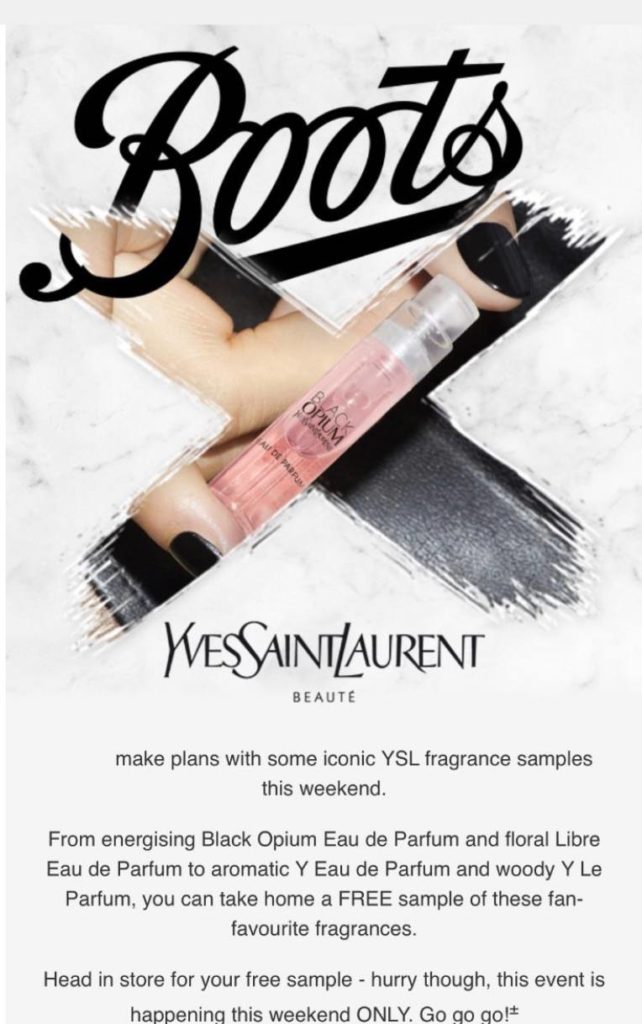 Be the first to get the latest freebies in your inbox