Last Updated on September 16, 2020
Shiseido has a new sampling opportunity going on for UK residents. You are invited to claim and receive FREE Shiseido Benefiance wrinkle smoothing cream samples by mail.
The Shiseido Benefiance wrinkle smoothing cream will help you get rid of anti-aging signs and blur wrinkles from the first use. Want to confirm it yourself? Order your free samples!
How to get FREE Shiseido Benefiance Cream samples by mail?
Please note that this freebie is currently ongoing and samples of Shiseido Benefiance Cream are offered through a sponsored Facebook/Instagram ad. Which means, there is no direct link to the ad. You have to complete a few actions to make it show on your social media feed, then sign up to receive the samples.
The actions we suggest you complete are :
Like and follow Shiseido UK on Facebook and Instagram
Like and engage with their social media content
Go visit their website
Make a quick google search about the Shiseido Benefiance wrinkle smoothing cream
You can click on the "Get this free sample" button at the bottom of this page to be redirected to their Facebook page and start from there.
Once you complete these actions, just keep scrolling your social media feed as usual and keep an eye for ads. Once you see the one offering Shiseido Benefiance wrinkle smoothing cream samples (see picture below)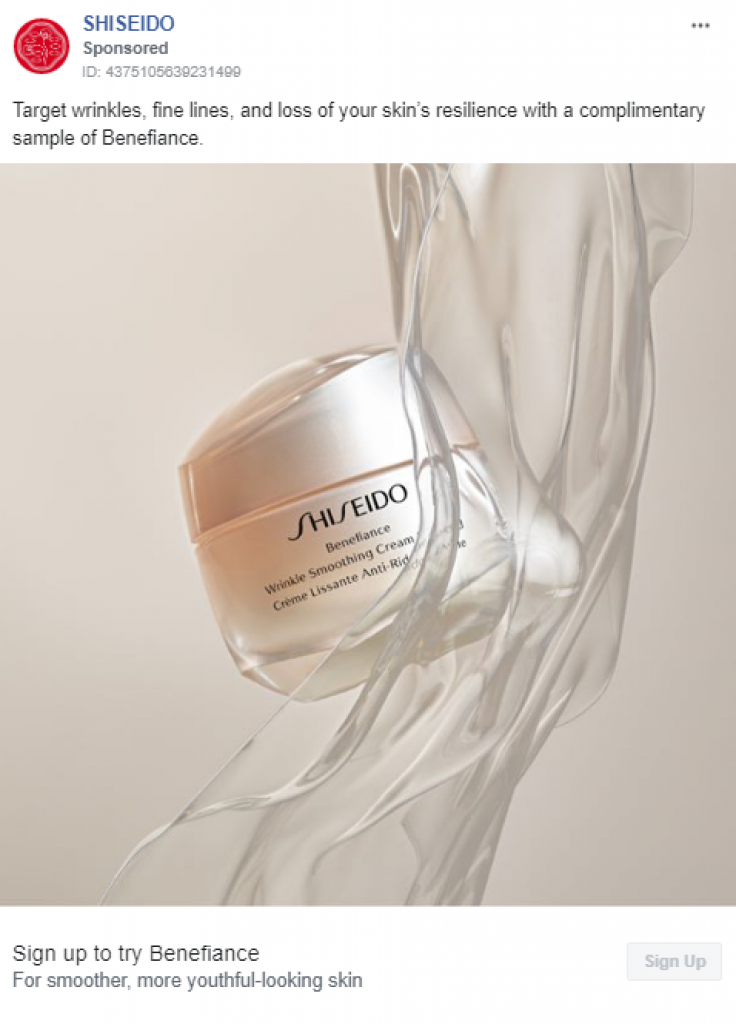 Click on the signup button and complete the facebook form with your valid shipping details to receive your free stuff by post.
This sampling opportunity is targeting residents of the UK ONLY!
Be the first to get the latest freebies in your inbox