Last Updated on September 11, 2023
Want some free Viktor&Rolf Perfume samples in the UK? Don't miss out on any new sampling offers. Below is your guide to getting free Viktor & Rolf Flowerbomb Perfume samples by post to your home address at no cost.
Be as quick as a flash to seize this opportunity and to get yourself a new perfume to try it out for free. The procedure to claim these free Viktor & Rolf fragrance samples is quite simple. All you need to do is read and follow the instructions.
Stay tuned for updates.
How to receive free samples of Viktor & Rolf Perfume?
Viktor&Rolf Flowebomb Fragrance
NEW! Odore Direct Link to form – AVAILABLE
UPDATE: The direct link doesn't work, but you can try getting it directly from my Instagram Story here. Also, consider following us on Instagram to be the first to know of the latest freebie available.
A Direct Odore Link is now available for this freebie. CLICK HERE and fill out the form before they run out of stock.
NOTE : If it says You Don't Have Access to This Link, you can try to copy-paste the link below directly onto your browser.
https://getmefreesamples.com/ViktorAndRolf-Flowerbomb-Odore-sample
Be quick to get one. Good luck.
Thru Facebook and Instagram
Viktor & Rolf has unveiled a new version of their iconic Flowerbomb perfume – Ruby Orchid. For a limited time, the brand is giving away free samples of Viktor & Rolf Flowerbomb Ruby Orchid perfume to select residents of the UK. The freebies are available through a sponsored post doing rounds on Facebook and Instagram.
If you want to receive Free Samples of Viktor & Rolf Flowerbomb Perfume by post, all you must do is follow the step-by-step guide below.
The Viktor & Rolf Flower Bomb Perfume samples are available for UK residents through a sponsored advert. This means it's for select Facebook users only. To try and snag it, I suggest you:
Engage with the brand by liking a couple of recent posts, or watching a video or story they shared
Look up the perfume on their website
These actions will help align you with the targeting criteria of the sponsored post. Once it shows just click the signup button and pop up your details in there to get your freebies.
Stay tuned for more free perfume samples and freebies by mail :)
As you can see below in the advert details, the post is showing up to select users who match these criteria:
Residents of the UK who are aged between 18 and 54 years old,
Shown interest in Beauty, Fitness, Wellness, and more…
Engaged Shoppers
From Marie Claire Beauty Drawer
Marie Claire Beauty Drawer platform is giving away free samples of Viktor&Rolf Perfume to select registered members who matched with the product based on their beauty profile.
You are already a member of the Marie Claire Beauty Drawer? Check your inbox for emails from them because that's where you will find the link to claim the freebie you got. Below is what the email looks like.
NOTE: Please note that some members didn't get the email. However, when they logged in to their Marie Claire Beauty Drawer account, they found the products to claim on their dashboard. So try checking your dashboard as well.
If you are not a member yet, you can sign up right now so you won't miss out on future offers. And who knows, you could get these too. You can sign up at beautydrawer.marieclaire.co.uk. It's free and easy.
Available for select UK residents who are members of the Marie Claire Beauty Community.
Check out this list for more free samples with Marie Claire.
From TikTok
There is a new sponsored post on TikTok offering free samples of Flowerbomb perfume by Viktor & Rolf. There is no direct link to it, but you can complete the instructions below and keep an eye on your TikTok feed for the advert to show up.
Go to the Viktor&Rolf Fragrances TikTok account and follow them
Like their recent publications and watch their videos
Search for the Viktor and Rolf Flowerbomb Fragrance on TikTok and the internet
After that, keep an eye out while scrolling through your feed. Here is what the sponsored video with the link to claim the sample looks like.
UPDATE: I managed to copy the link for the sponsored post, but the button to claim it is only available when you get it as a sponsored post yourself. So try to like the post and maybe comment to increase your odds of seeing it as sponsored. Good luck.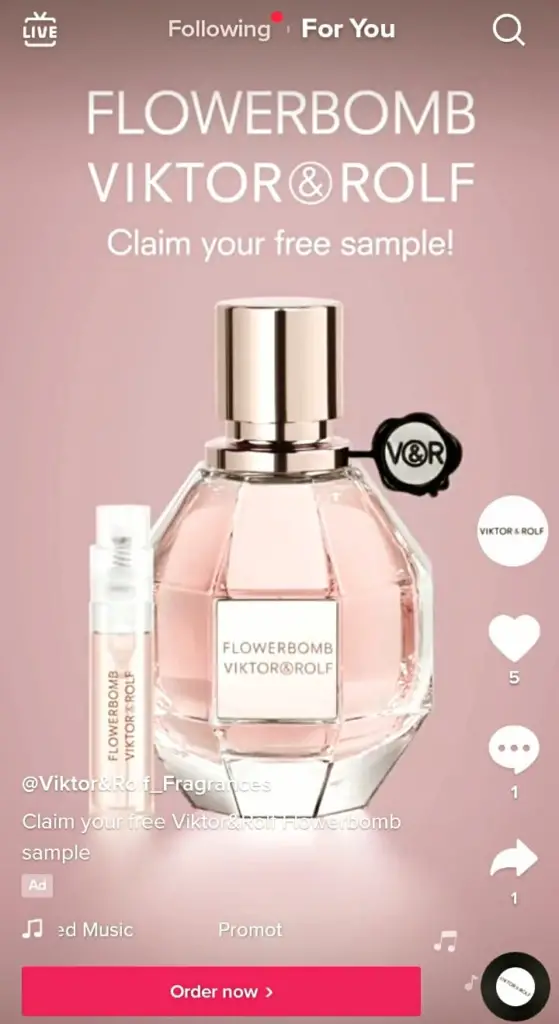 You can also check out this page for all the current free samples you can get on TikTok.
Good luck.
IMPORTANT: I have joined TikTok to spot as many freebies and free samples to share with you. You can follow me on TikTok now to stay up-to-date and informed about the latest offers.
Thru John Lewis Website – SOLD OUT!
Hurry up to claim a free sample of Viktor&Rolf Flowerbomb with John Lewis. To get one, follow this link and click on the 'CLAIM SAMPLE' button to see a SoPost form. Complete it and check for the confirmation email.
There are 3 other perfume samples right now with John Lewis. Check them out here.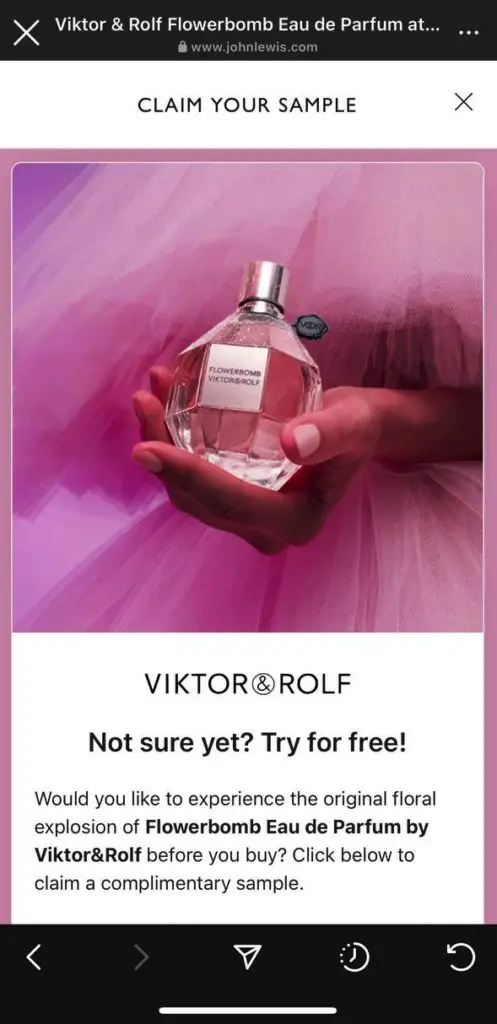 From Boots – SOLD OUT!

Hurry up! Boots UK has launched a new perfume freebie offer for residents of the UK. Be as quick as lightning to snag a free sample of Viktor&Rolf Flowerbomb fragrance. To get one, simply follow this link to the form and complete it with the required info.
Available for a short period of time only or while supplies last.
10,000 samples are available. GO!
Viktor&Rolf Spicebomb Fragrance
Thru Odore Link – SOLD OUT!
Don't miss out on this new offer to get one of 10,000 free samples of Viktor&Rolf Spicebomb perfume in the UK. Follow this link to the offer page and simply fill out the form to get your freebie in the mail.
Available for a limited time only or while supplies last.
Meet your latest addiction, Spicebomb Eau de Toilette, Viktor&Rolf's explosive fragrance for men. A weapon of mass seduction, pull the trigger to encounter a highly addictive scent. Brace yourself for the strong sensory contrasts and be engulfed by the balmy, woody Vetiver trail.
Be the first to get the latest freebies in your inbox