Last Updated on January 12, 2021
Viktor&Rolf shared a post on their official Facebook page stating that they are handing out FREE Samples of their Flowerbomb Dew and Flowerbomb Classic Perfume to receive by mail to your home address.
Be as quick as a flash to seize this opportunity and to get yourself a new perfume to try it out for free. The procedure to claim this free Viktor & Rolf fragrance samples is quite simple.
How to receive FREE Samples of Viktor & Rolf Flowerbomb Perfume?
If you want to receive FREE Samples of Viktor & Rolf Flowerbomb Dew or Classic Perfume by mail, all you must do is follow our step-by-step guide explained below.
Update 12th January 2021 : new sampling offer for UK resident is currently ongoing thru a sponsored advert on Facebook. Which means it's for select facebook user only. To try and snag it, like and follow the Viktor&Rolf Fragrances page on Facebook. Keep an eye for the advert below to pop up in your social media feed to sign up for a sample.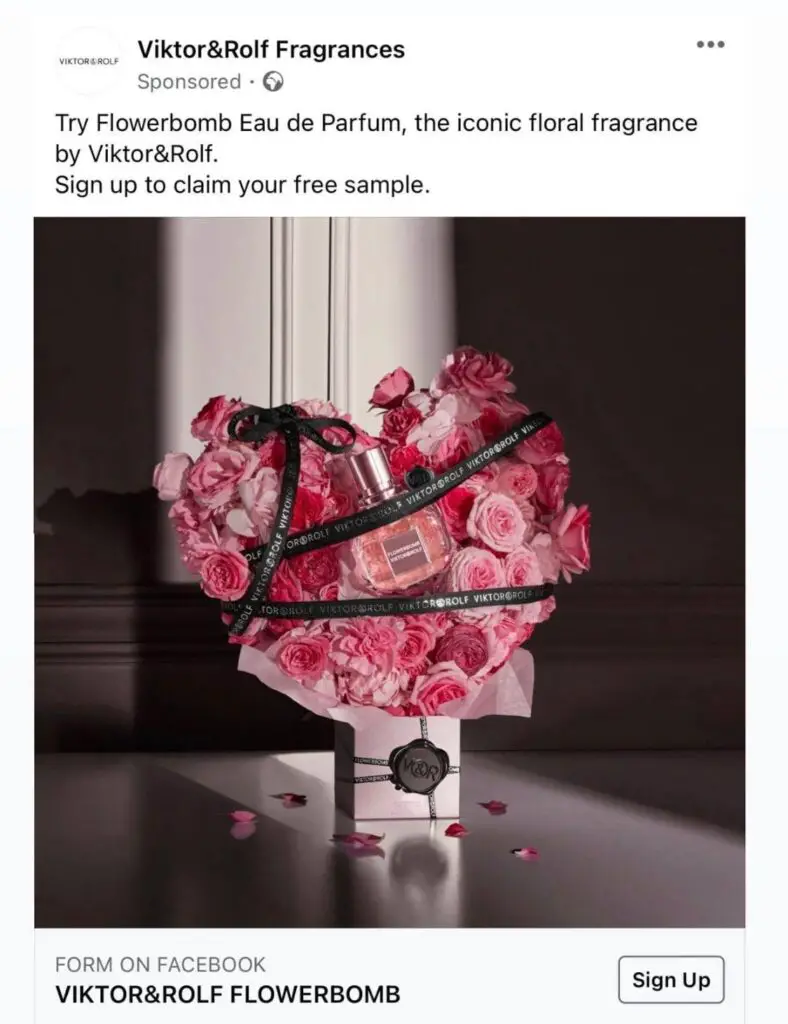 [expired] ]Start by clicking on the link below to be redirected to this freebie announcement post on the Viktor & Rolf page. You should be able to see a "Sign up" button below the post. Click on it and the online request form will appear.
Complete the said form with your valid shipping info and personal details. And wait for your free samples to be shipped to your doorsteps.!
The samples to be sent comes in a 1.2mL perfume vial.
You can also help us by sharing this promotion with your friends and family on your social media.
Stay tuned for more free perfume samples and freebies by mail :)
UPDATE 14th Oct. 2020: UK residents can now claim a free sample of Viktor&Rolf Flowerbomb Dew or Classic Eau de Parfum through a SoPost link. Valid while supplies last
UPDATE 6th Nov. 2020: new samples of Viktor & Rolf Flower Bomb Perfume are available for UK residents through a sponsored advert. Like the page, Google the samples offered to make it pop up in your feed. Once it shows just click the signup button and pop up your details in there to get your freebies.