Last Updated on March 14, 2023
Here's a second opportunity offered to you by Yves Saint Laurent. Seize it today to get free YSL All Hours Foundation samples by post.
This pretty miraculous foundation by YSL is perfect for oily skin because it offers a perfect matte finish and helps your face stay oil-free for up to 24 hours.
So, what are you waiting for to request these amazing foundation samples from YSL in the UK? Here is how you could get free Yves Saint Laurent All Hours Foundation samples to try for free.
How to get free samples of YSL All Hours Foundation?
In order to claim your free Yves Saint Laurent All Hours Foundation samples, simply check the available methods below and follow the steps.
NEW! Odore Form – AVAILABLE
There is a new odore form to claim a free sample of YSL All Hours Foundation in the UK. To get yours, follow this link to the offer page and fill out the form.
Or, if it doesn't work, you can try to copy paste the link directly into your browser.
https://app.odore.com/api/v1/link/campaign/d7e8c39d-e5dd-45e8-9d5b-87f0af038cbc/ui/
Amid Magazine article – SOLD OUT!
Hurry up to score a free sample of YSL All Hours Foundation. The sample is available to claim amid a sponsored post in Women's Health magazine article. CLICK HERE and scroll up and down until you find the post with the sample.
UPDATE: Now the sponsored ad for the YSL All Hours Foundation sample are also available on this page on Harper's Bazaar. Check it out as well.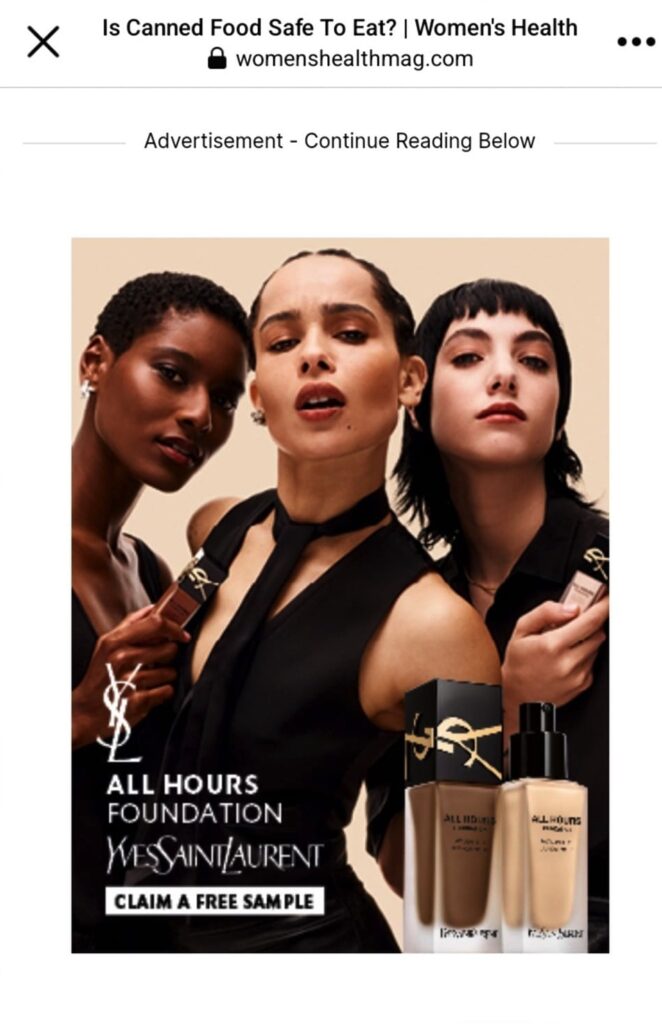 You can also get the Prada Paradoxe perfume on the sample page. They switch between these 2 freebies. Good luck.
Thru TikTok – SOLD OUT!
YSL is now offering a sample of All Hours Foundation to select UK residents on TikTok. It's a sponsored ad so in order to increase your chances of seeing it in your TikTok feed, simply follow these steps:
Follow the YSL account on TikTok
Like and watch their recent videos (2 or more)
Lookup the YSL All Hours Foundation on the TikTok Search bar
After that, keep an eye out for sponsored ads showing in your feed. Here is a screenshot of the one you should be looking for:
Once you spot it, hit the 'SIGN UP' button to access the form. Good luck.
IMPORTANT: I have joined TikTok to spot as many freebies and free samples to share with you. You can follow me on TikTok now to stay up to date and informed about the latest offers.
Thru a Facebook post – SOLD OUT!
Start by clicking on this link HERE to go to the Facebook post for this freebie. Click on the 'SIGN UP' button to access the Odore form. Choose the best shade for you and complete the form with the required information. That's about it, expect your free YSL All Hours Foundation sample to be shipped by post to your mailbox.
This free sampling opportunity is currently open to all residents of the United Kingdom.
Yves Saint Laurent is a pretty luxurious brand, so you should hurry up to request this foundation freebies while the supplies last.
You could also share this offer with your friends and family to tip them off.
Subscribe to our newsletter to stay informed of the latest Yves Saint Laurent free samples in the UK and Ireland.
If you want more free foundation samples, then you can check out this listing of the latest free foundation samples in the UK.
Happy freebies hunting to all.
Be the first to get the latest freebies in your inbox