Last Updated on July 25, 2022
Here is some good news for all the beauty freebies and free makeup samples lovers.
Today, I'm bringing you a brand new 2022 freebie that should please you.
In fact, Estee Lauder is offering you the opportunity to start the new decade properly. The brand is inviting you to claim your FREE Samples of Estee Lauder Double Wear Foundation.
Estee Lauder Double Wear Foundation is one of the best foundations out there. Thanks to its miraculous formula, it covers imperfections and bumps, controls oil and still offers a perfectly natural matte finish.
What will you receive by claiming this free 10-Day Estee Lauder Foundation Sample Kit?
This is an in-store free foundation sample. This means you need to claim a voucher online, then take it to your nearest Estee Lauder counter to get your 10-Day Sample Kit of Ester Lauder Double Wear Foundation.
So, In-store, you will receive a FREE 10-Day Foundation Sample from Estee Lauder. It's about a 4ml sample sachet.
There is a limit of one free 10-day supply sample ki of Estee Lauder foundation per customer.
How to get FREE Samples of Estee Lauder Double Wear Foundation?
You could hurry up today to benefit from these latest free Estee Lauder samples. To benefit from this deal and save some money on your makeup shopping, we invite you to follow this easy step-by-step guide detailed below:
Click on the "Get this free sample" button located down below this page to get redirected to the official Estee Lauder website.
Scroll down the page until you find a gray box that says "Claim your 10-day foundation sample. Free*"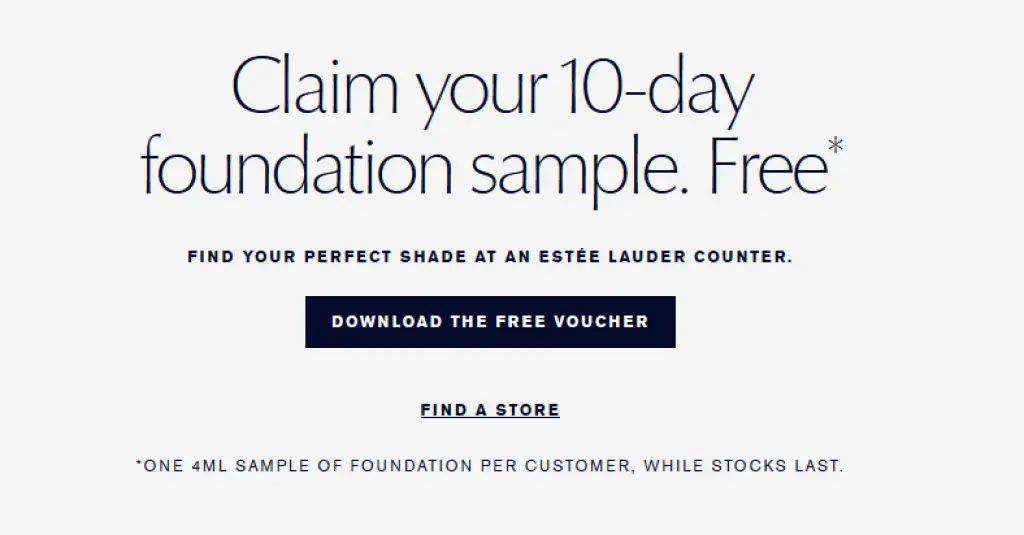 Click on the "Download the free voucher" button to get the pdf version of the Estee Lauder Free foundation samples voucher. Save it to your smartphone or print it.
Head over to your nearest Estee Lauder counter to get a shade match and claim your free foundation sample kit. Please note that if you do not know where the nearest Estee Lauder counter is located, you can click on the "Find Store" link below the voucher to find it.
You could also tip off your friends and family about this marvelous sampling opportunity.
UPDATE: October 3,2020 This freebie is available again, hit the "Get this free sample" icon to learn more about it or just head over to your nearest Estee Lauder Store to pick up your samples. (Calling beforehand would be appreciated as the Estee Lauder team has stated on their website)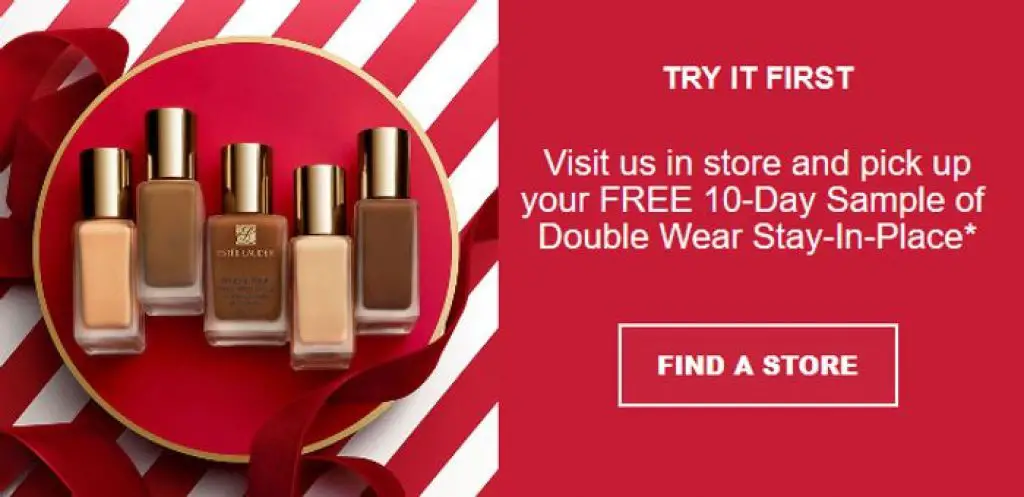 Who can get FREE Double Wear Foundation Samples from Estee Lauder?
This awesome opportunity is launched by Estee Lauder UK. It is only open to legal residents of the United Kingdom.
This deal is valid while the supplies last, so, you better hurry up to make sure you get yours before the supplies run out.
Don't forget to subscribe to our newsletter to get the latest 2020 free samples in your inbox daily.
Do you want more foundation freebies? You could check out this article about the latest free foundation samples in the UK.
NEW! You can also claim a FREE 10-Day Sample Pack of Estee Lauder Futurist Hydra Rescue Foundation.
Be the first to get the latest freebies in your inbox