Last Updated on November 30, 2020
Narciso Rodriguez is giving away FREE samples of Narciso Rodriguez Pure Musc Parfum to receive by mail.
This perfume is incredible and you're going to like it. If you have never tried it and would like to, this is your chance right here!
Want to get your FREE Samples of Narciso Rodriguez Pure Musc Parfum by mail? Of course, you do… To get going and receive your FREE Narciso Rodriguez Perfume samples by mail within the UK, we invite you to follow this guide below.
How to get FREE Narciso Rodriguez Pure Musc Parfum samples by mail?
There is no direct link to the Narciso Rodriguez Pure Musc Parfum sampling campaign. It's a sponsored advert that shows to select people. However, we know how you can make the advert pop up in your feed. Just follow these actions and keep an eye on the sponsored adverts you see on Facebook and/or Instagram.
The actions we suggest you do are :
Like and follow the official handles of Narciso Rodriguez Parfums on social media (especially their Facebook page and/or Instagram account)
Like one or two of their posts or engage with the brand on social media
Do a quick Google search of the new Narciso Rodriguez Pure Musc Parfum being offered here
Visit the Narciso Rodriguez official website and check the fragrance there too
Afer this, just keep scrolling your feed and keep an eye on the advert below.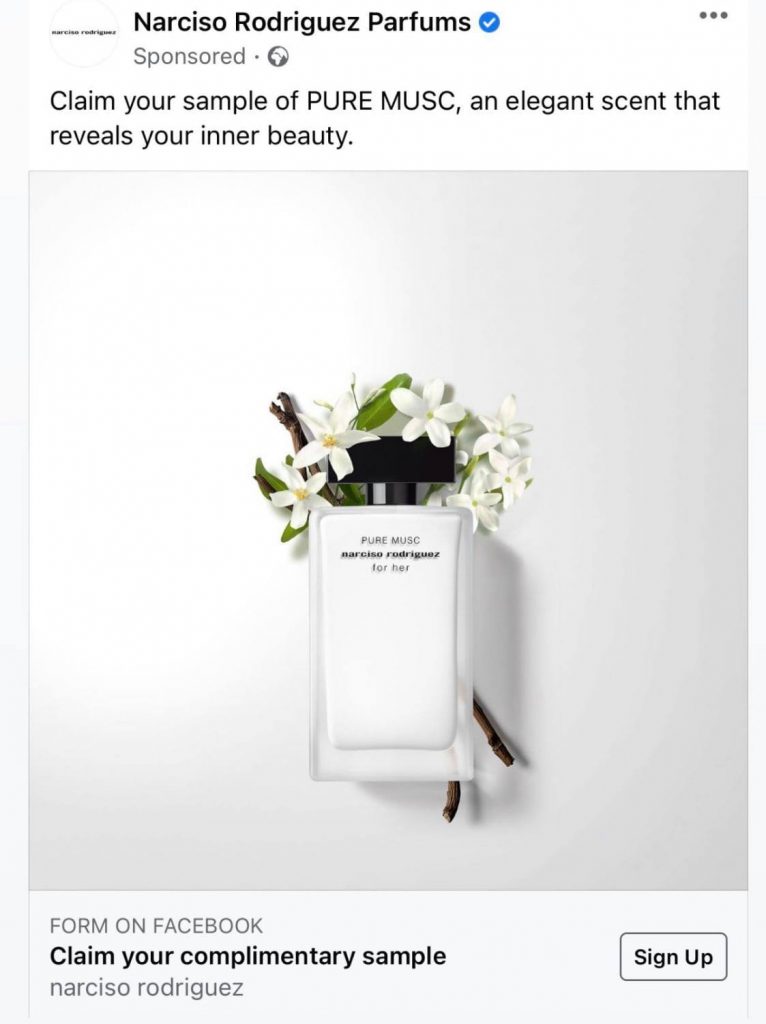 After you see the advert, just click on the "Sign up" button to see the SoPost request form to order your sample.
Samples are showing and can be claimed by residents of the UK only.
Limit of one free sample per person.
Valid for a limited time only or while supplies last so go go go get yours!