Last Updated on August 2, 2021
For a limited time, you can get a possible free Rituals Cream sample whilst supplies last.
The Rituals Cosmetics page on Facebook has a new post showing up for select users on their social media feed. The post is giving away free samples of The Ritual of Sakura Body Cream, by Rituals Cosmetics. As usual, the post is powered by a SoPost form.
How to get a possible free Rituals Cream sample by post?
NEW! Thru SoPost
As of August 2, 2021, a direct SoPost link to order The Ritual of Sakura Body Cream sample from Rituals is available. Click here to get one while it's valid.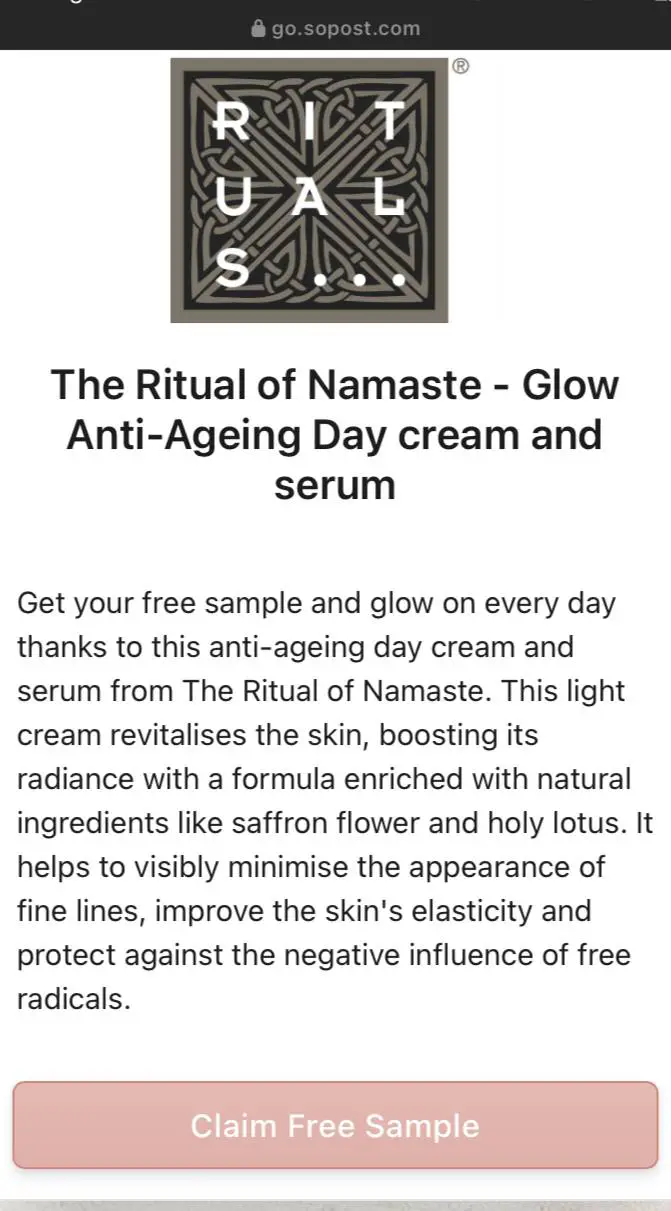 From Rituals UK website
NEW! For a limited time, you can get free Rituals samples by signing up for the Rituals mailing list on their website. Follow this link to the registration page and follow the instructions to get yours.
Thru sponsored advert on Facebook & Instagram ( Expired!)
Not everyone will be getting this freebie, but it's worth a shot. What you can do is stay alert for sponsored posts that are showing up for you. Either on Facebook or Instagram. You can also visit the Rituals Cosmetics website by clicking here. The idea is to show interest in the brand. You can optionally also follow them on Facebook and Instagram for future promotions and samples.
The sponsored pop-up is a video with a sign up button. It looks like the snapshot below, but there might be several variations.
This freebie is targeting UK residents only.
Valid for a limited time only or whilst the post is running.
You can visit the Free Rituals Samples Annular on Get Me Free Sample anytime for updates on freebies and samples from Rituals Cosmetics in the UK. Or the SoPost one by clicking here.
Have a good day everyone!