Last Updated on May 19, 2022
Hurry up to claim a possible free Origins Serum sample while supplies last.
Discover a wide range of serums by Origins through free samples. You can find below all the available offers in the UK. Note that the top offers are the most recent ones.
How to get a possible free Origins Serum sample?
NEW! Origins Plantscription™ Youth Serum sample – AVAILABLE
Origins is offering 3,500 free Plantascription Youth Serum samples, each of 5ml to residents of the UK. To get one, you need to book a complimentary 10 Minute Skincare Moment at your nearest Origins store and pick up the sample there. To sign up for this offer, simply follow this link to the offer post on Facebook and check for an appointment.
Origins GinZing Brightening Serum sample – SOLD OUT!
Origins is giving away 10,000 free samples of their GinZing into the Glow Brightening Serum. Be among the first to try this new Origins serum infused with vitamin C and Hyaluronic Acid for visibly brighter and less dull-looking skin.
A new advert by Origins Skincare was spotted as of February 1st, 2022. Be quick to get a possible free Origins into GinZing Brightening Serum sample by post. The sampling offer is promoted through a sponsored advert on Facebook. Being able to test it before you decide to buy it or not would be wonderful. Here is how.
As I mentioned above, the Origins Skincare brand is giving away the samples thru an advert. Which means we don't have a direct link to share with you. However, you can simply click here to go to the Origins UK page on Facebook. Give them a like and a couple of likes and keep scrolling your Facebook feed as usual. Keep an eye for the advert to pop in your feed. It looks like the picture below.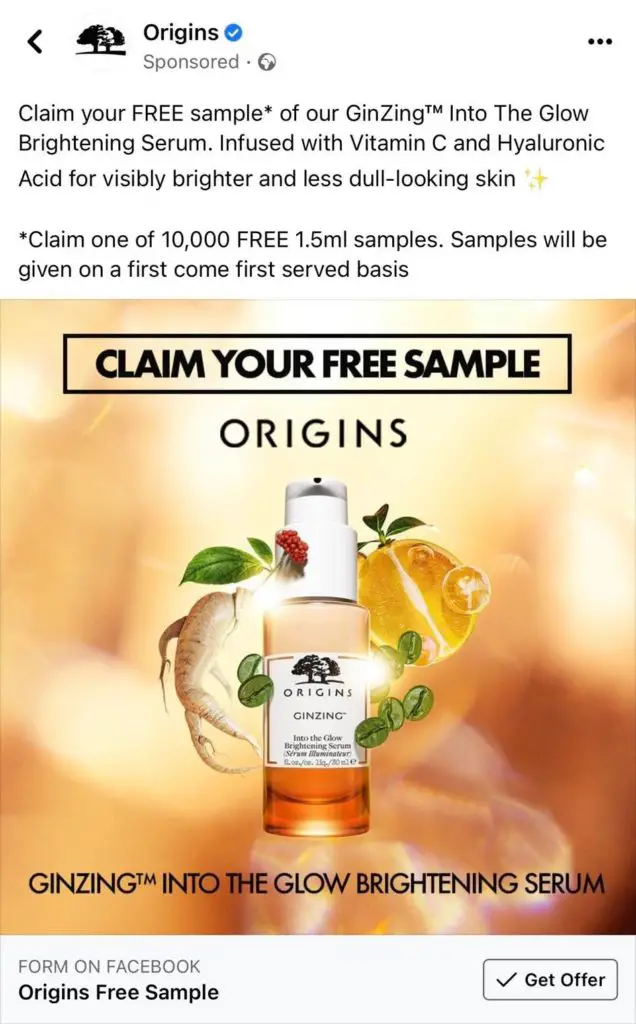 Once you spot it, you can order your Origins Serum sample and get it in the mail gratis.
The campaign is showing in the UK only to female residents aged 18 and above who are similar to Origins customers or have shown interest in Beauty, skincare…
Let us know if you get it to show up in your feed!
Valid for a short period of time only, or while the quantities last. There are 10,000 FREE 1.5ml samples available. First ordered, first served. Good luck
Be the first to get the latest freebies in your inbox