Last Updated on November 19, 2020
Be quick to order your FREE Oreo sample pack and receive it by mail in the UK to get started with a free connection pack.
Oreo Cookies are a favorite classic for both kids and adults. We all love Oreo cookies. You can do so much with them, it could be used as a Cheesecake or pie crust. You may just lick and dip them in fresh milk, or without. It's up to you.
Anyway, Oreo has this huge sampling campaign currently in the UK. They are giving away FREE Oreo Sample Packs on a simple request. Want one? Go get it while they last.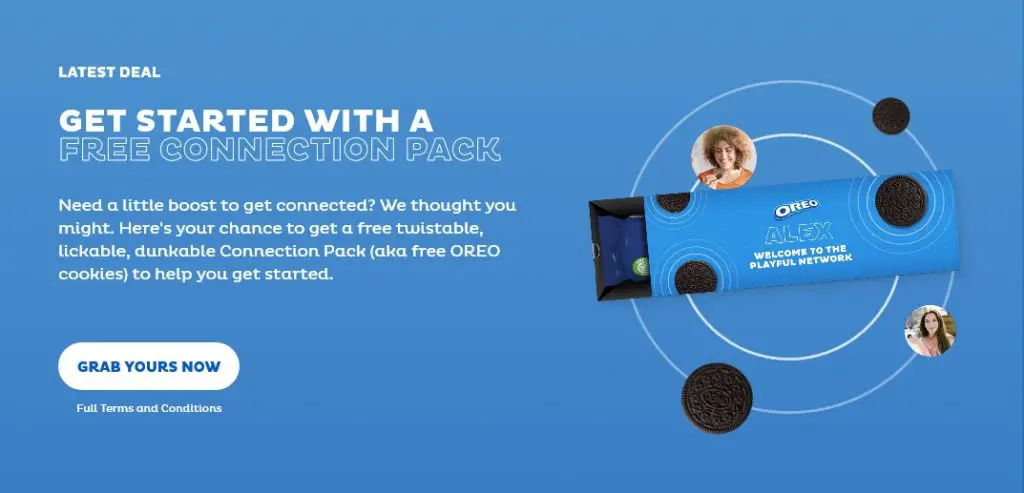 How to get a FREE Oreo Sample Pack by mail?
To claim and receive your FREE Oreo Sample Pack by mail, we suggest you follow the link below to the sample campaign page and if the stocks are up, you shall find the request form in there. Otherwise, it will say something like we have run out of sample packs for the day, come back tomorrow to get yours.
If you find the form, that's great, just pop up your details in there and send them samples away! If not, make sure you come back the next day or late in the evening before the supplies run out again. You may put a reminder on your phone or something.
Enjoy your Oreo freebie!
Valid for a limited time only or while supplies last.
Limit of 1 free sample pack per person.
Samples are for UK residents who are 18+ years old ONLY.
Stay updated for more free stuff and samples to receive by mail in the UK by following us on social media and activating push notifications.
Have a good day!
CLICK HERE TO ORDER YOUR FREE OREO SAMPLE PACK
Be the first to get the latest freebies in your inbox