Last Updated on August 24, 2021
Do you want to try the No7 Mascara gratis? While offer lasts, you can collect a free No7 Mascara at participating Boots stores across the UK.
No7 counters at participating Boots stores are handing over free full size No7 Mascara. You can head over to the nearest store to you and just ask for one. There is no voucher needed whatsoever.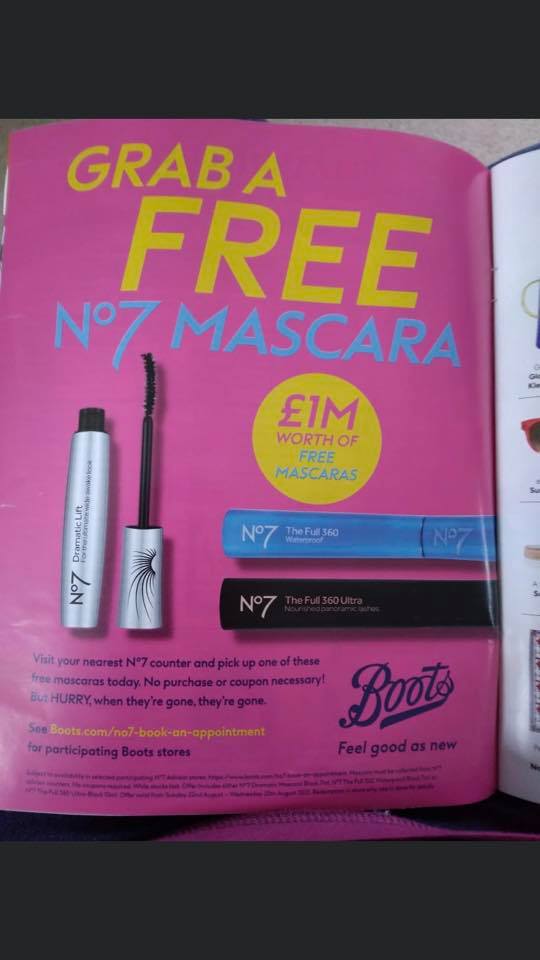 You can receive one of these No7 Mascaras for free. Subject to availability:
No7 Dramatic Mascara Black 7ml,
No7 The Full 360 Waterproof – black 7ml
or No7 The Full 360 – Ultra-black 10ml.
There is a limit of one free mascara per customer.
The is offer available from Sunday 22 August to Wednesday 25 August 2021, or while the supplies last. Which ever occurs first, so be quick to get yours.
Additionally, there is a bunch of free beauty consultations you can benefit from. Including Skincare 101, Defining eyes, brows that wow… Click here to book an appointment
Participating Boots stores to get a free No7 Mascara
Participating Boots Stores where you can pick up a free No7 Mascara are as follow:
Bluewater;
Sheffield Meadowhall;
Nottingham Victoria Centre;
Brent Cross;
Gateshead Metro Centre;
Plymouth Drake Circus;
York Coney Street;
Leicester Fosse Park;
Bury St Edmunds Cornhill;
Manchester Trafford Centre;
Newcastle Eldon Square;
Bristol Cribbs Causeway;
Manchester Market Street;
Stockton On Tees Teeside Retail Park;
Cardiff Queen St;
Leeds Trinity;
Belfast Donegal Place;
Dudley Merry Hill Centre;
London Stratford City;
Cheltenham High St;
Bromley;
Tunbridge Wells;
Milton Keynes Crown Walk;
Glasgow Braehead Centre;
North Shield Silverlink Retail Park;
Exeter High St;
Derby Intu Shopping Centre;
Guildford;
Eastbourne;
Harrogate Cambridge St;
Lincoln High St;
Lisburn Sprucefield Shopping Centre;
Cambridge Petty Cury;
Chelmsford High Chelmer;
Brighton North Street;
Chichester North St;
Horsham;
Tamworth Ventura Retail Park;
Taunton High St;
Thurrock Lakeside Shopping Centre;
Edinburgh Princes St;
Bath Southgate Centre;
Glasgow Fort;
Worcester High St;
Carlisle English St;
Oxford Cornmarket St;
Bournemouth Castle Point Shopping Centre;
Solihull Mell Square;
Kingston ;
Salisbury Silver St;
Leeds White Rose Shopping Centre;
Chesterfield Low Pavemnt;
York Monks Cross Retail Park;
Norwich Chapelfield;
Handforth Dean;
Chester Foregate St;
Canterbury;
Reading Oracle;
Edinburgh Gyle Centre;
Hempstead;
Chester Broughton Shopping Centre;
Belfast Forestside Shopping Centre;
Edinburgh Fort Retail Park;
Bolton Middlebrook Retail Park;
Warrington Gemini Retail;
Solihull Sears Retail Park;
White City ;
Hereford High St;
Shrewsbury Meole Brace;
Staines;
Liverpool New Mersey Retail Park;
Winchester;
Southampton ;
Burton On Trent Coopers Square;
Glasgow Silverburn Shopping Centre;
Westwood Cross;
Perth High St;
Rushden Lakes;
Watford;
London Colney;
Liverpool Aintree Retail Park;
Worthing;
Loughborough Market Pl;
Lancaster St Nicholas;
Jersey St Helier Qun St;
Maidstone;
Cirencester Cricklade St;
Londonderry Foyleside Shopping Centre;
Poole High St;
Cheltenham Gallagher Retail Park;
Liverpool Clayton Square Retail Park;
Romford;
St Albans St Peters St;
Biggleswade Shopping Centre ;
Barnstaple High St;
Guernsey St Peter Port;
Stoke On Trent Festival Retail Park;
Shrewsbury Pride Hill;
Uxbridge;
Nottingham Giltbrook Retail Park;
Swansea The Quadrant;
Llantrisant Talbt Grn Retail Park;
Halifax Market St;
Peterbrgh Queensgate Centre;
Southport Chapel St;
Inverness Eastgate Shopping Centre;
Basingstoke;
Hull St Stephens;
Whiteley ;
Colchester Lion Walk;
Grimsby Friargate;
Kensington ;
Beverley Toll Gavel;
Fareham;
Leamington Spa Parade;
Longbridge Town Centre;
Stirling Thistle Centre;
Bishops Stort Potter St;
Isle Of Man Douglas;
Bracknell The Lexicon;
Sheffield High St;
Epsom ;
Ellesmere Prt Cheshr Oak;
Sedley Place;
Leeds Birstall Retail Park;
Ealing Broadway;
Leeds Thorpe Retail Park;
Livingston Almndvale Centre;
Aberdeen Bon Accord Centre;
Gloucester Eastgate St;
Newtownabbey ;
Bristol Longwell Green;
Bedford Interchange;
Bristol Broadmead;
Preston Deepdale Retail Park;
Altrincham Stamford Qtr;
Bexleyheath;
Doncaster Wheatley Hall;
Witney High St;
Newport Retail Park;
Martlesham Heath;
Ayr High Street;
Stratford Upon Avon Maybird Centre;
Kendal Stricklandgate;
Doncaster Frenchgate Centre;
Sutton;
Scarborough Westborough;
Kidderminster Weavers Wharf Retail Park;
Durham Pity Me Arnison Retail Park;
Coleraine Church Street;
Newport Isle Of Wight;
Crawley ;
Southend The Royals ;
Inverness Retail Park;
Cardiff Ty Glas Retail Park;
Torquay Wren Retail Park;
Sunderland The Bridges;
Ipswich Tavern St;
Windsor Peascod St;
Truro Pydar St;
Cheshunt Brookfield;
Stockport Merseyway;
Llanelli Trostre Retail Park;
Haverfordwest Withybush Retail Park;
Huddersfield King St;
Telford Nth Sherwood St;
Rotherham Retail World;
Newbury Northbrook St;
Northwich Witton St;
Edinburgh Craigleith;
Malvern Enigma Retail Park;
Falkirk Central Retail Park;
High Wycombe Eden Centre;
Peterborough Serpentine;
Wolverhmptn Dudley St;
Sutton Cold Prc Alice Dr;
Chelmsford Chelmer Vill;
Wakefield Kirkgate;
Wrexham Retail Park;
Burnley St James St;
Aylesbury Hale Leys;
Birmingham High St;
Warrington Golden Square;
Aberdeen Garthdee Rd Retail Park;
Hull Kingswood Retail Park;
Sevenoaks;
Birmingham Bull Ring Shopping Centre;
Merthyr Tydfil Cyfarthfa;
Darlington Northgate;
Bury Woodfields Retail Park;
Hitchin;
Northampton Riverside Retail Park;
Croydon Whitgift Centre;
Llandudno Victoria Centre;
Sudbury ;
Heathrow T45 Airside;
East Kilbride Kings Gate Retail Park;
Denton Crownpoint Retail Park;
Farnham;
Stafford Queensville Retail Park
Be the first to get the latest freebies in your inbox