Last Updated on March 19, 2021
SMOKING HOT! You can get a possible free Mugler Perfume sample of the Alien Eau de parfum for a limited time only. Mugler is giving away free Mugler Alien samples on a new Facebook post.
How to get free Mugler Alien Perfume sample by mail?
NEW! As of March 19th, 2021 you can get a free Alien Mugler perfume sample thru a new SoPost form link. Click here to go to sampling form on SoPost. Indicate your shipping info to get a sample by post.
For UK residents ONLY. Available for a short period of time or whilst supplies remain.
Previous updates on Alien Mugler perfume samples
Samples are offered thru a sponsored Facebook form so not everyone will be getting this one. It only shows to select people that fit the criteria the sponsor has chosen.(sorry!). But, stay vigilant while scrolling your social media feed.
As I mentioned above, Thierry Mugler is giving away the sample thru an advert. Which means we don't have a direct link to share with you. However, keep an eye on the sampling post to pop in your feed. It looks like the picture below.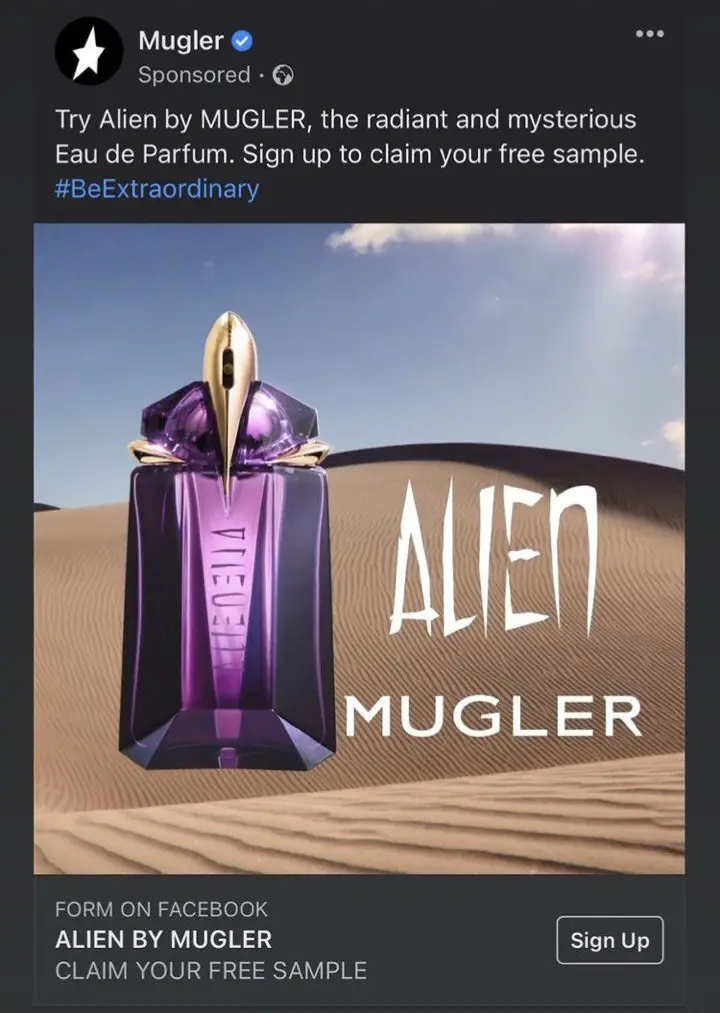 The post is targeting women who are aged 18 years old or above, living in the United Kingdom. It's pretty broad so you will probably get it if you fit these criteria.
The sampling post is shared by the Mugler page on Facebook.
Available for select UK residents now only. It could be showing up to other countries or will show soon. Stay vigilant and happy freebies hunting.
Don't hesitate to let me know in the comments sections below if you get the sample to show up for you.
Valid for a limited time only or while the supplies last.
Happy freebies hunting!
Be the first to get the latest freebies in your inbox