Last Updated on August 15, 2022
More perfume samples for the UK this morning. Grab a free Marc Jacobs Daisy Perfume sample whilst supplies last.
A fellow freebie hunter has spotted a new sponsored pop-up on Facebook & Instagram from Marc Jacobs on Facebook and Instagram.
The pop-up is showing up for select users while they scroll their feed as usual. There's nothing you can do except keep scrolling your Facebook or Instagram feed and waiting for the pop-up to show up for you if you adhere to the brand's targeting criteria.
Here are a bunch of things to do to increase your odds of getting this post to show up in your feed:
I took a snap of the pop-up and it looks like the snap below.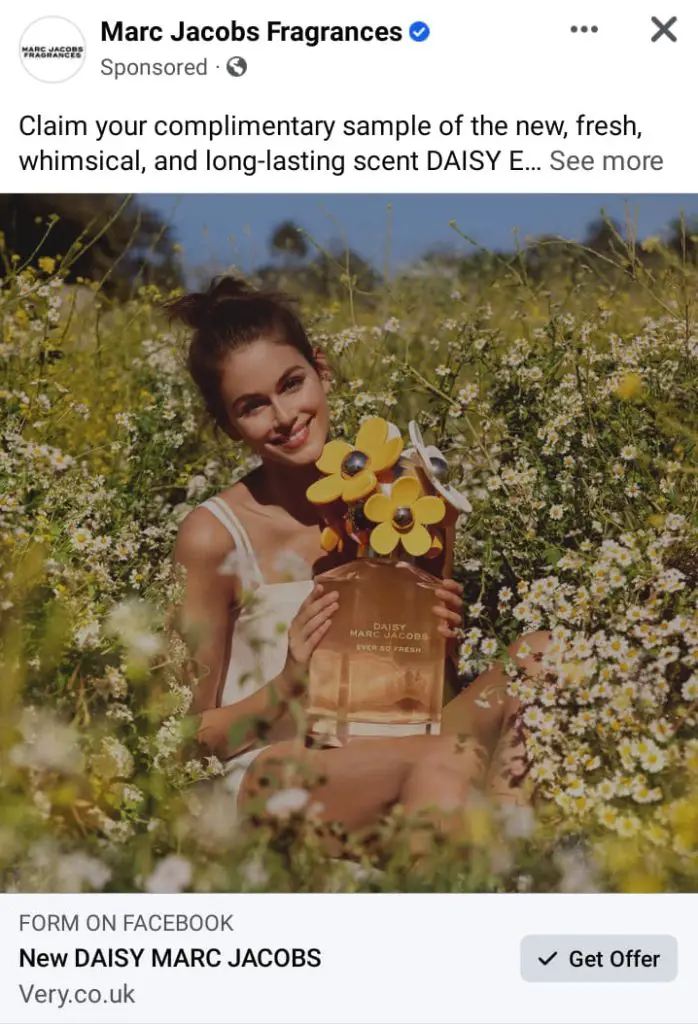 Available for a limited time only or whilst supplies last.
The post is powered by a SoPost form. So stay in the loop for a possible direct link to score a free sample of Marc Jacobs Daisy Ever So Fresh perfume.
Discover the new, fresh, whimsical, and long lasting scent DAISY EVER SO FRESH MARC JACOBS. A bright, juicy, citrus infused fragrance with radiant rose water and cashmere woods. Get a sample while supplies last.
I hope you snag this one. It's one of my favorite perfumes.
Have you gotten it? Let me know!
Be the first to get the latest freebies in your inbox