Last Updated on August 9, 2023
Perfume lovers in the UK, this one's for you! Brace yourselves for a fragrant treat – a free Marc Jacobs Daisy Perfume sample is up for grabs, but you need to act quickly before it disappears like a whiff of captivating scent.
Experience the allure of Marc Jacobs' Daisy Ever So Fresh perfume – a symphony of bright, juicy, citrus-infused notes entwined with the elegance of radiant rose water and the warm embrace of cashmere woods. Don't miss out on a chance to carry a breath of this luxury wherever you go. Read on to find out how to get yours.
How to order a free sample of Marc Jacobs Daisy Perfume in the UK?
NEW! Marc Jacobs Daisy Drops from SoPost – AVAILABLE
HOT Freebie, you can now claim a free sample of the NEW Marc Jacobs Daisy Drops, a new innovation that is sustainable, single-dose fragrance capsules. This product is designed to fit in your hand, bag or pocket and each little tin holds 30 capsules of your favorite daisy scent.
To get your sample, follow these steps:
Fill out the form with the required details
Wait for your sample to be shipped.
Did you manage to get one? We're also over on social media if that's more of your thing. Check out our pages on Facebook, Instagram or TikTok to be the first to know whenever a sample is available.
As with all good things, this offer is too good to last forever. The deal is up for grabs while stocks endure or until the clock runs out on this limited-time offer.
Open to residents of the United Kingdom only.
From Facebook / Instagram
A fellow freebie hunter has spotted a new sponsored pop-up on Facebook & Instagram from Marc Jacobs on Facebook and Instagram.
The pop-up is showing up for select users while they scroll their feed as usual. There's nothing you can do except keep scrolling your Facebook or Instagram feed and waiting for the pop-up to show up for you if you adhere to the brand's targeting criteria.
Here are a bunch of things to do to increase your odds of getting this post to show up in your feed:
I took a snap of the pop-up and it looks like the snap below.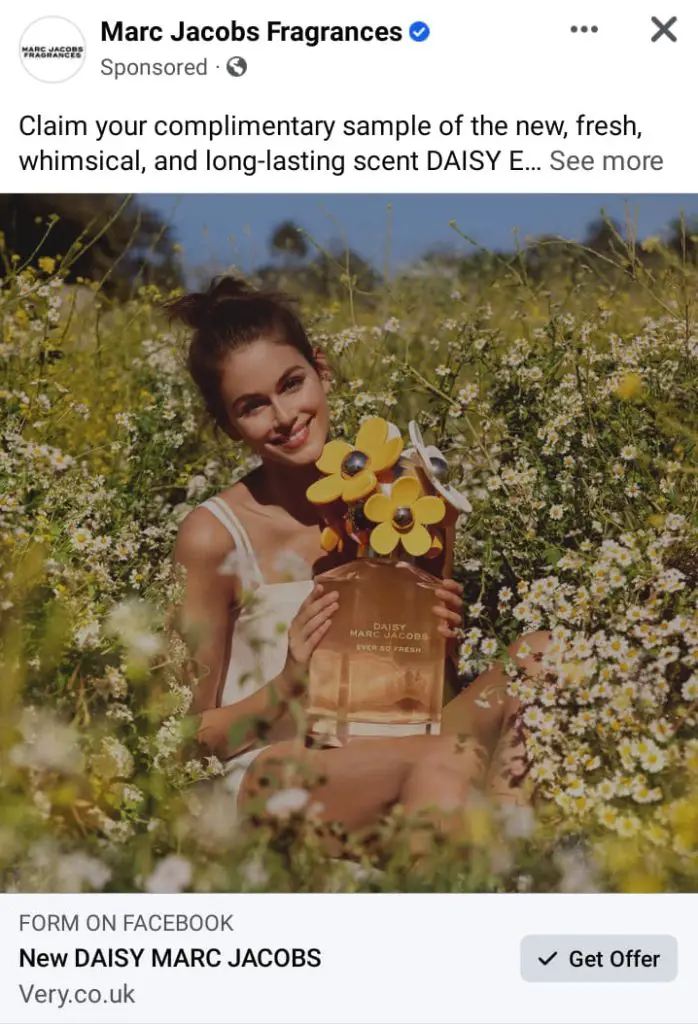 Available for a limited time only or whilst supplies last.
The post is powered by a SoPost form. So stay in the loop for a possible direct link to score a free sample of Marc Jacobs Daisy Ever So Fresh perfume.
Discover the new, fresh, whimsical, and long lasting scent DAISY EVER SO FRESH MARC JACOBS. A bright, juicy, citrus infused fragrance with radiant rose water and cashmere woods. Get a sample while supplies last.
I hope you snag this one. It's one of my favorite perfumes.
Have you gotten it? Let me know!
Be the first to get the latest freebies in your inbox