Last Updated on July 7, 2022
Smoking hot freebie! Grab a free MAC Mascara sample while supplies last.
If you are looking to try some Mascaras by M.A.C Cosmetics for free, then keep an eye out for this article for updates and the latest offers available.
How to get a free MAC Mascara sample in the UK?
NEW! Thru Facebook / Instagram – AVAILABLE
If you missed the SoPost link, you can still score a MAC Macstack Mascara sample through this new sampling offer. It's currently ongoing through a sponsored post on Facebook and Instagram. To get one, follow the steps below.
After this, just be on the lookout for the sponsored post to show up in your social feed. Below is a snapshot of what it looks like.
Please note that the post might take a couple of minutes, hours, or days to show up in your feed. So be patient and stay vigilant. Good luck.
From MAC Cosmetics mailing list
Try the new MAC MACStack Mascara gratis while supplies last. MAC has sent out emails to their registered subscribers inviting them to claim the new MACStack Mascara.
Please note that this freebie is for already registered users so if you are a member, check your email for the link. If not a member yet, you can go to the MAC Cosmetics website and sign up for their newsletter. Keep an eye out for your email to get this freebie and many others in the future.
Below is a snapshot of the email users received.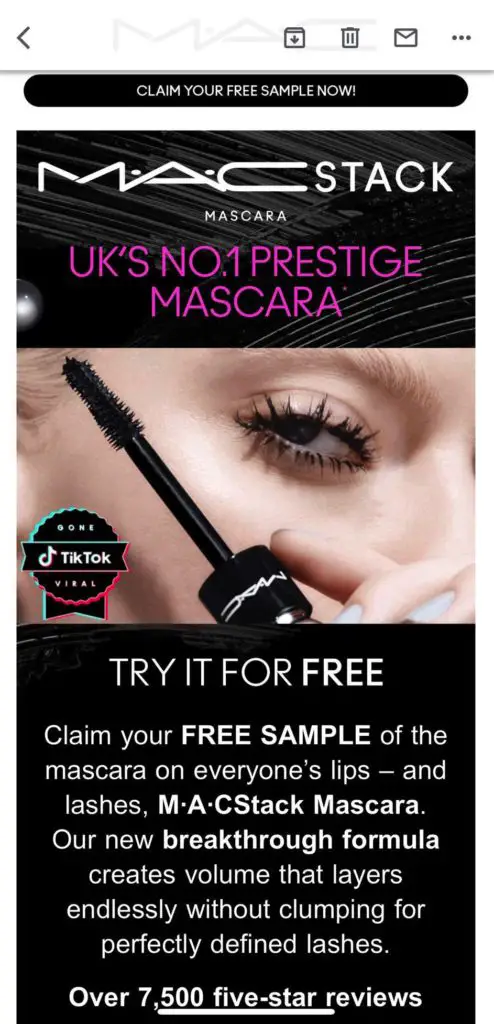 Thru Direct SoPost Link – SOLD OUT!
Hurry up to score a free sample of the new MAC Macstack Mascara with a direct link to the SoPost form. To get yours, follow this link to the offer page and fill out the form. Check your email for a confirmation code.
Please note that the link goes on and off quite frequently since this morning. Be patient and if it says sold out, retry in a dozen minutes or so. I will make sure to update you the second it goes on again!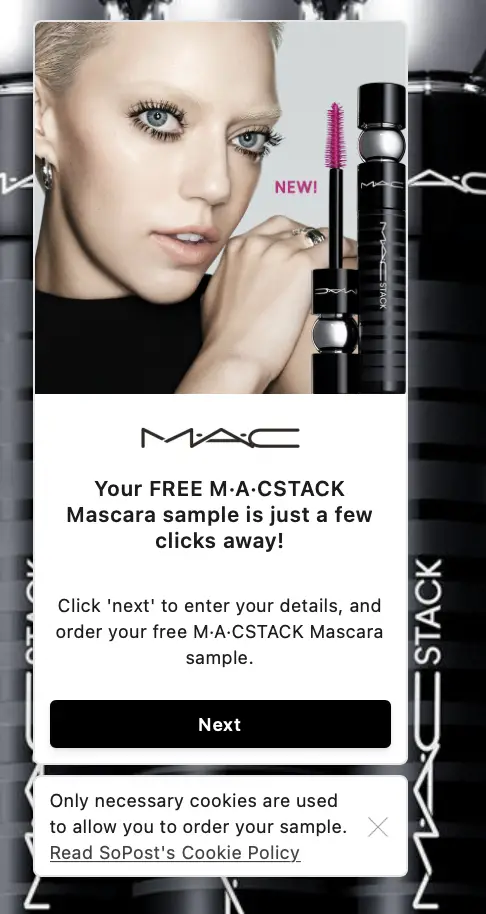 Be quick, supplies are running out quickly.
Open to UK residents ONLY.
5D Volume Mascara sample with Boots – SOLD OUT!
For a limited time, you can claim a free sample of MAC Cosmetics 5D Volume Mascara with Boots sampling campaign.
Boots UK is giving away 40,000 samples to get by post. Be quick to order a deluxe sample right now. Moreover, you will also receive a £5 off code to get a discount on MAC Mascara. Great deal.
UPDATE: If you have applied for this, check your emails to see if you should expect your M.A.C Mascara sample in the mail or not. Good luck.
Below is a snapshot of the email I got from Boots on July 1st, 2021.
To get free MAC Mascara samples with Boots, you can go to the link at boots-sampling.co.uk/mac/mascara.
Complete the request form with the required info, and submit it to receive your freebie in the mail.
This sampling offer is available for residents of the UK only.
Valid for a very short period of time or until 40,000 free samples have all been claimed. It's not going to last for long so run.
Subscribe to push notifications from us to stay in the loop for more great value makeup and cosmetics freebies.
The MAC Cosmetics 5D Volume Mascara is going to make your lashes look as bigger as never. Put that claim to the test without having to pay anything at all.
The offer is not going to last for long since it's a great freebie with a direct link to form. Be quick.
You can help me share the word about this amazing MAC sample by sharing it on your social media or with friends. Thank you. I hope you'll get it before it's gone.
Be the first to get the latest freebies in your inbox