Last Updated on March 3, 2023
Lancôme is feeling generous by offering a free Lancome Genifique Serum Sample, to receive by post to your home address.
The Lancôme Advanced Génifique Anti-Aging Face Serum is a terrific skincare product that has shown its results and proven itself repeatedly. Be as quick as a flash to seize this new sampling opportunity from Lancôme.
NOTE: if the samples below are sold out, or if you do not live in the UK, at any time, wherever you are, you can visit the section for all Lancôme related samples here to find the most recent ones depending on your country.
How to receive a free Lancôme Advanced Genifique Serum sample by mail?
NEW! Amid Cosmopolitan Magazine page – AVAILABLE
There is a new sponsored pop-up amid a Cosmopolitan magazine page for a free sample of Lancôme Genifique Advanced serum or the Lancôme Renergie Serum. To get it, go to this page here. Scroll up and down and keep an eye on the ads on the page. It might not work on the first try and I suggest you try to open the page in private mode or from your laptop. Here is a screenshot of the advert you should be looking out for.
From Facebook / Instagram – AVAILABLE
First of all, these samples are being offered through a sponsored Facebook / Instagram ad. Lancôme's official page on Facebook sponsors it. This means we do not have a direct link for it. However, there are a few actions you can complete to make the ad pop up in your social media feed and apply for it.
The actions we recommend you to do are :
Like and follow the official handles of Lancôme UK on social media (especially their Facebook page and/or Instagram account).
Engage with the brand by liking a bunch of recent posts and watching a video on their page.
UPDATE: The ad is showing up to female residents of the UK, who are 18 years old and above. as you can see below.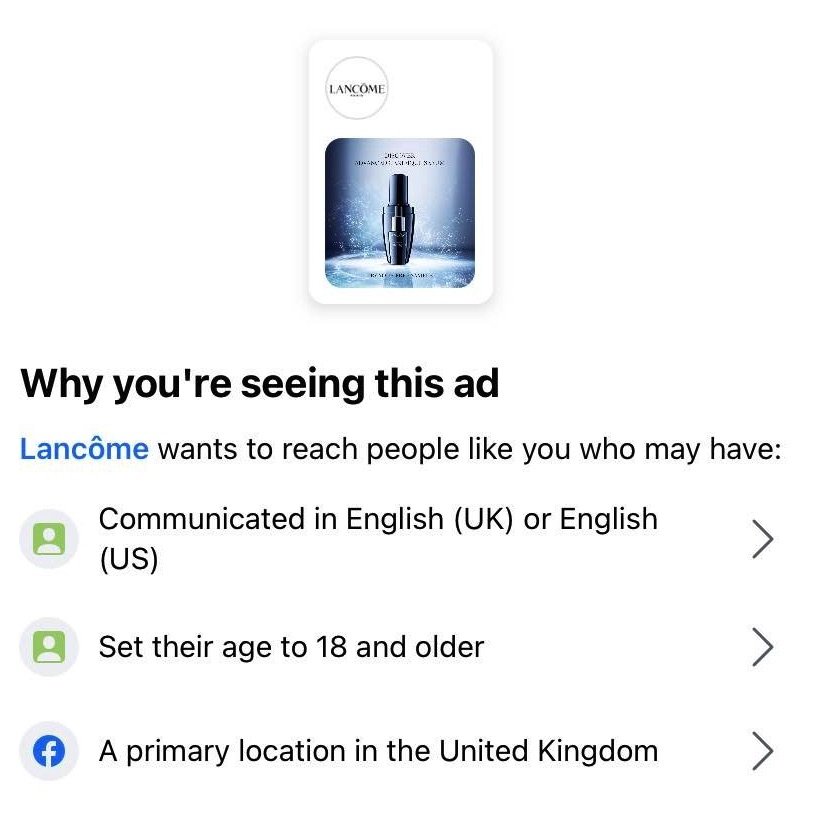 After that, just keep scrolling through your social media feed and keep an eye on this ad (see picture below).
Previous updates on Lancôme Genifique Serum sampling offers
NEW! Direct link to Odore form – SOLD OUT
New sampling offer for the iconic Lancôme Génifique Serum thru a direct link to an Odore form. To get yours, CLICK HERE to go to my Instagram Story and click the link there to access the form directly.
NOTE: If it says you do not have access to this link, try this link here.
Also, I would appreciate any feedback either here in the comments section or on Instagram. It would help me greatly to understand how Odore links work and how to always find the direct links for you. Thanks!
On TikTok – SOLD OUT!
Lancôme has teamed up with numerous Skincare and beauty influencers in the UK to offer you free samples of their iconic Génifique Advanced Serum. The sampling offer is currently ongoing on TikTok and it shows up as a sponsored ad. Here is how you can get this possible freebie.
Go to your TikTok account and follow the Lancôme account and Adeola Gboyega
Like and view some of their recent videos (2 or more for each account)
Search the Lancôme Génifique serum on the TikTok Search Bar or the internet
Below is a snapshot of the advert you should be keeping your eyes open for to sign up for this sample.
You can also check out this page for all the current free samples you can get on TikTok.
Good luck.
IMPORTANT: I have joined TikTok to spot as many freebies and free samples to share with you. You can follow me on TikTok now to stay up to date and informed about the latest offers.
Lancôme Génifique Serum sample on Lancome.co.uk – SOLD OUT!
It's that time of the year again. Lancôme UK has relaunched the Serum sampling offer on their website. In the coming days, they will be offering 50,000 Serum samples of 7mL each, available during the promotion period or whilst stock lasts.
To get your Lancôme serum sample, simply CLICK HERE and fill out the form.
This offer is available starting for a couple of days. If the page says sold out, you can retry tomorrow. But make sure you do it as early as possible.
The sampling offer starts every day at 09:00 (UK time) starting September 1st to September 9th, 2022.
Please note that there is a specific number of samples available per day. So first come, first served.
Keep an eye on this article for any updates related to this freebie in the future. Whenever available, we will be adding it here. Consider activating push notifications to make sure you receive an alert as soon as available.
Please note that the links below are not working anymore. Check the section below for the most recent updates.
With SoPost Direct Link – EXPIRED!
If you want to get yourself a free Lancôme Advanced Génifique Serum Sample by post, I invite you to follow our simple step-by-step guide.
Update April 18th 2021 : New SoPost Direct Link. Click here to order a Lancome Genifique Serum sample while supplies last.
Thru Cosmopolitan magazine – EXPIRED!
UPDATE October 19, 2020: the Lancôme Advanced Génifique Serum sample is being offered now through a sponsored advert on Cosmopolitan magazine. You can hurry up to click on the "Get this free sample" icon below to claim your samples. Just scroll the cosmopolitan link you will be redirected to and look for the samples advert to apply. It looks like this :
On Pinterest – EXPIRED!
Update October 20, 2020: there is another ongoing Lancôme Serum freebie that I just saw on Pinterest. It directs to a SoPost link. Click here to claim yours while supplies last. (see picture below) (expired!)
Be the first to get the latest freebies in your inbox