Last Updated on February 8, 2023
Here's another smoking hot perfume freebie! Snag a free Kilian Love perfume sample. Be quick to give the new Can't Stop Loving You Fragrance by Kilian Paris a try for free, while supplies last.
How to get a possible Kilian perfume sample by mail?
NEW! Kilian Can't Stop Loving You Perfume
On Facebook, Instagram, and TikTok ads – AVAILABLE
Kilian Paris has launched a new fragrance called I Can't Stop Loving You. You can sample it now for free if you follow the steps below.
The brand is giving away samples through sponsored posts on Facebook, Instagram, and TikTok. The ads are showing up for select residents of the UK. For a chance to get one, choose your Social Media of choice and follow the Kilian Paris page there. Like their posts, recent publications, etc… Then keep your eyes open for the advert to pop up for you. Only then you can access the request form and score this freebie by post.
Here are screenshots of the different ads across Social Media.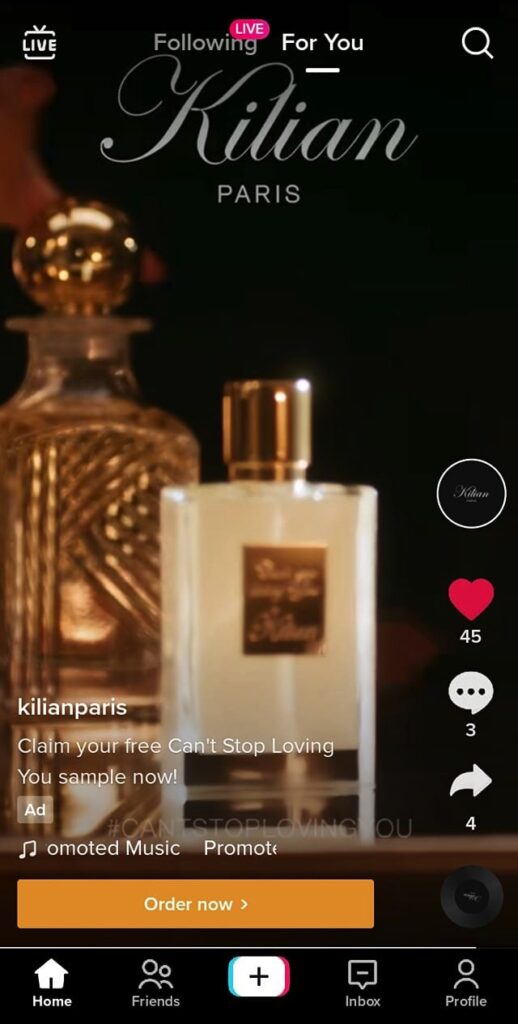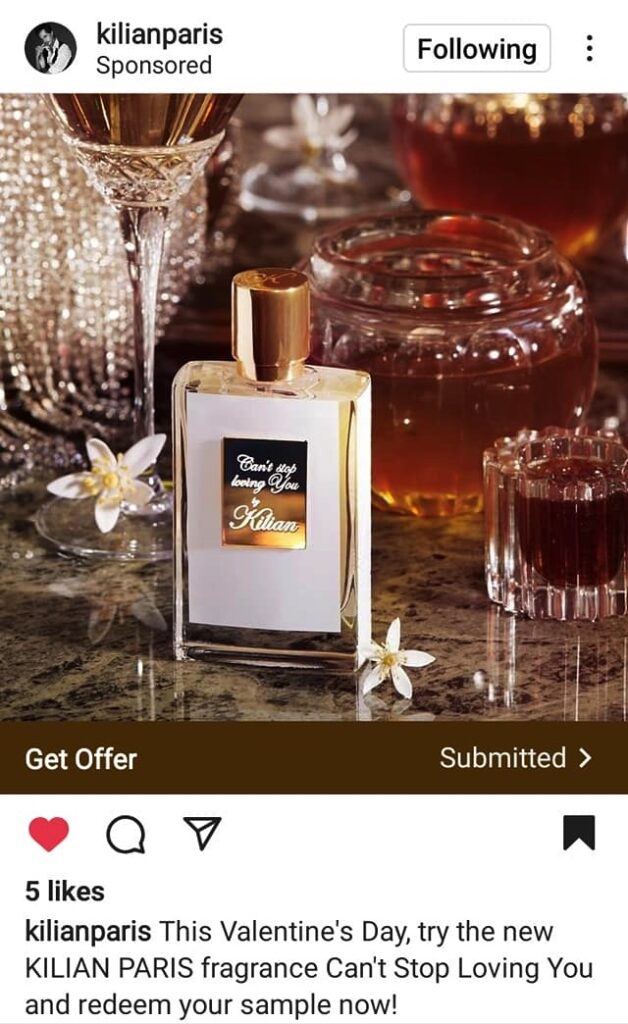 Love Don't Be Shy by Kilian sample
From Facebook / Instagram – SOLD OUT!
The Free Kilian Love Don't Be Shy perfume samples are offered thru a sponsored advert showing up for select people on Facebook. So not everyone will be getting this freebie. However, it's definitely worth a shot.
The sponsored advert has no direct link to it. So, for a possible free Kilian Love Don't Be Shy perfume sample, we invite you to go over to the By Kilian official page on Facebook and give them a follow. Also, keep both eyes open for the advert to pop-up in your Facebook social feed. Here's how it looks :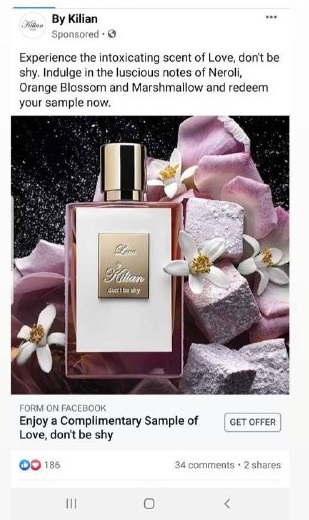 Once you spot it, you would know what to do to claim it. It's probably showing for females living in the United Kingdom, aged 18 to 50…
Don't hesitate to let us know if it did end up showing up in your feed or not. We hope you get it.
Valid for a limited time only or while the supplies last so hasten to maybe snag this great value perfume freebie By Kilian Paris.
Much love!
Be the first to get the latest freebies in your inbox