Last Updated on December 7, 2022
HOT! There's a new freebie for fragrance lovers. You can get a free Jimmy Choo perfume sample by mail while the quantities last.
Here are all the recent Jimmy Choo Perfume samples you can get in the mail without spending a dime.
This article is updated regularly to include the latest offers, so the top ones are more likely to be available.
How to get a free Jimmy Choo I Want Choo perfume sample by mail?
NEW! From Facebook / Instagram – AVAILABLE
Right now, Interparfums is hosting a new sampling offer. Join in the fun for a possible free sample of the new Jimmy Choo I Want Choo Forever perfume. Get yours now and discover the I Want Choo Forever Fragrance with notes of Rose, Cherry, and Vanilla.
This is available through a sponsored post on Facebook and Instagram from Interparfums. Here is how to increase your odds of seeing the pop-up in your feed.
Follow the Interparfums page on Facebook and Instagram
Like their recent publications (5 or more)
Lookup the Jimmy Choo I Want Choo Forever fragrance on the internet
After that, keep an eye out for the sponsored posts on your feed. Here is a screenshot of the one you should find to claim the sample.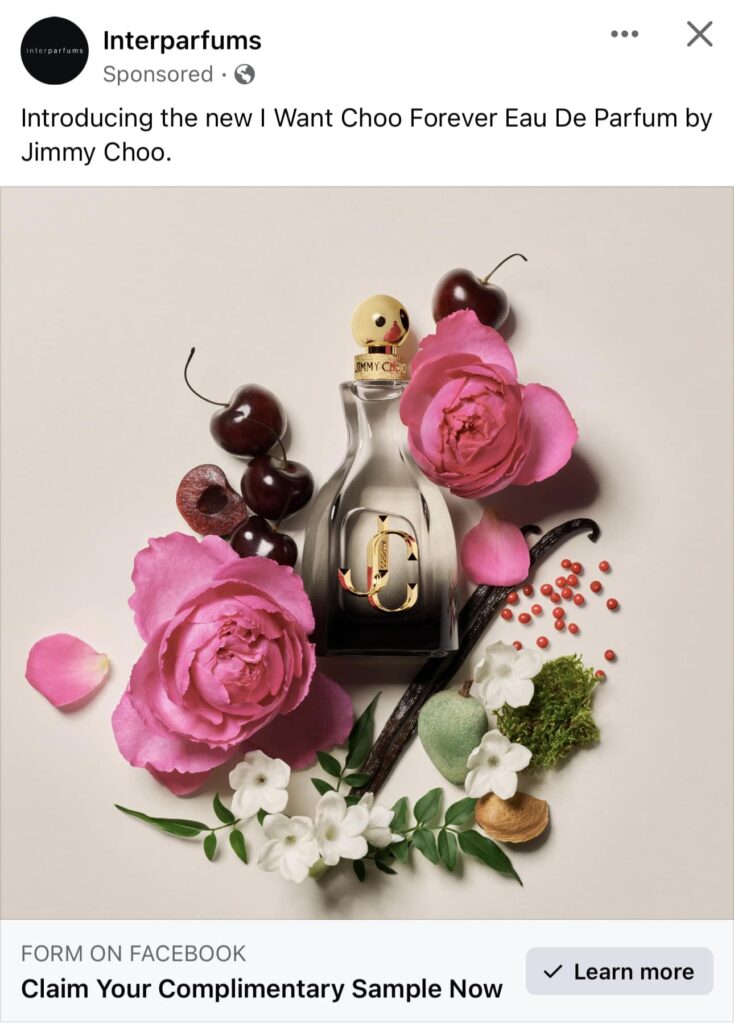 Once you find it, it's all easy from there. Just click the 'LEARN MORE' button to access the SoPost form on Facebook or Instagram, depending on where it popped up.
The advert is showing up to select users on Facebook and Instagram, who are 18 and older and have shown interest in Gifts and Fragrances.
Good luck.
Thru SoPost – SOLD OUT!
A new SoPost form with Jimmy Choo this time has shown! You can grab a free perfume sample of Jimmy Choo I Want Choo Eau de Parfum for her while supplies last. Click here to go to the SoPost form and claim this gorgeous perfume.
You will need a valid phone number to confirm your sample order with SoPost. Be quick!
Please note that the campaign goes on and off. There's also an advert on Facebook showing to select users. Keep an eye on your feed.
Valid for a short period of time or while the quantities last.
Did you manage to get one? Are you excited about trying this new fragrance? Don't forget to let me know in the comments below!
Be the first to get the latest freebies in your inbox