Last Updated on February 15, 2023
Here is a new opportunity for you to get free Giorgio Armani My Way perfume samples in the UK.
In this article, I will be sharing with you the possible ways you can score a free sample of My Way Fragrance. Keep an eye out for updates.
Available Armani My Way perfume samples in the UK
NEW! Odore form – AVAILABLE
There is a new sampling offer from Armani to residents of the UK. Hurry up to score a free sample of My Way Fragrance. CLICK HERE to go to the Odore form. Fill it out to receive your sample by post. Supplies are quite limited.
IMPORTANT NIOTE: If the link says you do not have access, simply copy and paste the link below directly into your browser:
https://app.odore.com/api/v1/link/campaign/a94913cd-1e15-4595-9f3a-f4f91d7aea4d/ui/
This one is for the new My Way Intense fragrance. Run to get one. If it says for select users only, I invite you to try to get the sponsored ad to show up in your feed follow the steps below.
The newest addition to my Way Perfumes by Armani mimics the feeling of touring a flower farm, with all the bright, fresh scents. It captures intense experiences and authentic encounters of scents, like a bright floral bouquet with a woody trail
From Facebook / Instagram
Armani is giving away free samples of My Way Fragrance through a new sponsored post on Facebook and Instagram. There is no direct link to the form. However, I invite you to complete the following actions to make the advert pop up in your social media feed. Thus be able to see and fill out the request form.
Like the "Armani Beauty" page on Facebook, and their Instagram account if you use it
Engage with the brand by liking recent posts
Lookup the My Way Perfume on the internet and view it on Armani's website
Then keep an eye for the ad to pop up in your Facebook/Instagram feed. You can see below a screenshot of the post.
Please note that the targeting criteria for this sponsored post are as follows:
Female residents of the UK,
Aged between 20 to 45,
Have shown interest in fragrances.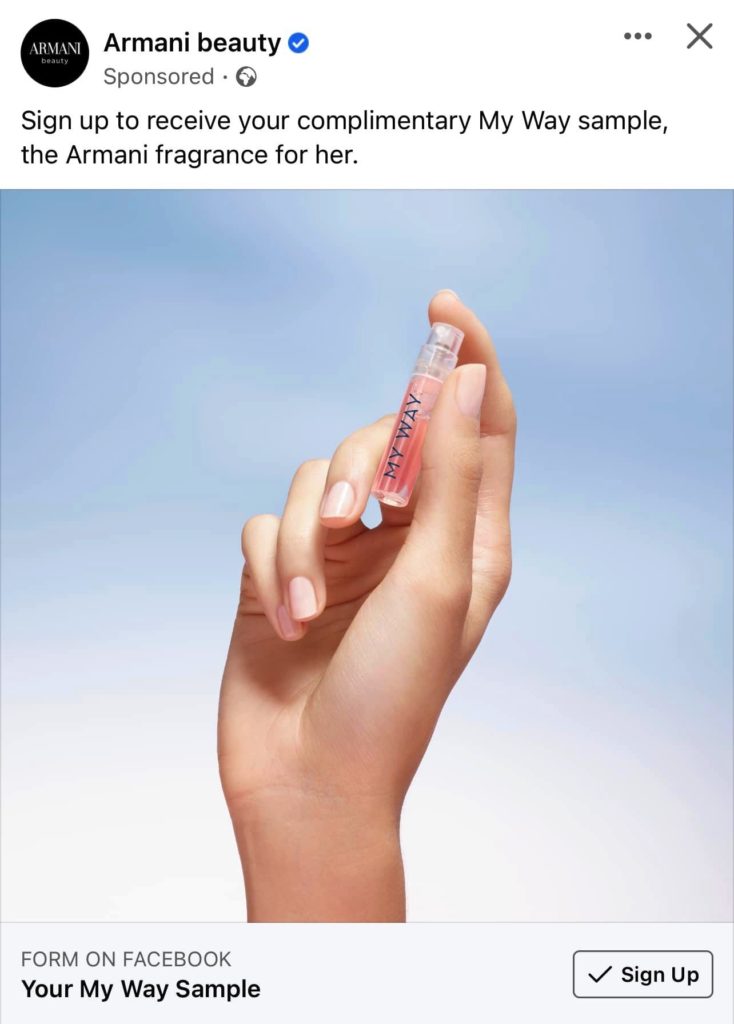 Once you spot it, simply hit the 'SIGN UP' button to see a SoPost form pop up. Fill it out and wait for your freebie to be shipped by post.
Stay tuned for more updates or a possible direct SoPost link.
Good luck.
Previous Armani My Way Perfumes sampling offers in the UK
On TikTok – SOLD OUT!
There is a new sponsored advert on TikTok from Armani Beauty. Find it to claim a free sample of My Way Eau de Parfum by Giorgio Armani. It doesn't have a direct link like all sponsored ads don't, but you can follow the instructions below to increase your odds of seeing it.
Here is a snapshot of what the advert looks like. Good luck.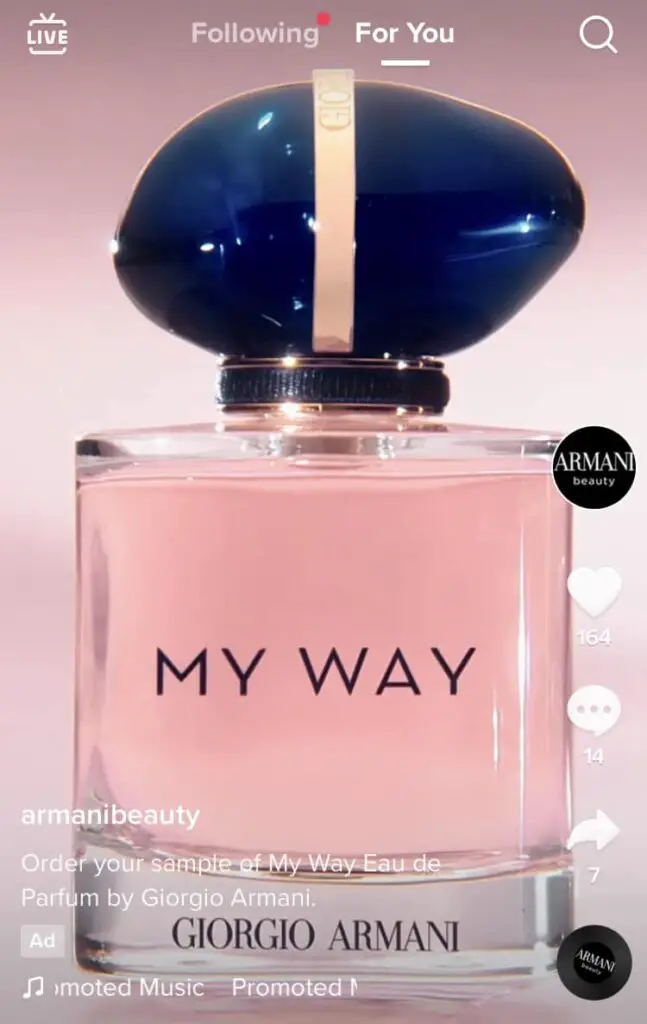 Update 7th November:
Boots is giving 23,000 free samples of Giorgio Armani My Way Eau de parfum. Follow the link below this paragraph to the Boots sampling form to order it NOW!
Click here to order your sample from Boots (expired)
OCTOBER 23rd UPD:
Supplies are up through the SoPost sampling campaign again! Hurry to get your samples
OCTOBER 14th UPD:
Now the FREE Giorgio Armani My Way Eau de Parfum Samples are being offered by ELLE Magazine. You can click on the "Get this free sample" button at the bottom of this text to go there. Just keep scrolling the article and keep an eye for an advert offering you the Armani Perfume samples.
Quickly! Giorgio Armani is offering 40,000 FREE Samples of My Way Eau de Parfum.
My way is the latest perfume for women by Giorgio Armani, and now you can try it for free through this sampling campaign on SoPost.
Be quick to click on the "Get this free sample" button at the bottom of this article to be taken to the sample request page. There, provide your info and submit to receive a confirmation code. Confirm your order and wait for your free stuff to be shipped to your house.
These samples are for UK residents ONLY!
Valid while supplies last!
Want more free perfume samples in the UK? Keep an eye on this listing. We add the latest perfume freebies whenever available.
NOTE: If you are a resident of Canada or the US, you should check out this article to get your FREE Giorgio Armani My Way Perfume Sample by mail.
Be the first to get the latest freebies in your inbox