Last Updated on November 11, 2022
Are you looking for some free Felix Cat Food samples to treat your kitten? Look no further than this article. You can find below all the available offers to score some free Purina FELIX goodies without spending a cent.
How to score a free pack of Purina Felix Cat Food?
NEW! FELIX Crispies Treats thru SoPost Link – AVAILABLE
Purina is now offering free samples of the new FELIX Crispies Treats for Cats. FELIX Crispies are irresistibly air-whipped for a light and crispy texture to treat your cat every day. With only 1kcal per treat. Try it for yourself by ordering a free sample. To do so, CLICK HERE to go to the offer page on SoPost. Fill out the form and you're good to go.
This offer is available for residents of the UK only, while supplies last.
free Felix Kitten pack with a voucher – SOLD OUT
For a limited time, you can grab a free Felix Kitten pack up to the value of £5 with a voucher.
Purina is giving away free Felix vouchers for UK residents. So they can claim in-store a full-size Felix Kiten pack. Get yours and redeem it in-store while supplies last.
It is very simple. To score a free pack of Purina Felix Kitten Food, I invite you to follow this link to the voucher. Download it, then print it off to use in participating stores across the UK.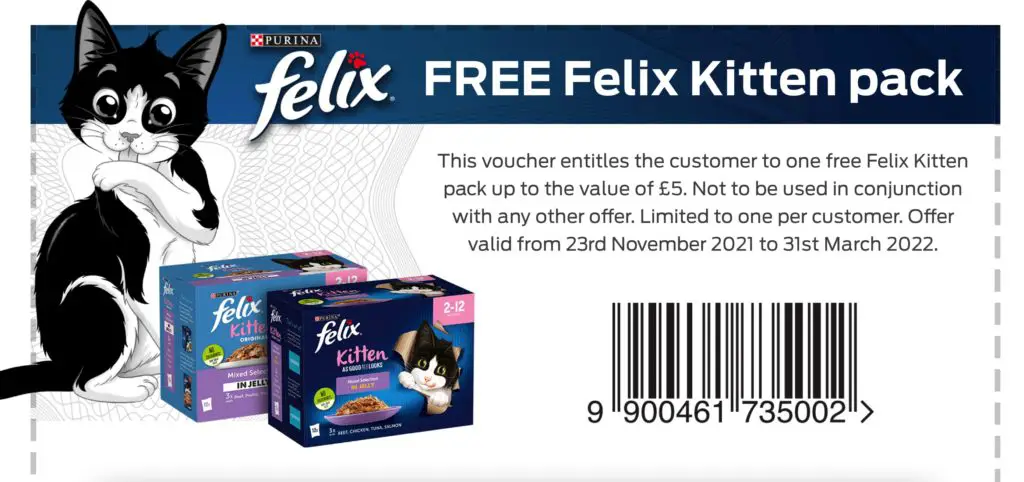 The voucher is valid to claim at all major grocery stores in the United Kingdom, until March 31, 2022.
Limit one voucher per transaction and per user.
The Purina Felix Voucher is valid for one free pack of any variant of PURINA® KITTEN FOOD (12x100g) only. Subject to availability.
The free pack wil be redeemed at the RRP for the product up to a maximum value of £5.00
Be the first to get the latest freebies in your inbox