Last Updated on June 16, 2022
Elizabeth Arden is offering Free samples of Advanced Ceramide Capsules to receive by mail. You should hurry up to seize this sampling opportunity while the supplies last.
The Elizabeth Arden Advanced Ceramide Capsules skincare promises to give back your skin its youth and firmness from the early applications. Come test it for yourself by ordering a free Elizabeth Arden Ceramide Capsules sample to receive by post. Here is how.
How to receive Free Elizabeth Arden Ceramide Capsules samples by mail?
NEW! From TikTok – AVAILABLE
Elizabeth Arden is giving away their Hyaluronic Acid Capsules serum samples on TikTok. To get one, CLICK HERE. Make sure you open it on the TikTok App, otherwise it will not work for you. Once you are on the app, click on the first comment that says get a sample to see the form popup.
Hurry up to get yours while supplies last. Good luck!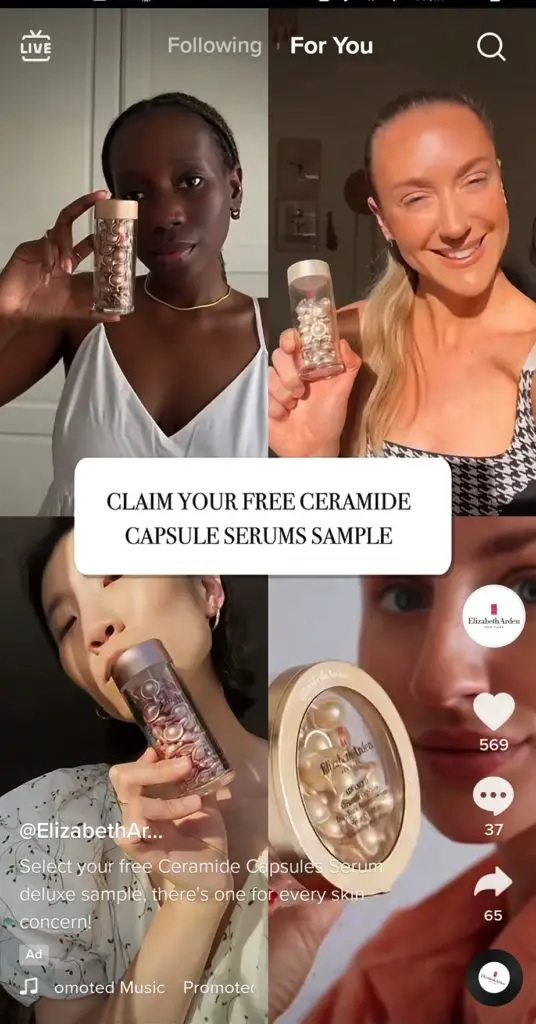 Thru a SoPost on Cosmopolitan Magazine
On June 8th a new sponsored SoPost advert offering free Elizabeth Arden Ceramide Capsules samples was spotted on a page amid
Cosmopolitan Magazine. To get it, I invite you to follow the link to the article by clicking here. and here as well.
Keep scrolling the page up and down until you spot it, and then order your sample with the SoPost form. Below is a snapshot of the post you should be looking for :
Valid for a short period of time or while supplies last.
For UK residents.
Thru Facebook / Instagram – SOLD OUT!
For a limited time only, Elizabeth Arden has a sponsored Facebook / Instagram ad running. The ad is offering select people the opportunity to test out the Elizabeth Arden Advanced Ceramide Capsules for free.
As of May 12, 2022, a new advert is running. This time it's for 4 different Ceramide Capsules samples to choose from. Here's a snapshot below of the advert you should be looking for.
In order to claim and receive by mail your Elizabeth Arden Ceramide Capsules sample. Follow this simple step by step guide.
Please note that this freebie has no direct link to it. It's a Facebook / Instagram advert. This means one can only complete a bunch of actions and hopefully, it will pop up on your feed shortly after.
The actions we recommend you to do are as follow :
Like and follow the official handles of Elizabeth Arden on social media (especially their Facebook page and/or Instagram account)
Like one or two of their posts or engage with the brand on social media
Google the Elizabeth Arden Advanced Ceramide Capsules product
Visit the Elizabeth Arden website and check the Advanced Ceramide Capsules product page
…
That's it. Now just keep an eye on your social media feed for the ad to pop-up and then claim your samples by completing the Facebook form.
This freebie is available for UK residents ONLY!
UPDATE October 13th: there is a sponsored ad also on Pinterest, proceed the same, but check Pinterest.
UPDATE October 14th: Elizabeth Arden Hydra-Plumping Serum Sample through a direct link in ELLE Magazine UK
Be the first to get the latest freebies in your inbox