Last Updated on May 26, 2023
Get possible free Diesel Fragrance samples by post in the UK, while supplies last.
Find below all the available free samples of Diesel Perfume that you can order by post.
NEW!
Free sample of Diesel Only The Brave Fragrance
NEW! Direct Odore link – AVAILABLE
A new direct link to an Odore form is available to claim a free sample of Diesel Only The Brave perfume.
Click here to snag one while supplies last.
If the link doesn't work, you can try to copy paste this link directly into your browser:

https://app.odore.com/api/v1/link/campaign/e989c69b-f276-46a6-9047-9bd64b53a335/ui/#/api/v1/link/campaign/e989c69b-f276-46a6-9047-9bd64b53a335/ui/
Diesel D Perfume sample
Thru Facebook / Instagram
New SoPost freebie thru Facebook. Diesel Fragrances is giving away free samples of the new fragrance: Diesel D.
Be on the lookout for the sponsored post, to get possible Diesel perfume samples.
Spot the advert, to get a possible free Diesel D perfume sample. There is currently no direct link to this freebie. However, what you can do is keep an eye out while using Facebook and possibly Instagram as well. Hopefully, by liking the Diesel Fragrances UK page on Facebook, and engaging with the brand, the post will pop up in your feed. SoPost powers it as usual.
Here's the snapshot of the advert you should be looking for: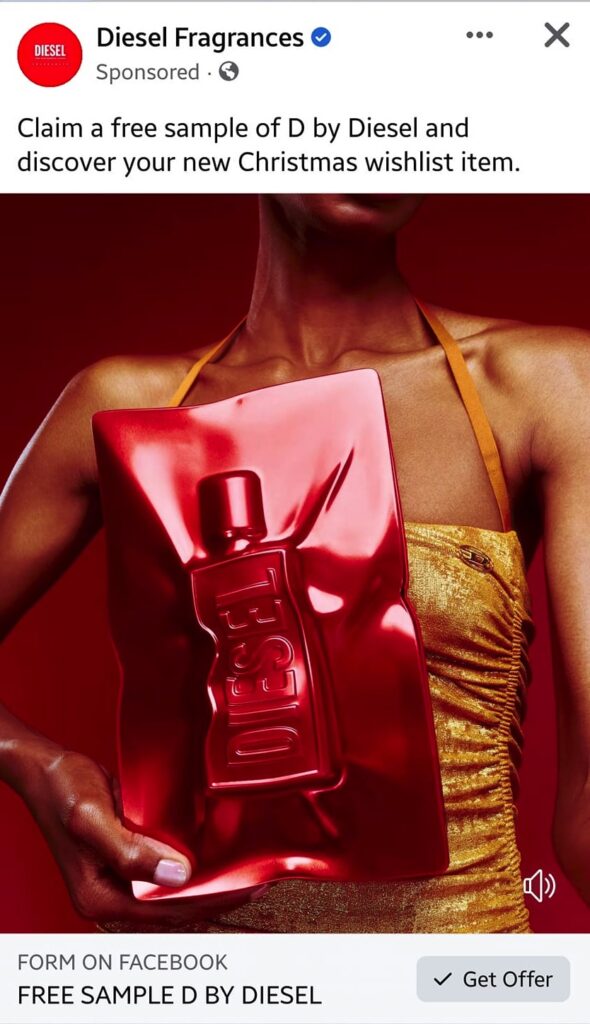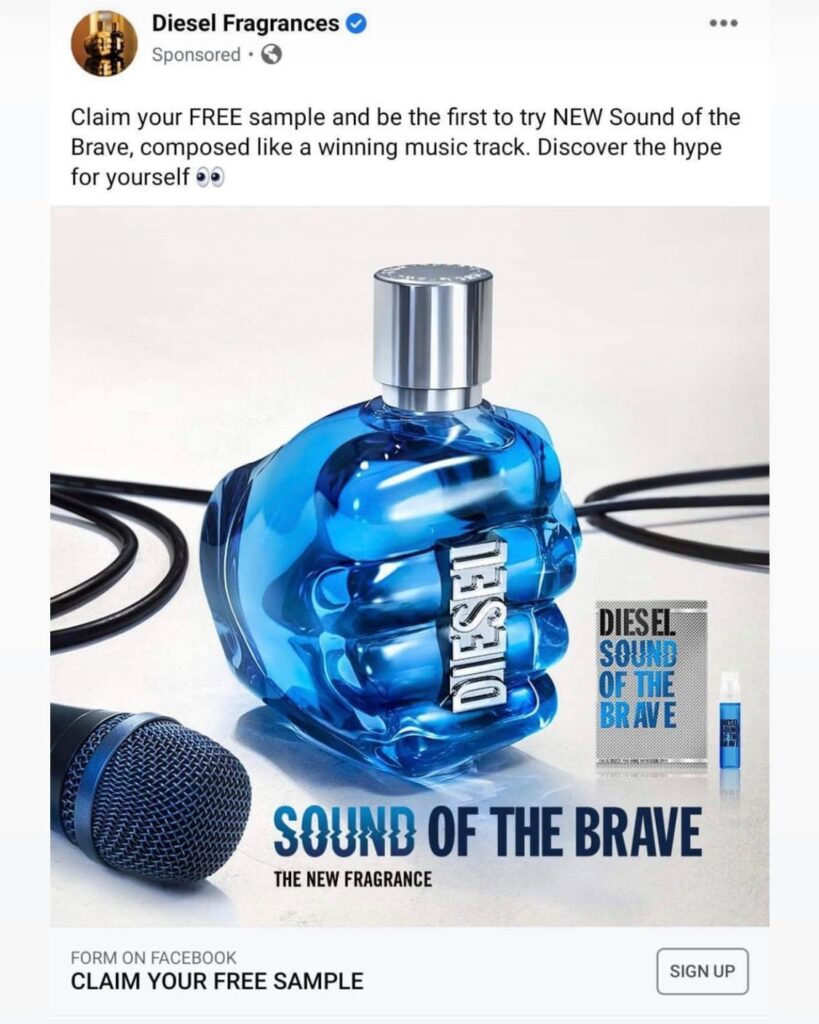 In case a find the direct link to form to apply for this SoPost freebie, I will make sure to notify you thru push notifications. So make sure you are subscribed to those.
As all freebies thru Facebook, this will go out and on. So, keep an eye out these days.
Thru Odore form – SOLD OUT
Hurry up to score a free sample of the new Diesel Perfume in the UK. To get your sample through a direct link to an Odore form, CLICK HERE and fill out the form.
Be quick because since there is a direct link, samples are going to go out of stock quickly!
30,000 D by Diesel Eau de Toilette 1.2ml samples are available, subject to availability whilst stocks last.
Be the first to get the latest freebies in your inbox