Last Updated on November 16, 2022
New makeup freebie at Boots! Starting November 14th, 2022, you can snag a free Chanel Mascara at a participating Boots store near you (Check the list below).
This is an in-store freebie, and it is only available on Chanel counters in select Boots stores. To claim your free Chanel Mascara sample box this week, simply head over to your nearest Boots and find the Chanel counter. Then, show the person there the screenshot below to claim your free Chanel Noir Allure Mascara.
NOTE: I suggest you save this page to your favorites or save the picture below to show them easily when you are at the counter.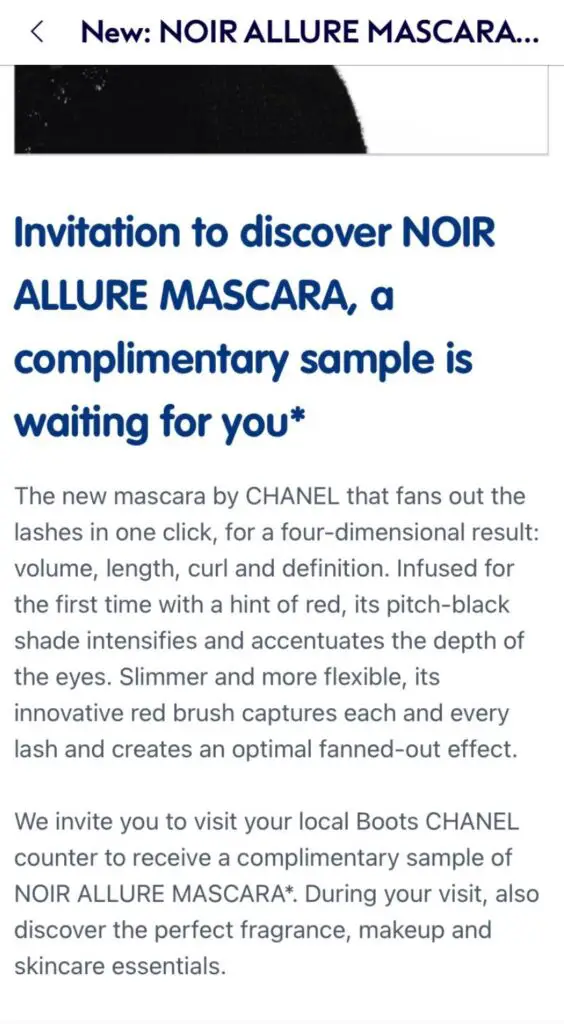 If you have the Boots App on your phone, you can find the offer there as well to show them at the counter.
Participating Boots Stores
Also, make sure you go to one of the participating Boots stores. Find the list below:
Participating Stores:
Nottingham Victoria Ctr
Derby Intu Shopping Ctr
Sheffield Meadowhall Sc
Cambridge Petty Cury
Peterbrgh Queensgate Ctr
Manchester Trafford Ctr
London Canary Whf Canada
Bristol Broadmead
Milton Keynes Crown Walk
Chester Foregate St
Swansea The Quadrant
Cardiff Queen St
Oxford Cornmarket St
Leeds Trinity
Chichester North St
Glasgow st Enoch Sq
Belfast Donegal Place
Aberdeen Bon Accord Ctr
Newcastle Eldon Sq
London Sedley Place
London Brent Cross Sc
London Liverpool St Stn
Watford The Harlequin
Bromley The Glades Sc
Bexleyheath Broadway Sc
Kingston U Thms Union St
London Kensington
W Thurrock Lakeside Sc
Guildford High St
Brighton North St
London Piccadilly Circus
Dartford Bluewater Park
London 193 Oxford St
Liverpool Clayton Sq Sc
Warrington Gemini Retail
Manchester Market Street
Birmingham High St
Canterbury Whitefrs Sc
London WhiteCty SC Ariel
Bath Southgate Centre
London Stratford City
Dudley Merry Hill Centre
Bristol Cribbs Causeway
Lincoln
Gateshead Metro Centre
Edinburgh Gyle Centre
Glasgow Braehead Centre
Glasgow Buchanan Gallery
Cheshunt Brookfield Ctr
Aberdeen Garthdee Rd Rp
Speke
Leicester Fosse Park
Bournemouth Castle P Sc
Glasgow Fort
North Shield Silvrink Rp
Dublin Liffey Valley
Blanchardstown 223 Ctr
That's about everything. We hope you get this freebie before it goes out of stock.
Be quick to visit the Chanel Counter at Boots since this offer is only available while supplies last. So first come, first served.
This is an in-store sample and exclusive to Chanel Counters at Boots.
You can share this offer with your friends and family so they can also benefit from this deal.
Also, make sure you subscribe to our newsletter to make sure you receive the best beauty samples in the UK before anyone else.
Have a great day everyone.
Be the first to get the latest freebies in your inbox