Last Updated on June 4, 2021
Gentlemen, hurry up to request your Free samples of Carolina Herrera Bad Boy Perfume.
In fact, Carolina Herrera is launching an all-new fragrance for men, called Bad Boy. It is meant to be the equivalent of Carolina Herrera Bad Girl Eau de Parfum.
To celebrate the pre-launch, the luxury brand is hosting a sampling campaign to allow people to smell and try the EDP before they buy it.
How do I receive FREE Samples of Carolina Herrera Bad Boy Perfume?
NEW! Thru a SoPost on Facebook
Since 4th of June 2021, a new SoPost powered form is showing up to select users on Facebook. The post offering the Bad Boy Perfume samples is sponsored by Carolina Herrera official page. This is how it looks like :
There could be other variation to this post. No direct link at the moment. Just keep an eye out while scrolling your social media feed.
Stay tuned for updates or a possible direct sopost link.
Thru a sampling offer on Carolina Herrera website – Expired!
In order to get your hands on this perfume freebie, please follow this very easy step-by-step guide I have written for you.
Start by clicking on the "Get this free sample" button below to get redirected to the sampling page on the Carolina Herrera official website. Once you are there, you should click on the "Discover this campaign" button to access the online request form.
Complete the provided request form with your valid shipping address and personal details, such as your full name, email address, birthday, etc…
Please make sure to include all relevant details to your shipping address, such as your floor number, apartment number, etc… This way, your free samples wouldn't get lost in the mail.
That should be all. You should hurry up to receive your free Bad Boy Fragrance by Carolina Herrera by mail while the supplies last.
Once you receive and try this fragrance freebie, make sure you share your thoughts and pictures with us. We would appreciate it greatly.
You can share this offer with your friends and family to tip them off through the social sharing buttons.
Who can get FREE Bad Boy Perfume?
This sampling campaign is only available for legal residents of the United Kingdom.
There's a limit of one free perfume vial per person and/or household, so no need to apply more than once.
UPDATE 7th Nov. 2020 : new samples of Carolina Herrera Bad Boy Eau de parfum are being offered through a sponsored advert on Facebook and Instagram. This is the ad you should be in the look for (see pic below).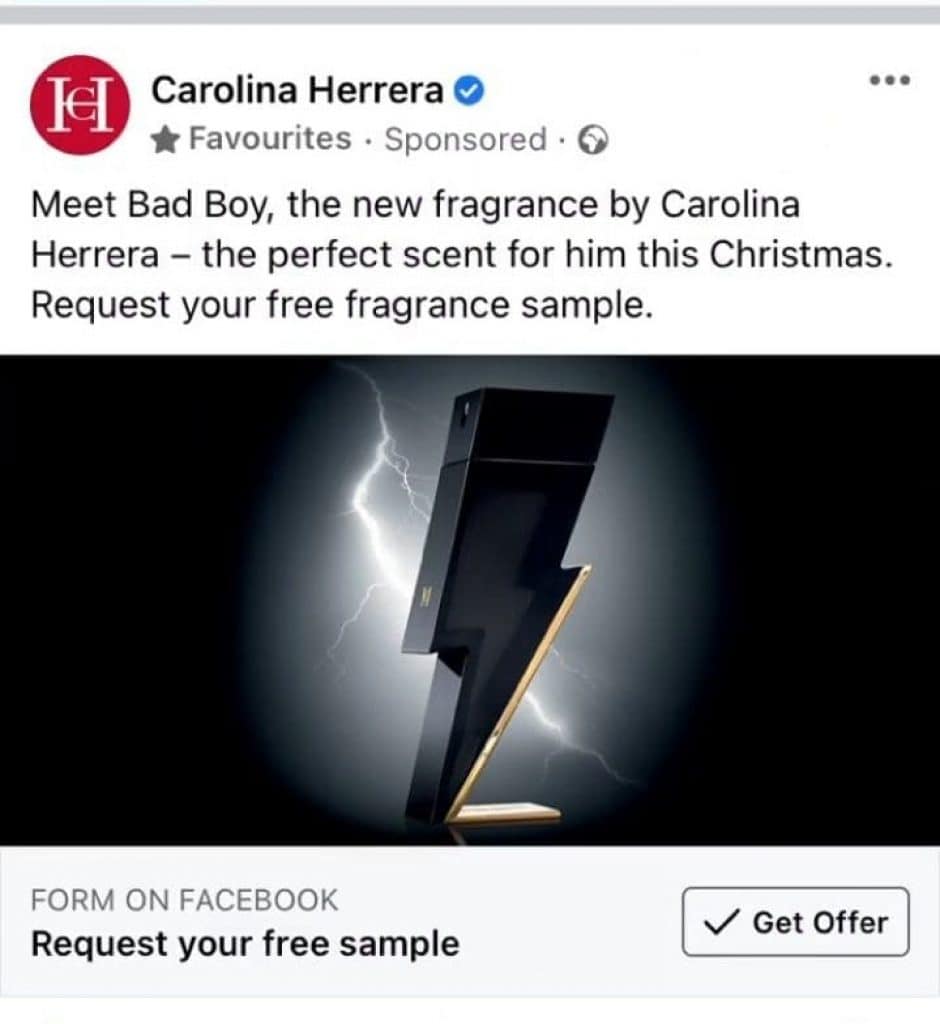 We do not have a direct link, however, the actions you can complete to make the ad pop up in your social media feed are:
Like and follow the official handles of Carolina Herrera on social media (especially their Facebook page and/or Instagram account)
Like one or two of their posts or engage with the brand on social media
Google the new Carolina Herrera Bad Boy Eau de Parfum Suprême Perfume being offered here
Visit the Carolina Herrera official website and check the new fragrance there too
…
This ad offering free Carolina Herrera fragrance samples is targeting people living in the UK currently.
Also, make sure you subscribe to our newsletter to make sure you receive the latest free stuff in the UK by mail. It's 100% without spam. :)
You can also opt-in to receive relevant push notifications from us, anytime a new offer is published.
We hope you enjoy this offer.
Have a lovely day everyone. :)
UPDATE 21th Nov. 2020 : new samples of Carolina Herrera Bad Boy Eau de parfum & Good Girl perfume are offered by Boots in a new campaign. Click the link below to get it while quantities last.