Last Updated on September 4, 2023
Hurry up to request your free Carolina Herrera Bad Boy Perfume samples in the UK.
Carolina Herrera launched a new addition to the all-time favorite fragrance for men line. The Bad Boy Le Parfum fragrance.
To celebrate the pre-launch, the luxury brand is hosting a sampling campaign to allow people to smell and try the EDP before they buy it.
How to receive free samples of Carolina Herrera Bad Boy Cologne?
NEW! on Facebook / Instagram – AVAILABLE
A new post is showing up to select users on Facebook. The post offering the Bad Boy Extreme fragrance samples is sponsored by Carolina Herrera's official page. This is what it looks like :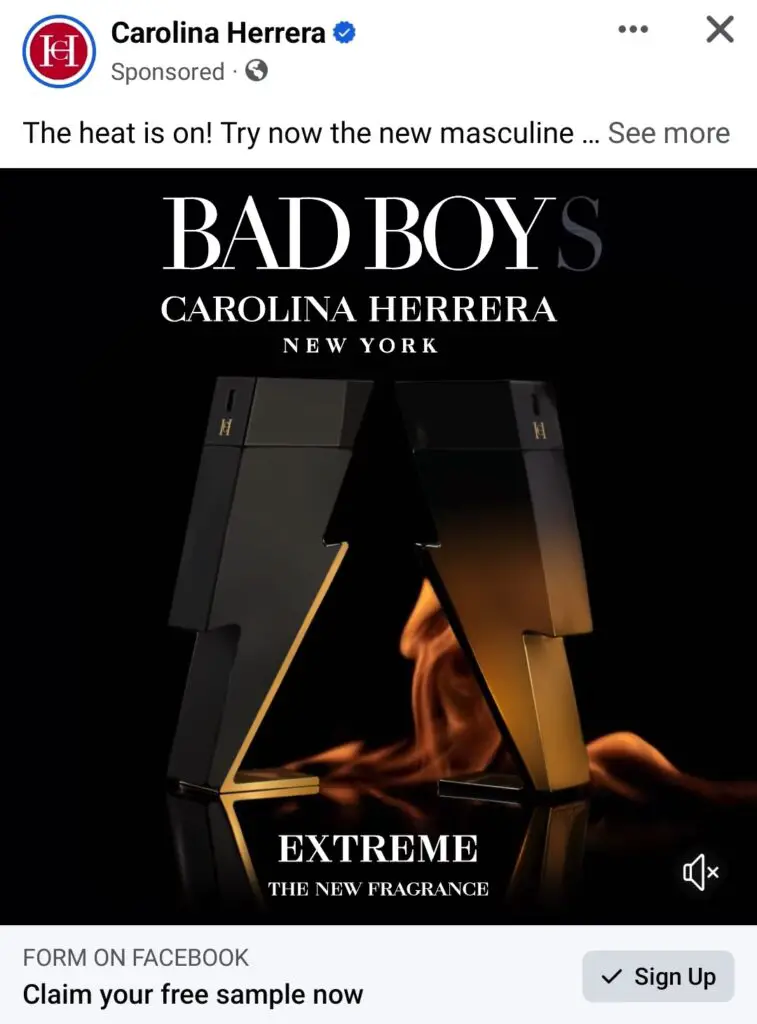 There could be other variations to this post. No direct link at the moment. Just keep an eye out while scrolling your social media feed. To increase your odds of getting the sponsored post, you can complete these actions:
Like and follow the Carolina Herrera page on Facebook and Instagram

Like one or two of their posts or watch a recent video they shared to engage with the brand
This ad offering free Carolina Herrera fragrance samples is targeting people living in the UK currently.
Stay tuned for updates or a possible direct sopost link or updates regarding targeting.
UPDATE: The brand is trying to reach people who interacted with their Facebook page. Aged 18 to 44 and living in the UK.
Please note that there could be other criteria or campaigns for a different group of people.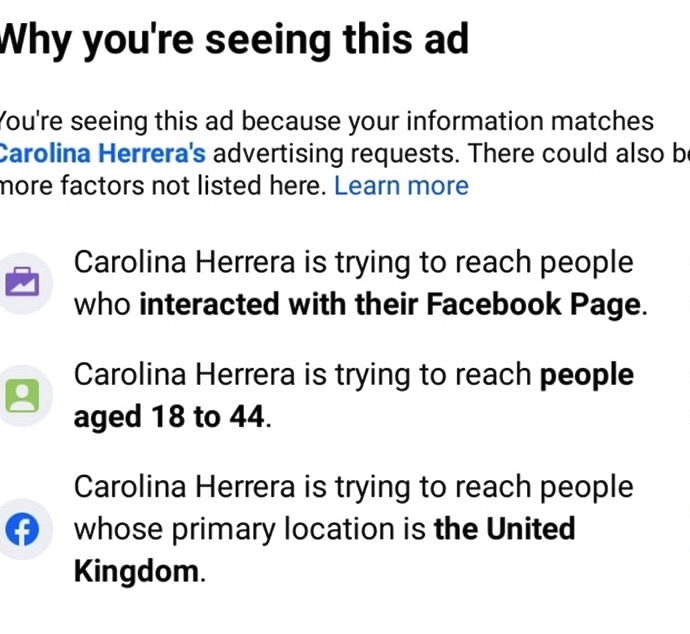 On TikTok – AVAILABLE
There's a delightful surprise waiting on TikTok: a sponsored post from Carolina Herrera offering free samples of their new Bad Boy Extreme Perfume to select residents of the United Kingdom. Here are a few tips and tricks to help you find the ad and claim a sample.
Follow Carolina Herrara on TikTok
Show some love to their posts – a bunch of likes on their pages… At least 3 should do the trick.
Search for the Bad Boy Extreme Perfume on the internet or the TikTok Search Bar
Visit their website and check out the new Bad Boy Extreme in there
After that, keep your eyes open for any sponsored posts. Here is a picture of the one you need to find to claim this freebie.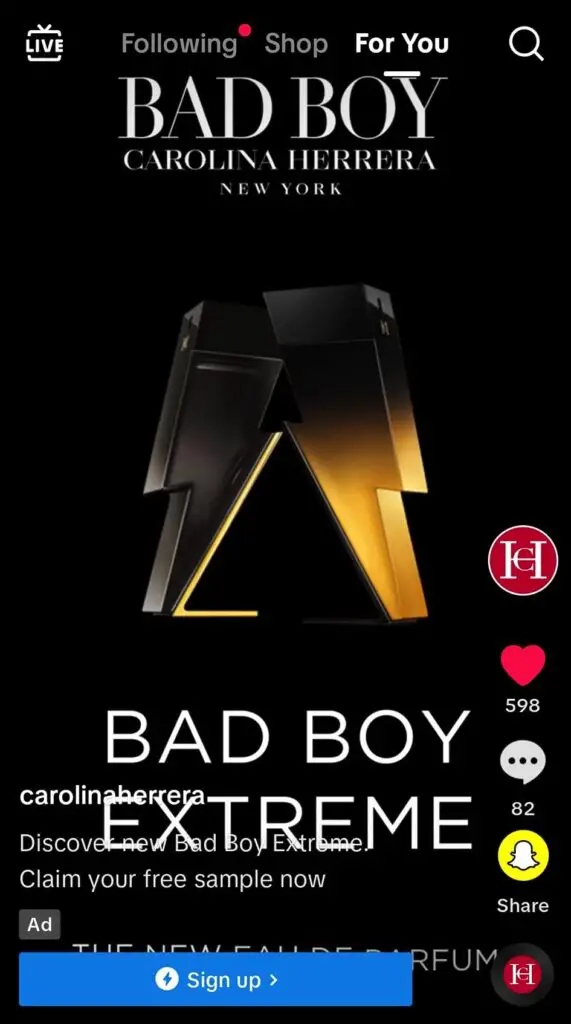 When it appears, just click on the button and fill out the form to enjoy this new version of Bad Boy Aftershave.
This offer is available for a limited time only or while supplies last. Make sure to subscribe to our channels to be the first informed if there is a direct link to claim this sample.
With Boots X sampling – SOLD OUT!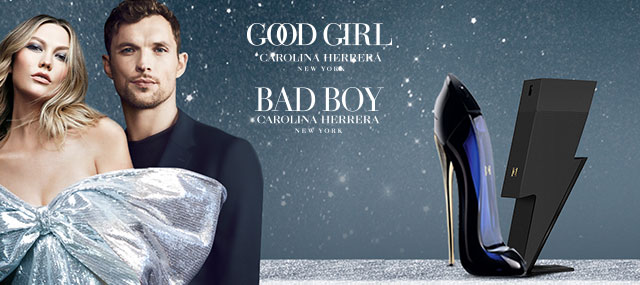 Boots is giving away free samples of Carolina Herrera Bad Boy and Good Girl. Be quick to follow this link to the offer page. Fill out the form and submit to receive your duo sample in the mail
Available for a short period of time or until all the samples have been claimed.
Open to UK residents only.
Bad Boy Supreme Perfume samples with Boots – EXPIRED!
Go to the sampling page on the Boots UK using this link. click 'CLAIM SAMPLE' to access the online request form. Complete the provided request form with your valid shipping address and submit.
Please make sure to include all relevant details to your shipping address, such as your floor number, apartment number, etc… This way, your free samples wouldn't get lost in the mail.
That should be all. You should hurry up to receive your free Bad Boy Fragrance by Carolina Herrera by mail while the supplies last.
Once you receive and try this fragrance freebie, make sure you share your thoughts and pictures with us. We would appreciate it greatly.
This sampling campaign is only available for legal residents of the United Kingdom.
There's a limit of one free perfume vial per person and/or household, so no need to apply more than once.
Also, make sure you subscribe to our newsletter to make sure you receive the latest free stuff in the UK by mail. It's 100% without spam. :)
You can also opt-in to receive relevant push notifications from us, anytime a new offer is published.
We hope you enjoy this offer.
Be the first to get the latest freebies in your inbox