Last Updated on November 23, 2020
Get your mitts on FREE Avene Aqua Gel samples with Eau Thermale Avene while the supplies last.
A sponsored advert offering free samples of Avene Hydrance Aqua Gel was spotted on Facebook this morning. We snagged the link for you. This product is a great 3-in-1 moisturiser for dehydrated skin.
If you have oily skin, make sure you read about the product before using it because it is meant for dehydrated skin.
How to get FREE Avene Aqua Gel samples by mail?
To get your FREE Avene Aqua Gel samples by mail, you can use the link below. However, they keep changing it. So if you hit the button below and it's not working, you can simply proceed the old fashioned way. Meaning you complete a bunch of actions and hopefully, the sponsored advert will show up in your social media feed. Thus, give you the possibility to score this great skincare sample.
The actions we suggest you complete are :
Give the "Eau Thermale Avene" pages on Facebook and Instagram a Like & Follow
Make a Google Search about the product sampled in this offer. In this case, look up Avene Hydrance Aqua Gel
Go to the Avene UK website and look up the product there as well
After that, just keep scrolling your Facebook feed as usual while keeping an eye on the advert to pop up. Once you see it, click the call to action button to claim your freebie. As simple as that.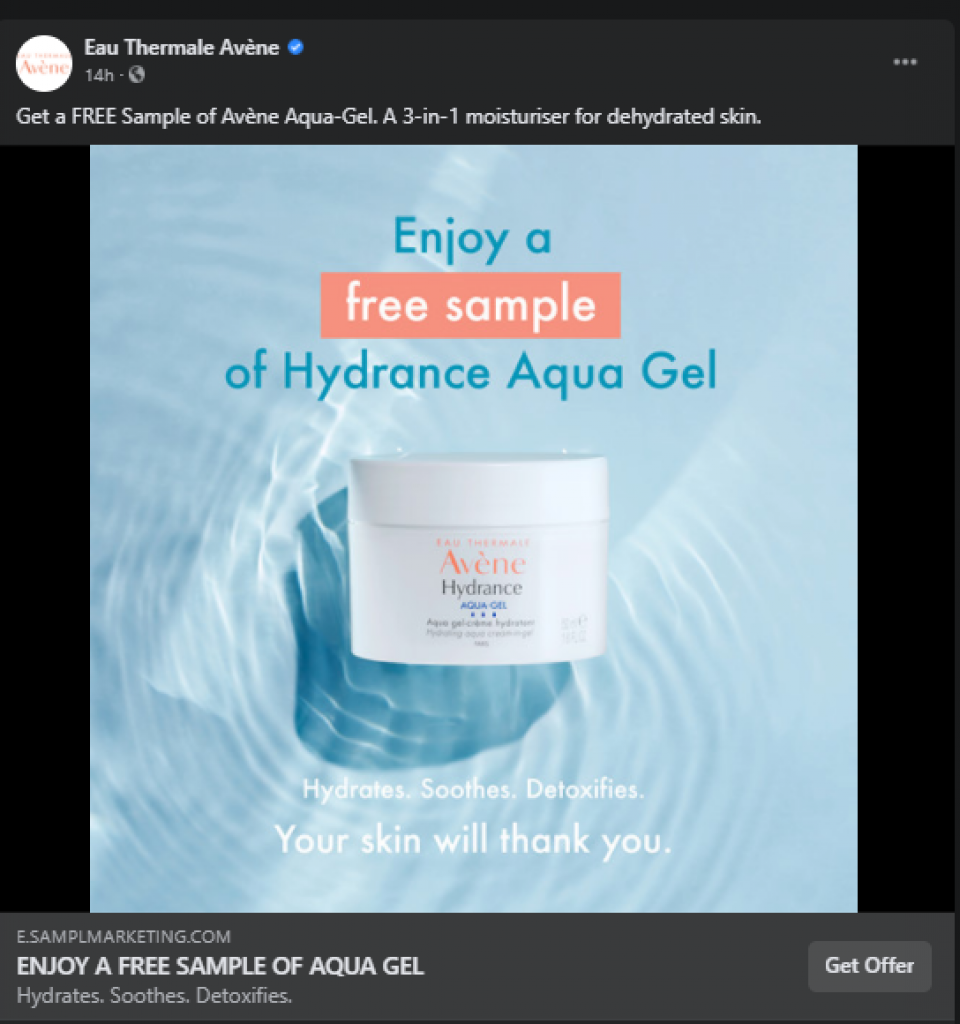 This sponsored advert is currently running in the UK. Thus samples are for UK residents ONLY.
Limit of one free sample per user.
Valid for a limited time or while quantities last.
CLICK HERE TO GET YOUR SAMPLE
Be the first to get the latest freebies in your inbox