Last Updated on March 15, 2022
Go go go! Armani Beauty UK is giving away FREE Samples of SI Eau de Parfum to residents of the UK.
Be as quick as a flash to seize this new sampling opportunity and receive a possible FREE Giorgio Armani SÌ Eau de Parfum sample by mail within the UK.
How to receive a free Armani SI Perfume sample by mail?
NEW! Thru Facebook / Instagram – AVAILABLE
UPDATE: It looks like Armani has teamed up with the influencer Sebinaah to give away free samples of Armani SI perfume. You can follow this link to her Instagram story to claim one while supplies last. If it says sold out, you can still try the second method explained below. Good luck!
The sponsored ad comes from the Armani Beauty UK page on Facebook. They are giving away free samples of the new Armani SI Eclat perfume.
You can get try to get your mitts on this great perfume freebie to add to your collection by following an easy step-by-step guide.
There's no direct link to this offer since it's a sponsored post. However, what you can do is keep your eyes open for the post to show up in your social media feed. To increase your odds, simply :
Like the "Armani Beauty" page on Facebook, and their Instagram account if you use it
Interact with the brand by liking a couple of recent posts or watching a video they shared
Here's what the post you should be on the lookout for looks like :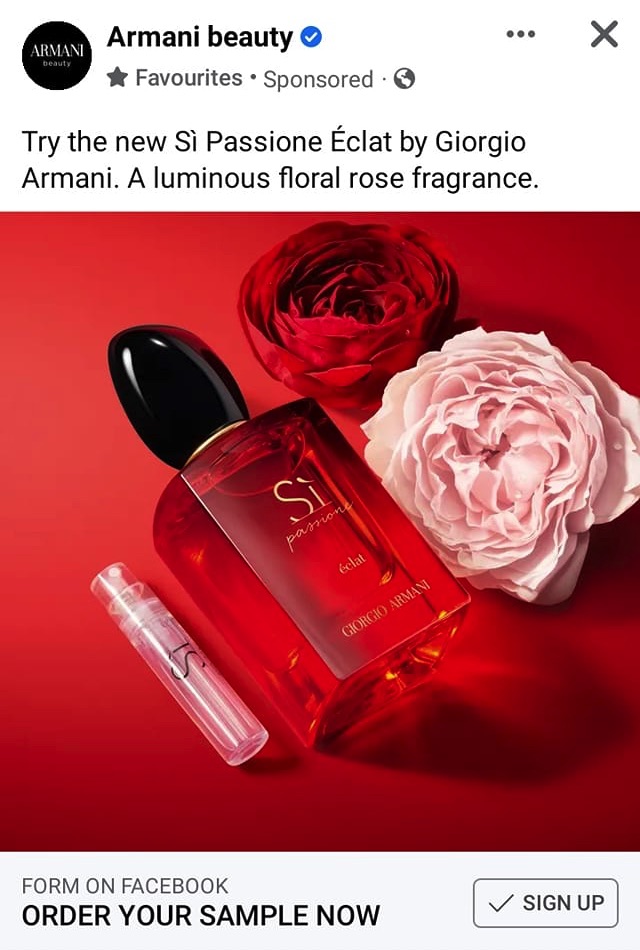 As you can see, the post is showing up to residents of the UK who set their gender to female and age between 18 and 54 years old. Plus who showed interest in Fragrances. Good luck!
If the supplies are still running, you shall find a sample request form when you hit sign up. It leads to as SoPost form. Pop up your details in there and submit to get your free perfume samples from Armani.
Freebie is for UK ONLY.
Available to select members on Facebook (Those targeted by the brand itself).
Thru SoPost Link
While supplies last, you can score a free Armani SI Passionne perfume and Giorgio Armani Code Aftershave for him samples while supplies last. To get yours before they sold out, just follow this link to the request form. Complete the SoPost form and you're good to go.
Be the first to get the latest freebies in your inbox