Last Updated on June 21, 2021
Be as quick as a flash to snag a free Armani Lipstick sample in the UK with SoPost.
For a limited time, you can sign up for a free Armani Lip Power Lipstick sample and get it by post. 100% free of all charges.
The new lipstick by Giorgio Armani offers a longwear and vivid colour to your lips with no compromise on comfort.
Made with a unique formulation combining oils and highly concentrated pigments to deliver vivid colour in its truest form, in a light texture that stays comfortable all day long.
How to get a free Armani Lip Power Lipstick sample by post?
A New SoPost direct link is available since this morning. To snag a free Armani Lip Power Lipstick Sample whilst supplies last, I invite you to follow this link to the SoPost form. Click 'CLAIM FREE SAMPLE' and proceed as usual.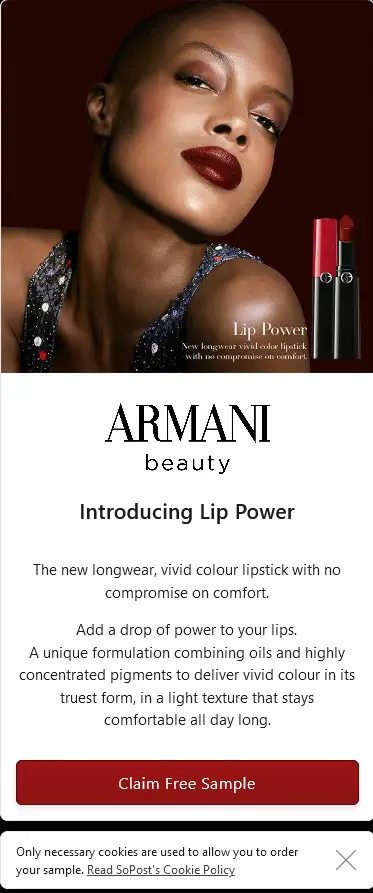 IMPORTANT: Some people were having trouble registering for this for some reason. So if the SoPost form doesn't work for you, know that you're not alone.
I'm looking for why and how we can get it to work. It would be nice to get feedback from you guys. Don't hesitate to comment with your experience with this SoPost form in the comments below. Let's help each other out!
Update: so the problem some people are facing is due to multiple samples claim with SoPost in the last 12 months of so. If you get a rejection, try using an email address you haven't used already with SoPost. Keep the rest of your information intact. Just your email address that needs to change. Good luck with this.
This is for residents of the United Kingdom only.
Limit 1 free sample per person and per household.
Valid for a very short period of time or while the supplies last.