Last Updated on October 11, 2023
HOT Fragrance freebie! Be quick to snag a free Armani Code Perfume sample by post while supplies last.
Below is how to get it and the link.
How to get a free sample of Armani Code perfume?
NEW! Thru Facebook / Instagram post – AVAILABLE
Giorgio Armani is giving away free samples of the new Armani Code aftershave through a sponsored post on Facebook and Instagram. It would be best if you made the advert pop up in your feed to get it.
I have some suggestions for you to make that happen.
Interact with the brand by liking a couple of recent posts or watching a video they shared
Search the Armani Code on the Facebook Search bar or the internet
Here is a screenshot of the advert with the link to the form to claim this freebie.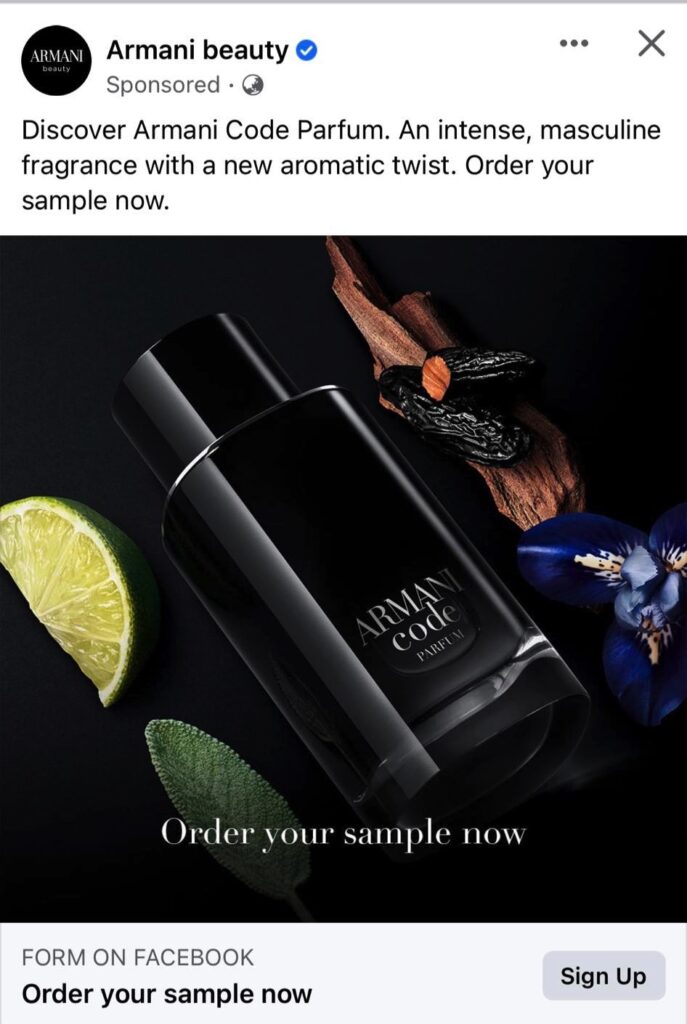 The Armani Beauty page is targeting people who match these criteria:
Residents of the UK who set their gender to male and age between 18 to 54
Shown Interest in Fragrances
Communicate in English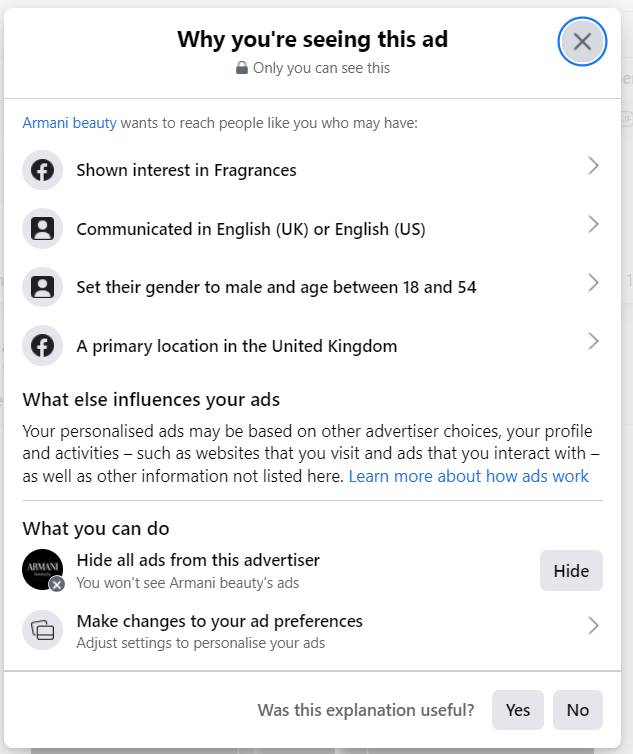 Via Odore link – SOLD OUT!
Please hurry up to get a free sample of the new Armani Code Aftershave for him while supplies last. To get yours before they sell out, just click on the button below to go to the request form on Odore. Complete the form and you're good to go.
IMPORTANT: If the link says you do not have access to this link, then I suggest you try to access it through my Instagram story. It seems to work better.
Discover the NEW Code Parfum by claiming a 1.2ml sample.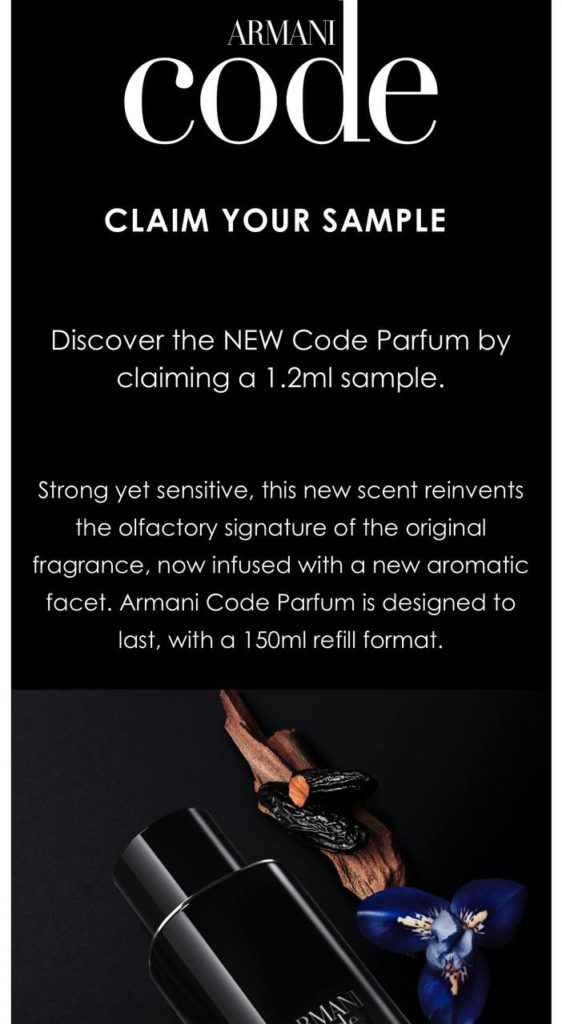 Strong yet sensitive, this new scent reinvents the olfactory signature of the original fragrance, now infused with a new aromatic facet. Armani Code Parfum is designed to last,
Thru John Lewis website – SOLD OUT!
While supplies last, you can score a free Armani code perfume sample with John Lewis. Just follow this link to get yours before they sold out and click on the 'CLAIM SAMPLE' button. Complete the SoPost form and you're good to go.
There are 5 other perfume samples right now with John Lewis. Check the full list with links here.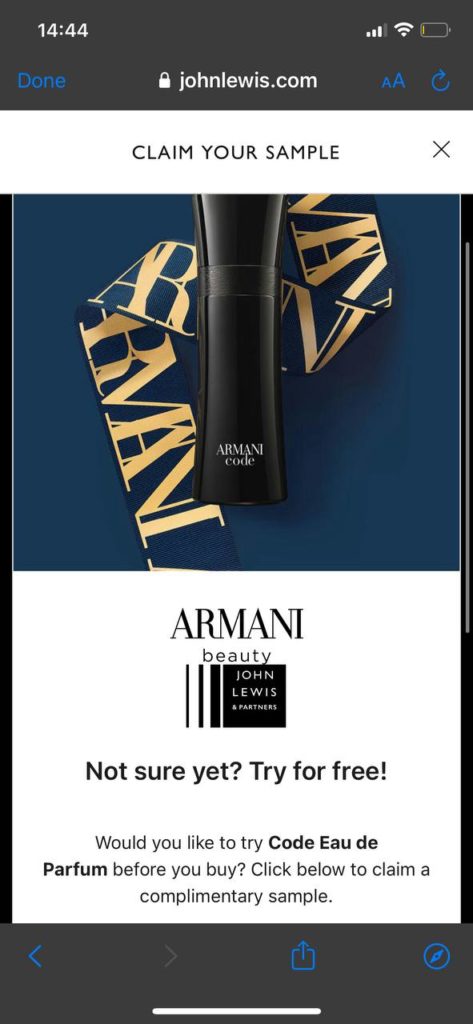 Amid Cosmopolitan page – SOLD OUT
A new SoPost form was spotted on a Cosmopolitan Magazine page. It shows as a sponsored post amid an article. While reading the post, one of the adverts that show up for people is one offering a free Giorgio Armani Code Eau de Parfum sample.
To get a possible free sample of Giorgio Armani Code fragrance by post. I suggest you hurry up to follow this link to the article in Cosmopolitan Magazine.
Scroll down and up like you're reading the article and hopefully the sopost form will pop up for you. This is how it looks like :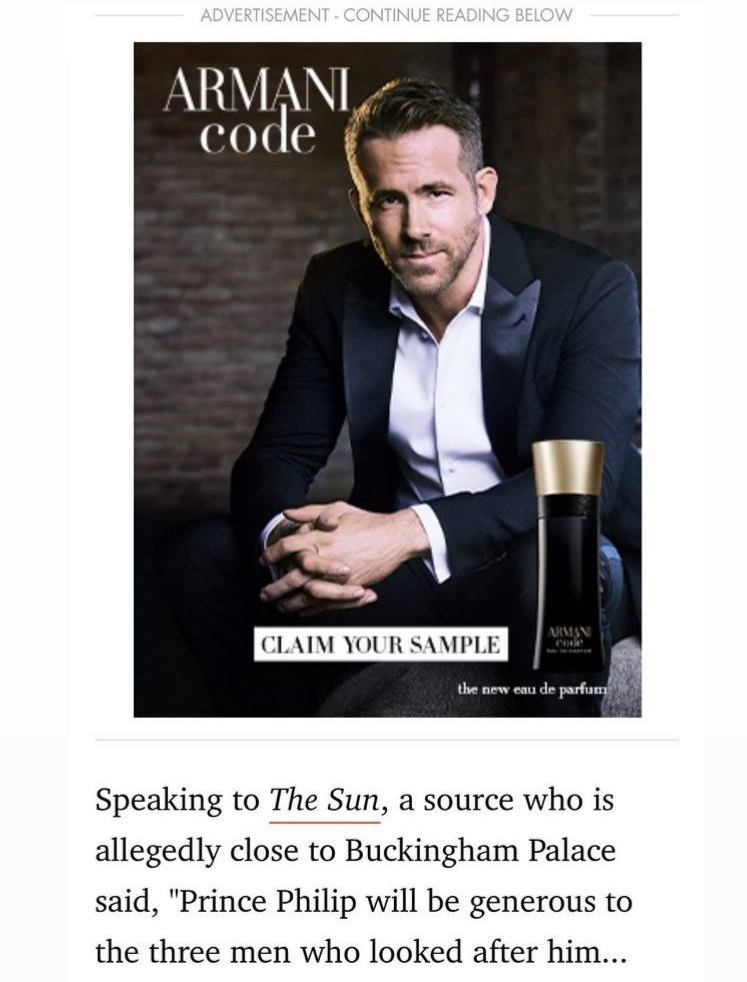 It's powered by SoPost so you know the drill. Just fill in the form with shipping details and send it away to get your freebie in the mail.
Also, stay tuned for more updates on this and other great freebies.
Did you manage to get it? Did it show up for you? Feedback appreciated!
Open to residents of the United Kingdom only.
Valid for a short period of time or while quantities remain.
Be the first to get the latest freebies in your inbox