Last Updated on May 21, 2021
New possible freebies from SuperSavvyMe sampling platform. You can order your free Always sample kit while supplies last. The samples are to be received by mail to your mailbox.
How to get a free Always Discreet sample by post with SuperSavvyMe?
On 20th of May 2021, SuperSavvyMe listed a new Savvy Circle offer. You can apply now for a chance to be selected to receive free Always Discreet Pads to review.
2,000 Kits for UK residents are available to claim. Follow this link to apply https://circle.supersavvyme.co.uk/uk/projects/alwaysdiscreetpads/infopage
As of April 19th, 2021, SuperSavvyMe has listed a new free sample from Always. For a limited time, you can order an Always Boutique Incontinence Pants Medium sample to receive by post gratis. This is valid within the United Kingdom only.
To get your mitts on this freebie to test for free, I invite you to follow this link to the sampling offer page on SuperSavvyMe.co.uk.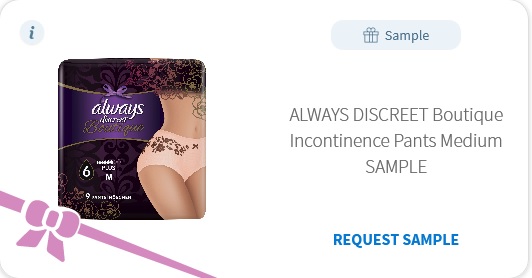 Sign in with your pre-existing SuperSavvyMe Account or sign up for one if you haven't already to snag this Always Pants free sample. To get started, just follow the instructions on their page. It's super easy, simple and 100% free.
Once logged in, just hit 'REQUEST SAMPLE' in blue to see the button to snag the freebie appear.
Please note that in exchange for you getting this product for free, you will be required to leave an honest review online at SuperSavvyMe after you've tried it. Otherwise, you won't be eligible for further freebies from SuperSavvyMe. Anyway, they will be detailing everything in their confirmation email.
For UK residents only, with a SuperSavvyMe account.
Valid for a short period of time or whilst supplies last.
How to get a free Always Platinum Sample kit? [expired!]
Be as quick as a flash to snag yourself one of these free Always Pads sample kits with Super Savvy Me.
You can get free of all charges one of these Always samples :
ALWAYS Platinum Long Plus (Size 2) Sanitary Towel With Wings
Free ALWAYS Platinum Normal (Size 1) Sanitary Towel With Wings
ALWAYS Platinum Night (Size 3) Sanitary Towels With Wings
Free ALWAYS Platinum Secure Night (Size 4) Sanitary Towels With Wings
I have been tipped off thru a sponsored advert on my Instagram this morning. This is how it looked like (see picture below). The good news is, I managed to get the direct link for you. So get going to order your freebies!
To receive your free Always Sample kit with sanitary towels and pads by mail, we invite you to follow the link below to the SuperSavvyMe portal. If the samples are still available, you shall find an online sampling form in there. You know the drill, just pop up your details in there to get your free stuff by regular post to your mailbox.
Don't forget to share this offer with your friends and followers on social media so they can also grab their free Always sample kit.
We would appreciate you helping us spread the word about it!
The sample kits can be claimed by residents of the UK and Ireland as well.
Happy freebies hunting :)
Follow us on social media so you never miss a freebie offer in the UK again!
Be the first to get the latest freebies in your inbox