Last Updated on February 28, 2023
Are you looking for a brand new foundation to help you cover all the little bumps and skin imperfections? Try a free Clinique Foundation Sample to see if you like the product before you purchase it.
How to get a free sample of Clinique Foundation
NEW! At Clinique counters – AVAILABLE
All UK residents are invited to take part in the sampling opportunity launched by Clinique. Do it now and get free samples of Even Better Clinique Foundation or Beyond Perfecting Foundation + Concealer.
Request your free samples of Clinique Foundation today, whilst supplies last.
Go to the Clinique UK voucher page through this link for Even Better foundation samples. Or this one for Beyond Perfecting Foundation + Concealer samples. Or you can use this one to get the perfect Clinique Foundation sample pack.
Scroll down to the bottom of the webpage.
Fill out the request form with your valid email address
You will then receive an email from Clinique UK
Log in to your email and open the received email
In the email, you will find a voucher to receive a free 10-day sample kit of Clinique Foundation
Download the voucher to your phone
Head over to the nearest Clinique counter to you and swap the voucher for your sample kit
That's it, this is all you need to do in order to get your free make-up samples from Clinique. You could also share this offer with your best friends so they can also get theirs.
The vouchers are limited, so don't wait for a second more and go get yours right now.
At Boots UK – AVAILABLE

UPDATE: NEW Clinique foundation samples with Boots. For a limited time, you can get your voucher and head over to your local Boots store to pick up a 10-Day sample kit of Clinique Foundation. Click here to get the voucher.
Thru Facebook / Instagram
There is a new advert from Clinique UK doing rounds on Facebook and Instagram. The brand is giving away free samples of Clinique Even Better foundation. You can snag one by making the post pop up in your feed. Here is how you can proceed:
After that, you can keep an eye out for your social feed. Below is a screenshot of the popup you should be on the lookout for. Once you spot it, hit the 'SIGN UP' button to access the request form.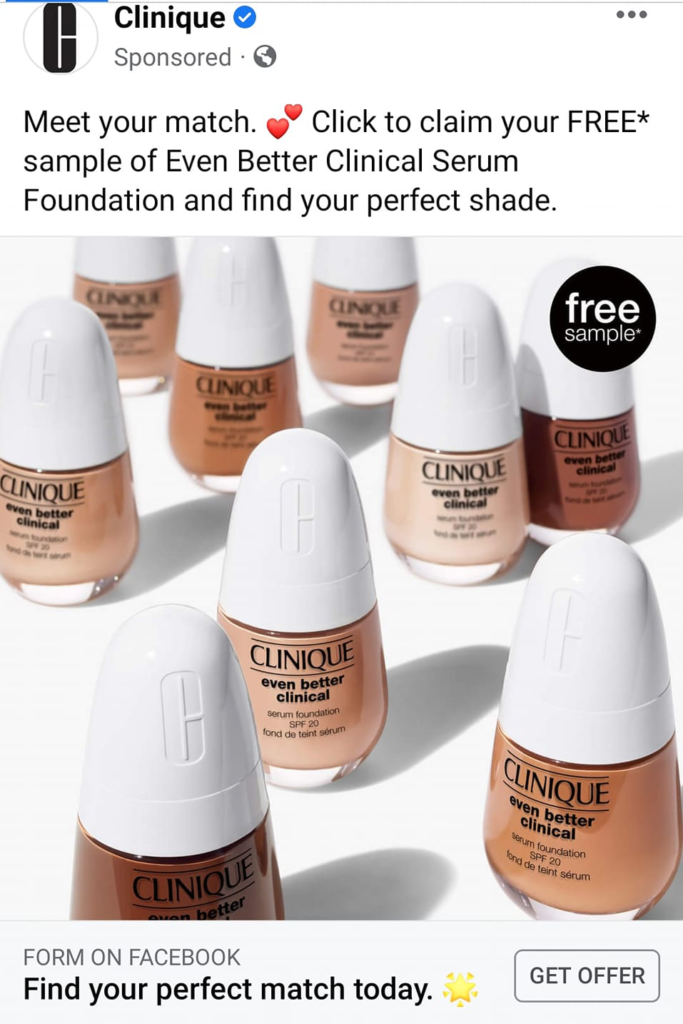 Good luck!
UPDATE: This popup is showing up to select UK residents who are aged 28 to 45 years old and similar to Clinique customers.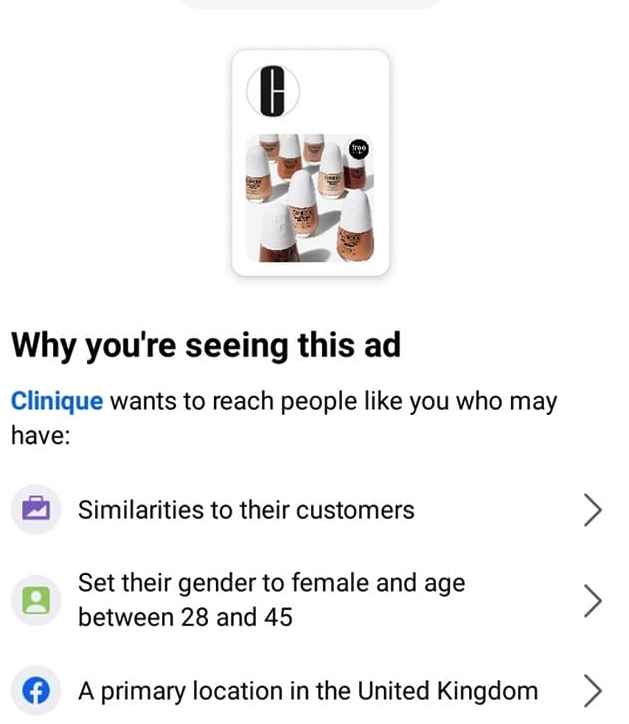 Thru Marie Claire's Beauty Drawer
Marie Claire Beauty Drawer is a review club for beauty products. If you are a registered member, I invite you to check your email inbox to see if they sent you an email to try the Clinique Even Better Foundation. Or it could be something else altogether. It depends on your beauty profile. But one thing is sure, there are a lot of freebies available. So that's enough for everyone and every taste.
Below is a snapshot of the email you should find in your inbox if you qualify for this offer.
Unfortunately, the links are unique and you can only claim a sample if you get the email or have the offer on your dashboard.
About Clinique Foundation
This amazing foundation from Clinique lasts for 24 hours straight. So, no more having to go to the bathroom to put some more foundation every 2 hours.
The Clinique Even Better foundation is composed of a wide range of shades. This means no matter your skin tone, you will definitely find the right color for you.
Other than offering perfect coverage for all skin imperfections and issues, the Even Better Foundation by Clinique has some extraordinary repairing properties. In fact, thanks to its dermatologically proven formula, this foundation does keep your skin well-moisturized throughout the day and makes the epiderm regeneration process go faster. As a result, it improves your skin texture and helps you get rid of acne scars, bumps, redness, and dark spots.
Would you like to give it a shot and judge its capabilities without draining your wallet? This couldn't be any easier. Thanks to the latest sampling campaign launched by Clinique UK, you could request a 10-Day Clinique Foundation Sample kit free of charge.
We would appreciate it if you share pictures of your sample kit and reviews of this product with us once you get it.
Don't forget to subscribe to our newsletter to make sure you get the hottest and latest freebies every day to your inbox!
Be the first to get the latest freebies in your inbox