Last Updated on May 15, 2023
Looking for a delectable treat that won't make you feel guilty? Look no further than this free Fibre One Doughnuts sample offer available to residents of the United Kingdom.
Yes, that's right, Fibre One, renowned for its delicious and nutritious snacks, is offering free samples of their irresistible Chocolate Flavour and Strawberry & Cream Flavour Doughnuts through targeted ads on Facebook and Instagram. The best part? Each doughnut contains a mere 90 calories… and it's free. So here's how you can order yours without further delay.
How to get a free sample of Fibre One 90 Calories Doughnuts?
Getting your hands on a free sample of Fibre One's delectable doughnuts is as easy as pie! Since this freebie is available through sponsored adverts on Facebook and Instagram, you can only claim it if you manage to see the ad in your social feed. But that's easy, simply follow these tips to increase your chance of stumbling upon the Fibre One Doughnut ad in your newsfeed:
After that, all you need to do is keep your eyes peeled on adverts showing up in your newsfeed. Watch out for targeted ads featuring Fibre One Doughnuts.
To help you identify it quickly, here is a screenshot of what it looks like: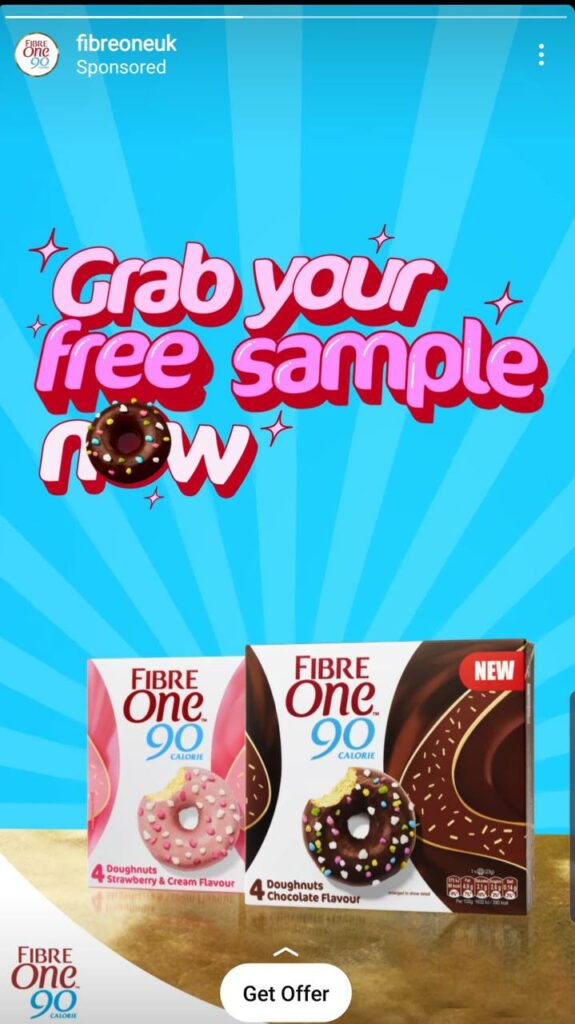 Once you spot the ad, click on it to access the request form. That's all you need to do to enjoy a guilt-free treat and indulge in these high fibre, low-calorie delights. Whether you're a fan of the rich Chocolate Flavour or the creamy Strawberry & Cream Flavour, these doughnuts are sure to become your new favourite snack!
Available for a limited time or while supplies last to select UK residents.
Good luck.
About Fibre One Doughnuts
Fibre One's high fibre doughnuts are the perfect answer for those mid-afternoon hunger pangs or whenever you're craving a sweet treat. These delightful doughnuts come in two mouth-watering flavours:
The indulgent Chocolate
And the sumptuous Strawberry & Cream.
Despite being low in calories, these doughnuts are high in fiber, making them a healthier alternative to traditional doughnuts. They are the perfect guilt-free snack that satisfies your sweet tooth without derailing your diet.
Be the first to get the latest freebies in your inbox