Last Updated on May 18, 2023
Are you tired of your laundry smelling less than fresh? SuperSavvyMe has the perfect solution for you: try a free Fairy Non Bio Outdoorable sample while supplies last. This Fairy product leaves your clothes smelling as if they dried outside, and now, you can try it for yourself. Learn more about this fantastic offer and how you can get your hands on a free sample of Non Bio Outdoorable Fabric Softener by mail.
How to get a free Fairy Outdoorable sample in the UK?
SuperSavvyMe is currently offering a free sample of Fairy Non Bio Outdoorable through sponsored posts on Facebook and Instagram. To claim your sample, you need to make the sponsored post pop up in your feed. So I recommend you to follow these easy tips to increase your chances:
Like and Follow the SuperSavvyMe page and the Fairy page on Facebook or Instagram
Engage with both pages by liking recent posts, etc..
Use the internet to search for the Fairy Non Bio Outdoorable product
That's it. After that, simply keep an eye out for SuperSavvyMe's sponsored post on your Facebook or Instagram feed. The post will feature an image of Fairy Non Bio Outdoorable and a call-to-action button to claim your sample. Here is what it looks like.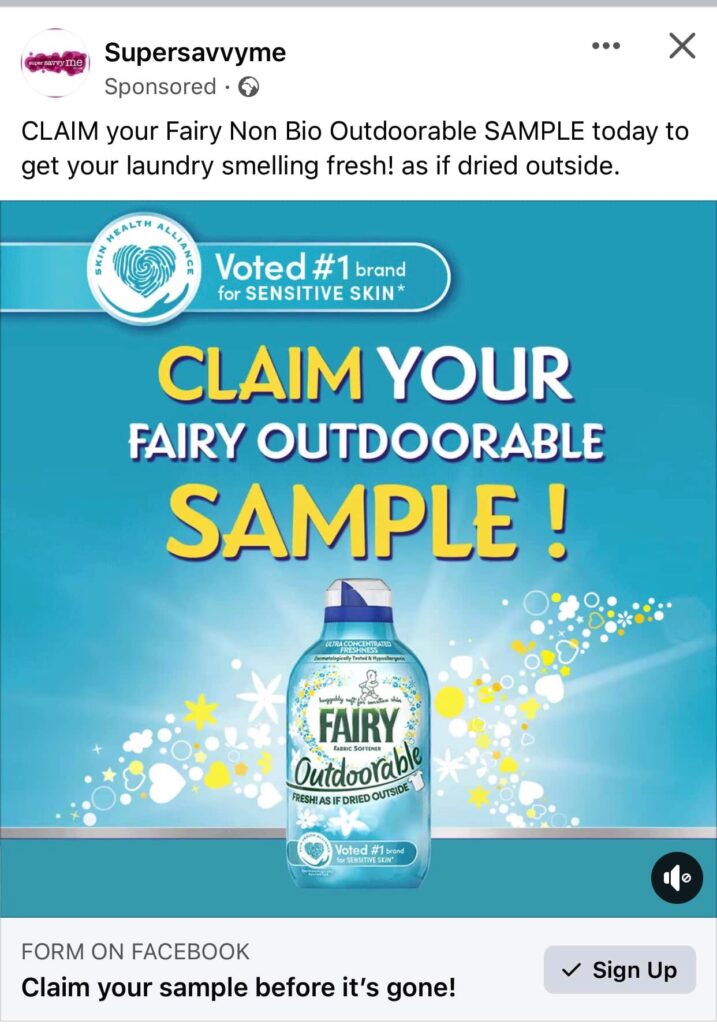 If you're seeing the ad, it means you meet the targeting criteria set by SuperSavvyMe, such as having an interest in laundry products, being 18 years or older, and having a primary location in the United Kingdom.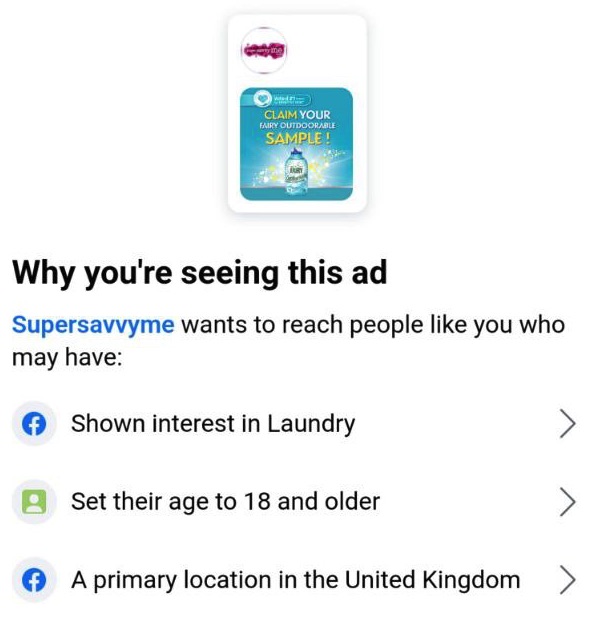 Click on the "Sign Up" button within the sponsored post. This will open a form on Facebook where you can fill in your details to receive your free sample.
Experience the Freshness of Fairy Non Bio Outdoorable Fabric Softener
Fairy Non Bio Outdoorable Fabric Softener is the #1 brand for sensitive skin, offering a gentle yet effective cleaning experience. Its unique formula provides your laundry with a fresh, outdoor-dried scent, even when dried inside. With Fairy Non Bio Outdoorable Fabric Conditioner, you can enjoy the delightful fragrance of clothes dried in the great outdoors without having to worry about weather conditions or air pollution. So what are you waiting for?
Be the first to get the latest freebies in your inbox