Last Updated on February 23, 2021
Be as quick as lightning to snag a free Estee Lauder perfume sample while the supplies last and get it by mail.
How to get a free Estee Lauder Beautiful Mangolia Perfume sample by mail?
Update on Feb 22nd 2021 : new SoPost direct link to the sampling offer has shown. Click here to snag one whilst supplies last.
(This is also still running!) A new post on Facebook offering free Estee Lauder Beautiful Mangolia Perfume samples was spotted. Stay vigilant for the advert to show up on your feed. Thus, claim this hot perfume freebie from Estee Lauder.
The free Estee Lauder Beautiful Mangolia perfume sample offer has no direct link since it's on a sponsored advert, with a SoPost form that you need to complete thru Facebook. But, keep an eye for the post to possibly show up in your feed and score the samples.
The post looks like this and it's running in the UK for female. If you fit the criteria, it will eventually show up in your social media feed.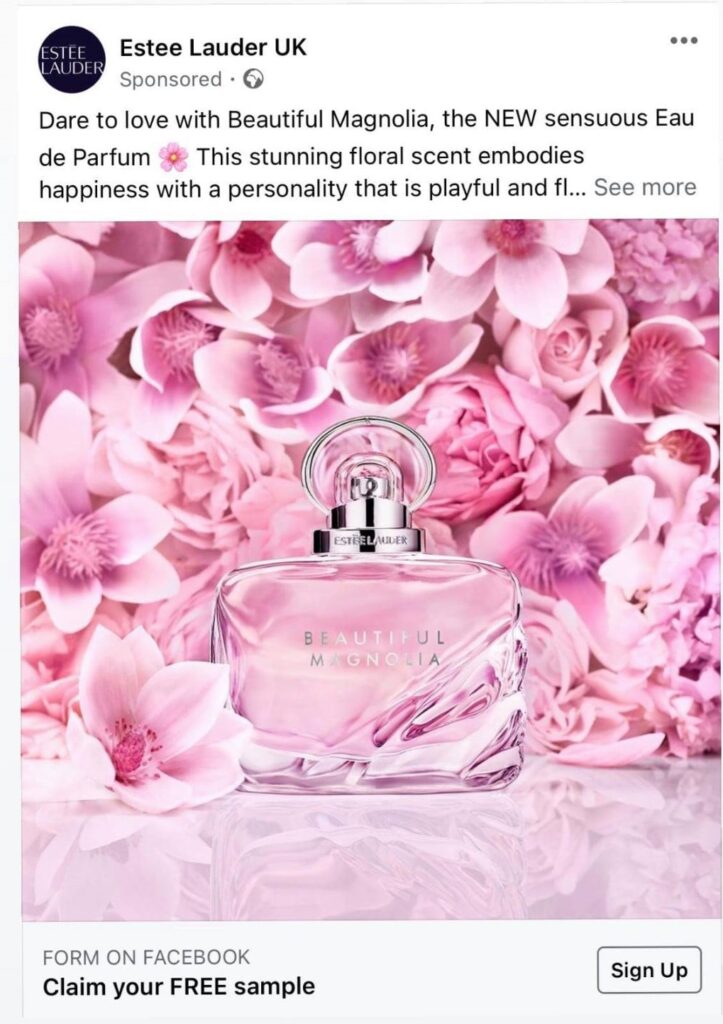 Running in the UK currently. Not sure about other countries.
Valid for a limited time only or while the supplies last.
Beautiful Magnolia is the NEW sensuous Eau de Parfum by Estee Lauder. It has a floral scent that embodies happiness with a personality that is playful and flirtatious.
For more free perfume samples in the UK, you can keep an eye for this listing that I update regularly.
Be the first to get the latest freebies in your inbox