Last Updated on May 24, 2021
Breeze to get a possible free Estee Lauder Bronze Goddess sample perfume while quantities last.
Estee Lauder UK is giving away free samples of the Bronze Goddess Eau de Parfum. It's a magnificent Amber Floral fragrance for women, and you can get it free whilst supplies last.
How to get free Estee Estee Lauder Bronze Goddess samples by post in the UK?
Because Estee Lauder is offering this freebie thru a sponsored advert on Facebook and Instagram, there's currently no link to get a free sample of Estee Lauder Bronze Goddess Eau Fraiche Skinscent perfume. However, what you can do at the moment is stay alerted while scrolling your Facebook/Instagram newsfeed.
The freebie post is powered by SoPost as most freebies on Facebook. The publication you should be on the lookout for looks like this :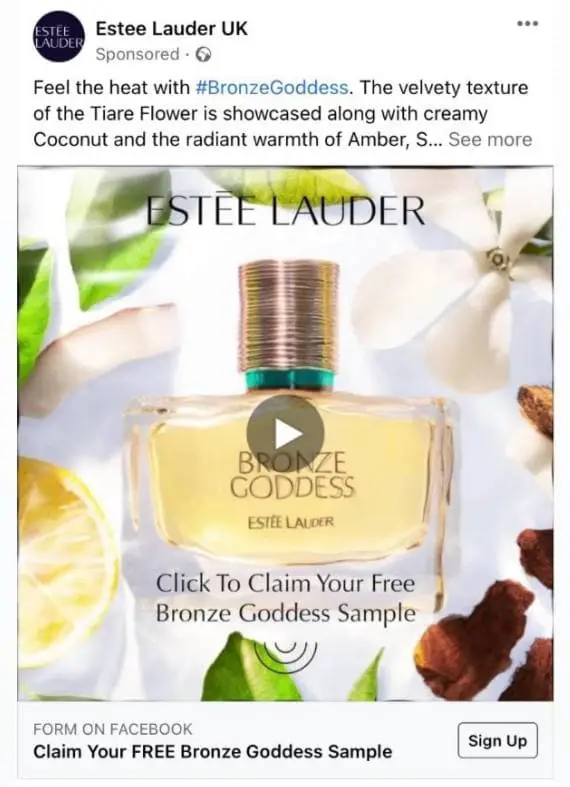 If you haven't linked the Estee Lauder UK Facebook page, I suggest you do it and engage with the brand by liking posts and videos. Hopefully, the advert will pop up in your feed in no time.
Also, allow Getmefreesamples.com to send you to push notifications. This way, we can reach you quickly if I have a direct SoPost link to this Estee Lauder perfume sample.
The ad is currently showing up to select Facebook users residing in the United Kingdom. This could be also the case for other countries.
Be the first to get the latest freebies in your inbox