Last Updated on July 7, 2021
You can now get an Equinox kombucha sample for free! The drink is made using100% organic, vegan and raw ingredients. Bonus, it's also gluten-free.
The free sample offer is ongoing thru sponsored posts on Facebook and possibly on Instagram as well. Here are some tips below to help you spot it.
How to get a possible free sample of Equinox Organic Kombucha by post?
There is no direct link at the moment. It's showing up to selected users. You can try to fit their targeting criteria by completing a few actions. I suggest :
Go to the Equinox Kombucha Page on Facebook here and follow them.
Like a recent post or watch a recent video shared on the page.
Look up the Equinox Organic Kombucha drink that is sampled thru the ad.
Optionally, you can do the same on their Instagram page.
Once thru with the steps below, just keep an eye out for the samples post. It looks like the screenshot below.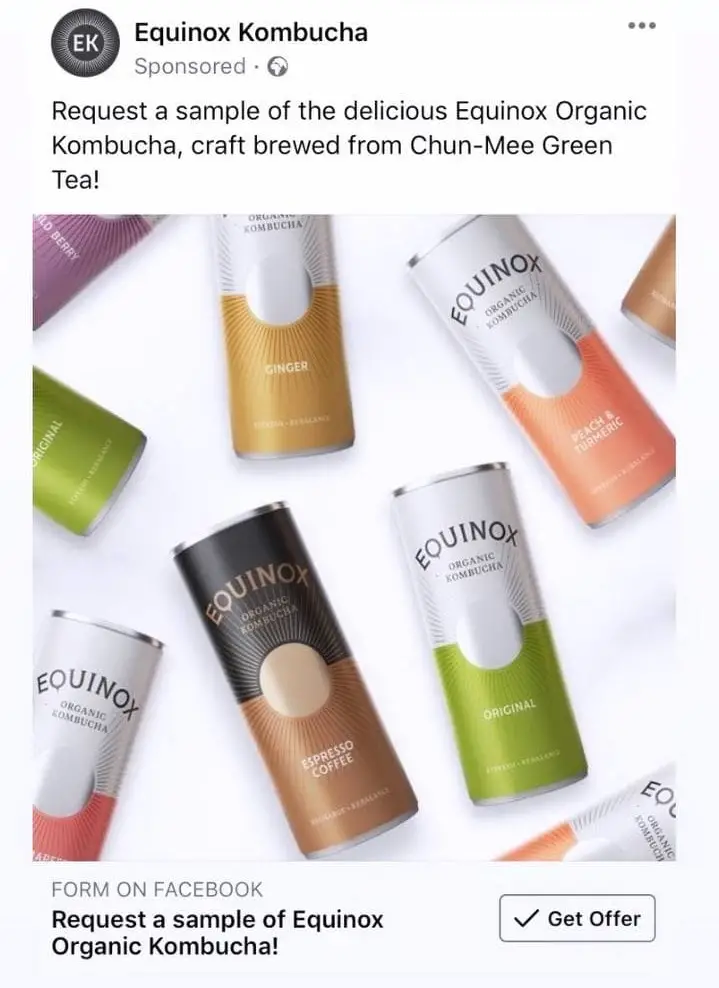 Once you spot the advert, simply click 'GET OFFER' to fill out the short form to get your free Equinox Kombucha sample by post.
The Equinox Kombucha Organic Drink free sample offer is available for UK residents only. So run to grab a drink while you have a chance.
The brand has scored four Great Taste Awards for their delicious flavours. They have 4 varieties available. Including:
Original: Organic Chamomile Tea Kombucha with Rhubarb and Lovage.
Ginger: Fruity botanicals of Sloes, Rosehips & Juniper Berries with Organic Green Tea.
Raspberry & Elderflower: Organic Green Tea Kombucha infused with Nettles, Dandelions and Meadowsweet.
Wild Berry: Organic Green Tea Kombucha infused with Apples, Plums and Quince.
Be the first to get the latest freebies in your inbox