Last Updated on February 16, 2021
Notice to all the perfume sample lovers! Get a free Elizabeth Arden perfume sample while quantities last. Grab a free Elizabeth Arden White Tea Perfume sample in the a new sampling campaign spotted on Social Media as of February 16th, 2021.
The White Tea fragrances by Elizabeth Arden are a series of Woody Floral Musk fragrances for women. You will love it, it's so fresh and mesmerizing. Since 2017 the fragrance collection had 4 varieties. But now, there's a fifth : the Elizabeth Arden White Tea Ginger Lily perfume and you can try it gratis!
How to get a possible free Elizabeth Arden Ginger Lily perfume by mail?
You can claim a free Elizabeth Arden White Tea sample to get it by mail in the UK while the supplies last. Please note that the samples are distributed thru a sponsored pop-up on Facebook. This means not everyone will be getting this freebie.
If you are a female aged 25 to 60, living in the UK and you are interested in Health & Wellness, Clinique (the brand), and other similar interests, you will certainly see the pop up on your social media feed. The post is powered by a SoPost form where you can claim your sample effortlessly.
Keep an eye out for the pop up to show up for you and hopefully, be able to claim a possible free Elizabeth Arden Ginger Lily Perfume sample.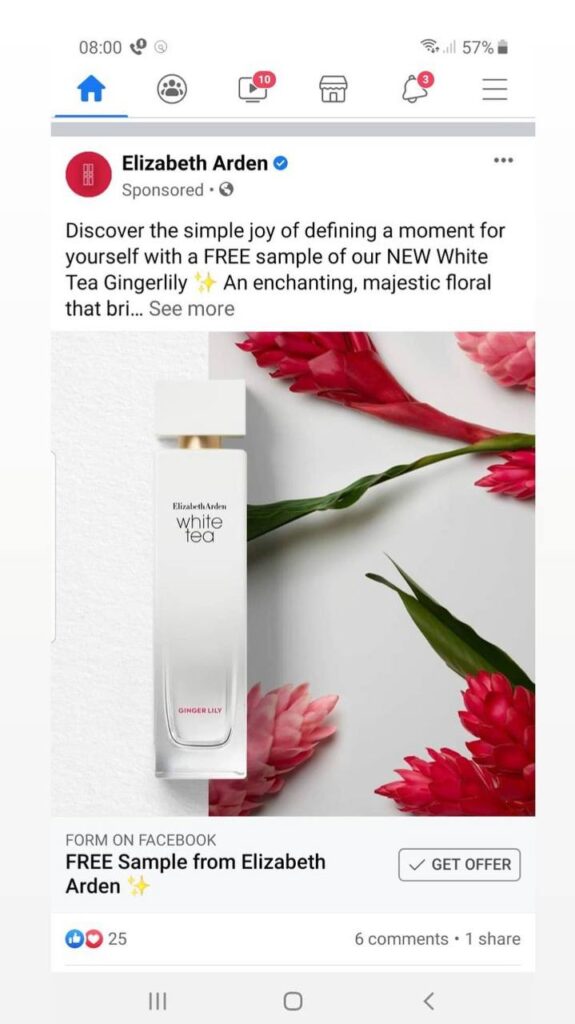 Valid in UK only, for a limited time or while supplies last.
Previous updates on Elizabeth Arden White Tea Fragrances samples in UK
I will be adding updates for this freebie on this same article whenever available!
For more free perfume samples in the UK, you can check this article for regular updates whenever available.
Be the first to get the latest freebies in your inbox