Last Updated on September 21, 2021
Calling out all the Elizabeth Arden Skincare products fans. Here is how you can order a free Elizabeth Arden Eye Cream sample in the UK to try out.
For a limited time, Elizabeth Arden is giving away free samples of the NEW Retinol Ceramide Erasing Eye Cream to residents of the UK. Find out below how to snag one while supplies last.
How to receive a free sample of Elizabeth Arden Retinol Ceramide Erasing Eye Cream?
NEW! Thru Direct Link to SoPost form
Be quick to follow this link to the SoPost form to sample Elizabeth Arden Ceramide Eye cream. Fill out the form and check your email for a confirmation code.
This is available for a short period of time only or while supplies last. If it says sold out, you can try the second method below. I'll update this article with a new SoPost link when available.
Thru Facebook and Instagram posts – Available
This Elizabeth Arden Eye Cream freebie is available at the moment thru a sponsored post showing up to select users on Facebook and Instagram. Thus, I do not have a direct link to the form. However, here are a few tips you can do to increase your odds of getting this post to show up on your social media feed. Thus, be able to claim the sample.
Like and Follow Elizabeth Arden page on Facebook & Instagram
Engage with the brand by liking recent posts or watching a recent video they shared
Search the NEW Retinol Ceramide Erasing Eye Cream on the internet and view it on the Elizabeth Arden website
Keep an eye out for this advert shown below to access the order form.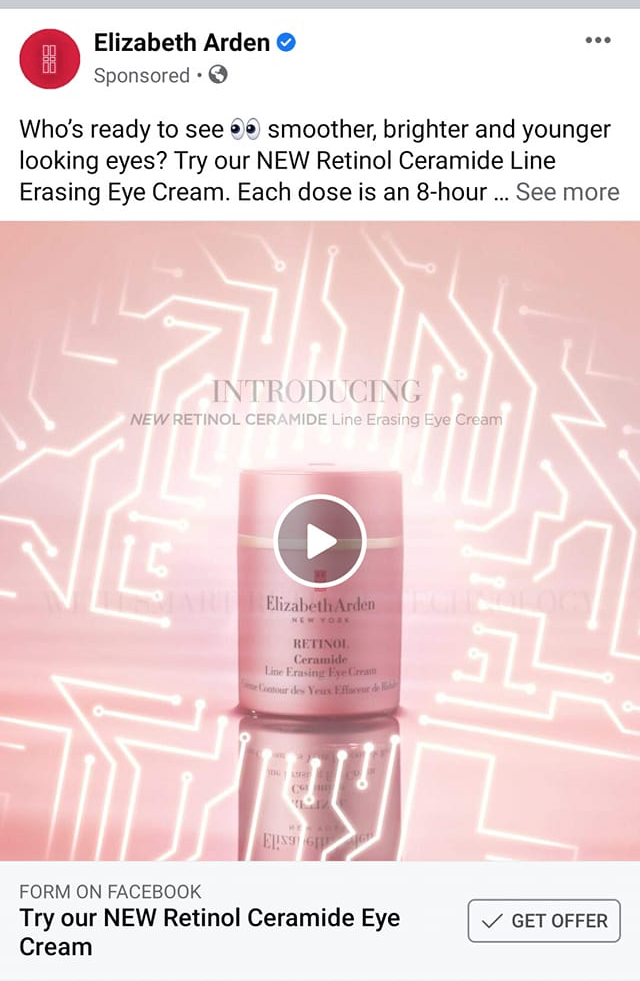 Once you spot it, just click 'GET OFFER' to see a SoPost form you can fill out.
This is currently showing up for UK residents as far as I know.
UPDATE: Here is one of the criteria the brand is using to reach out to people on Facebook. Residents of the UK who are 30 and above and who are engaged shoppers.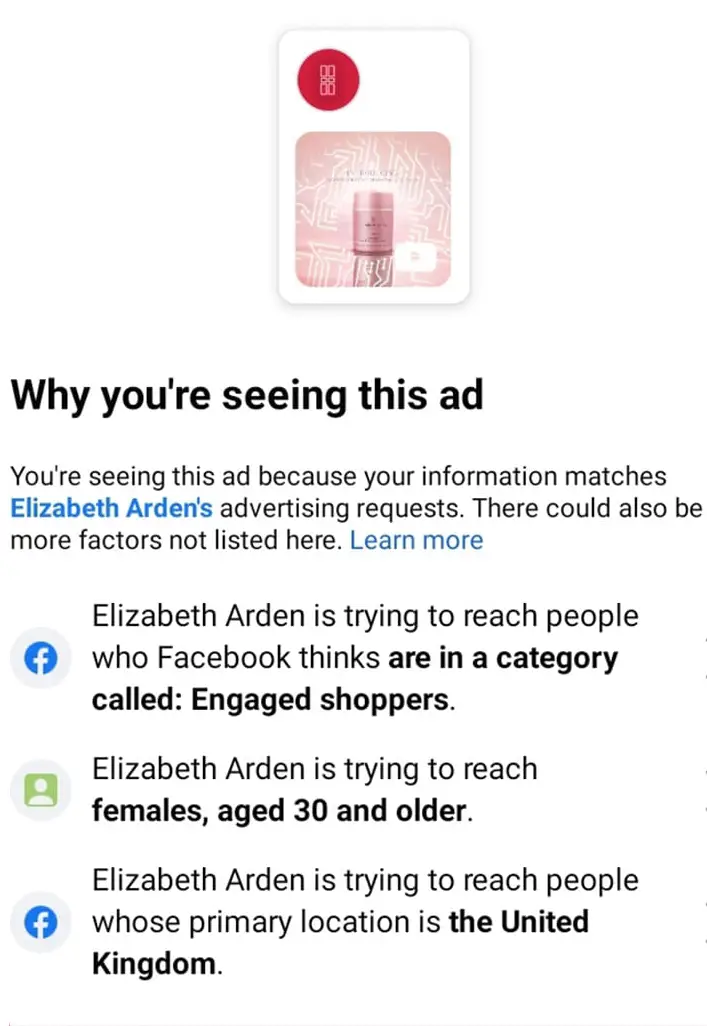 Keep an eye for this article as well for updates and a possible direct SoPost link to form.
The NEW Retinol Ceramide Erasing Eye Cream by Elizabeth Arden will give you younger looking eyes. Each dose is an 8-hour continuous delivery of microencapsulated retinol, peptides and brightening niacinamide to target fine lines, puffiness and much more.
Be the first to get the latest freebies in your inbox