Last Updated on June 1, 2023
With summer fast approaching, we are all on the hunt for that perfect bronzer to help us achieve a sun-kissed glow. Look no further, than this free Dr Hauschka Translucent Bronzing Tint sample.
This lightweight, fluid bronzer subtly softens the appearance of blemishes and skin irregularities, while also imparting a healthy, fresh glow to your complexion. Now, let's dive into how you can claim this fantastic freebie and get it sent to your home address without having to pay a cent.
How to order a free sample of Dr. Hauschka Translucent Bronzing Tint?
Facebook and Instagram – AVAILABLE
If you are already a user of Facebook and Instagram, you are one step closer to obtaining this free sample. By following a few simple steps, you can increase the likelihood of the Dr. Hauschka ad showing up in your social feed.
Engage with their posts by liking, commenting, and sharing. This lets the social media algorithms know that you have an interest in the brand and its products.
Visit the official Dr. Hauschka website and browse the Translucent Bronzing Tint product page. This activity can be tracked and can prompt related ads to appear in your social media feeds.
Use the search feature on Facebook and Instagram to search for terms like "Dr Hauschka", "Bronzing Tint", or "Dr Hauschka Translucent Bronzing Tint"
Once you've completed these steps, keep an eye out for the Dr. Hauschka Translucent Bronzing Tint sample ad to appear in your feed. Click on it as soon as it pops up, and follow the instructions to claim your free sample! Here is a screenshot of what it looks like to help you identify it quickly.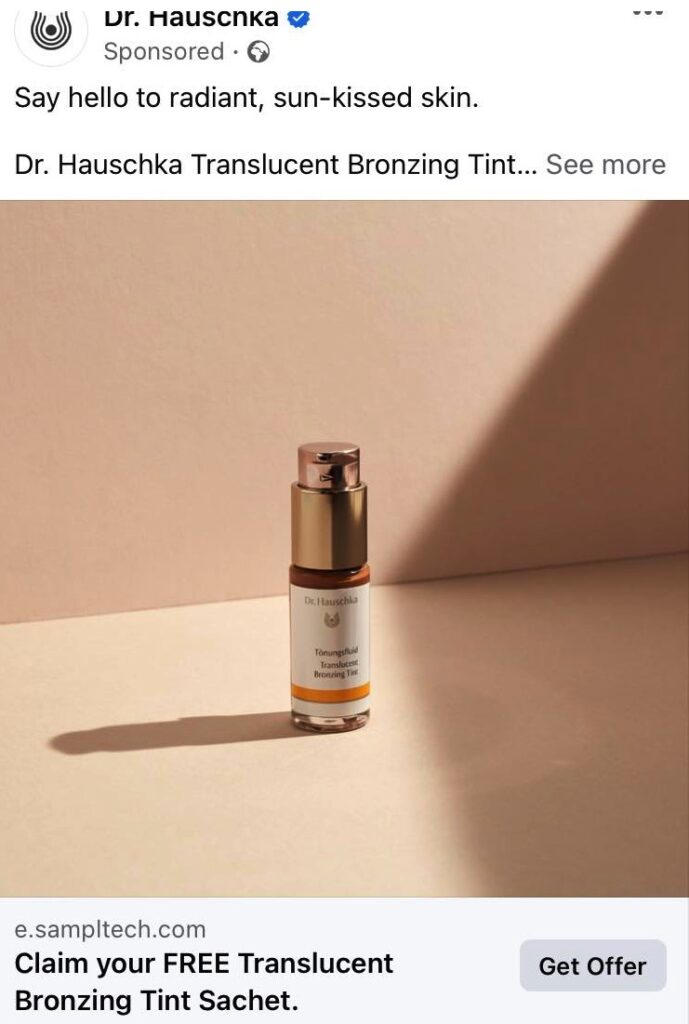 On TikTok – AVAILABLE
Not only is TikTok a fantastic platform for entertainment, but it's also becoming a hotspot for exclusive deals and freebies. Dr. Hauschka has jumped onto this trend and is offering their Translucent Bronzing Tint sample through their TikTok page. Here's how to get it:
Follow the official Dr Hauschka TikTok account and engage with their posts by liking, sharing, and commenting. This signals your interest in their products to the platform's algorithm.
Look out for videos related to the Translucent Bronzing Tint or any other product giveaways. These usually come with instructions on how to claim your free sample.
Search for hashtags like #DrHauschka, #BronzingTint in TikTok's search bar to bring related content into your feed.
Remember, persistence is key! Continue engaging with Dr. Hauschka's content across these platforms, and soon enough, you should see the free sample offer. Claim your sample quickly once this sponsored post as shown below appears in your feed.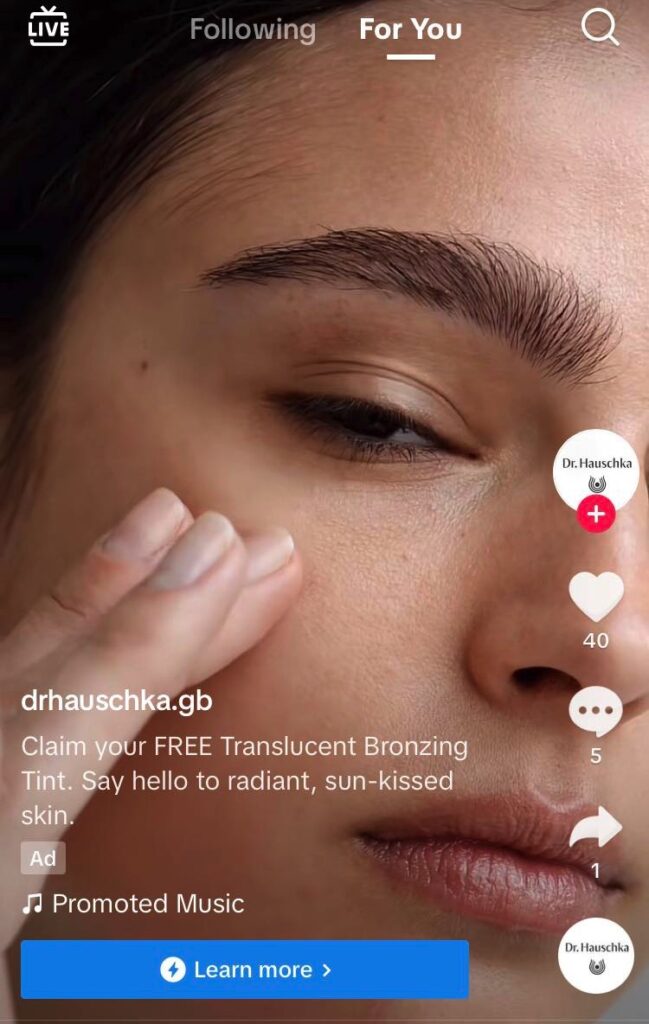 Supplies are typically limited so be quick. Happy freebie hunting!
It looks like this one is available for select UK residents on TikTok, Instagram and Facebook.
Be the first to get the latest freebies in your inbox