Last Updated on September 2, 2021
HOT! There are new free samples of the Dior Makeup collection available to test out with Marie Claire Beauty Drawer. Grab free Diorshow Mascara and eyeshadow samples while possible.
Marie Claire has sent out thousands of emails to registered members for different Diorshow Collection beauty products. Don't miss out on this hot freebie.
Here is the email Marie Claire Drawer sent me for a free Diorshow Mono Couleur Couture eyeshadow sample. There are a dozen of colors to choose from.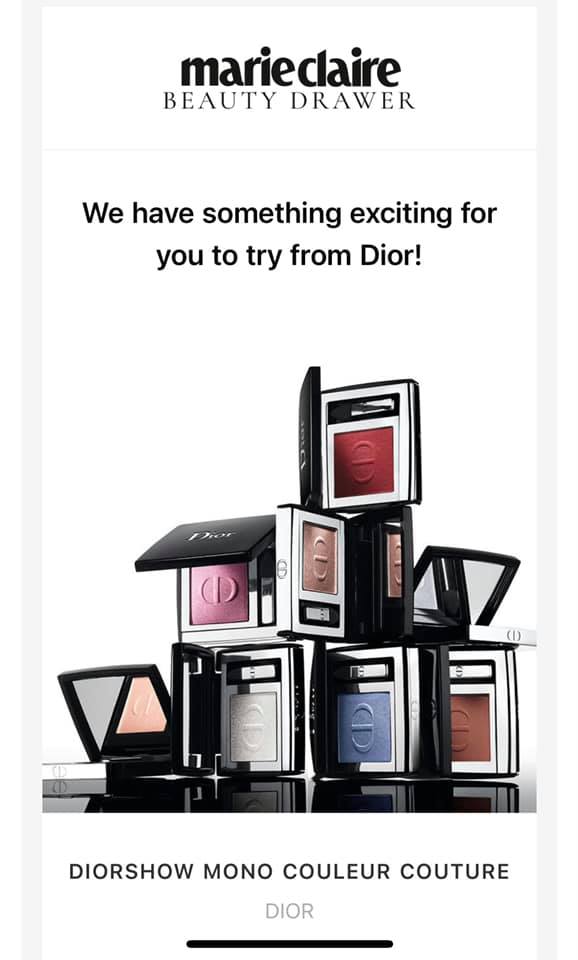 Another email just came in is for the Diorshow Maximizer 3D Mascara sample.
How to get free Dior Diorshow Maximizer 3D Mascara and Mono Eyeshadow samples with Marie Claire review club?
There is no link to form for this one. The platform is giving away this freebie to select registered members who matched with the product based on their beauty profile.
You are already a member of Marie Claire Review Club? Check your inbox for emails from them because that's where you will find the link to claim the freebie you got.
If you are not a member yet, you can sign up right now so you won't miss out on future offers. And who knows, you could get these too. You can sign up at beautydrawer.marieclaire.co.uk. It's free and easy.
Available for select UK residents who are members of Marie Claire Beauty Community.
Be the first to get the latest freebies in your inbox