Last Updated on October 2, 2023
Residents of the UK, be quick to seize this new freebie offer to score a free Dior J'adore sample by post.
Dior J'adore Parfum d'Eau perfume is the latest fragrance from the Dior J'adore iconic perfume collection. It's a potent concentration of flowers and water that are fresh, floral, and sensual—a great way to energize your day or evening with an intense and long-lasting scent.
Dior is giving away free samples of their new J'adore fragrance with a simple request.
Here is how to get yours free of all charges.
How to get a free sample of Dior J'adore Parfum sample in the UK?
There are several ways to get a sample of the new L'Or de J'adore by DIOR. Check them all out below:
NEW! From Facebook / Instagram – AVAILABLE
There is a new sponsored post on Facebook and Instagram from DIOR offering select UK residents a chance to claim a free sample of Dior L'Or de J'adore Fragrance Essence.
Keep both eyes open on your social feed to be able to claim your sample. Here are some tips to increase your chances of seeing the sponsored advert.
Like and follow Dior UK on social media, especially Facebook and Instagram
Like a couple of recent posts shared on the Dior Page or Instagram account
Search for the Dior L'Or de J'adore Eau de Parfum on the internet and view it on their website
Use the Search bar on Facebook or Instagram to lookup the new L'Or de J'adore Fragrance Essence by Dior
Here is a snapshot of the sponsored post you should be looking out for.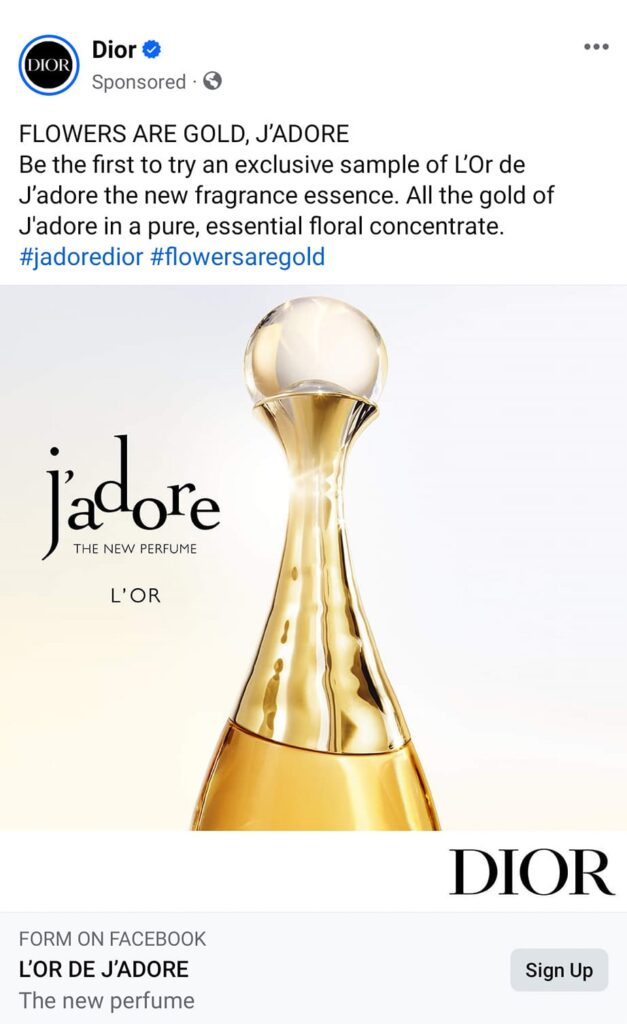 As you can see in the targeting criteria set by the brand, DIOR is serving this sponsored post to users who meet the following criteria:
Residents of the United Kingdom
Females aged between 25 and 55 years old
Similar to their customers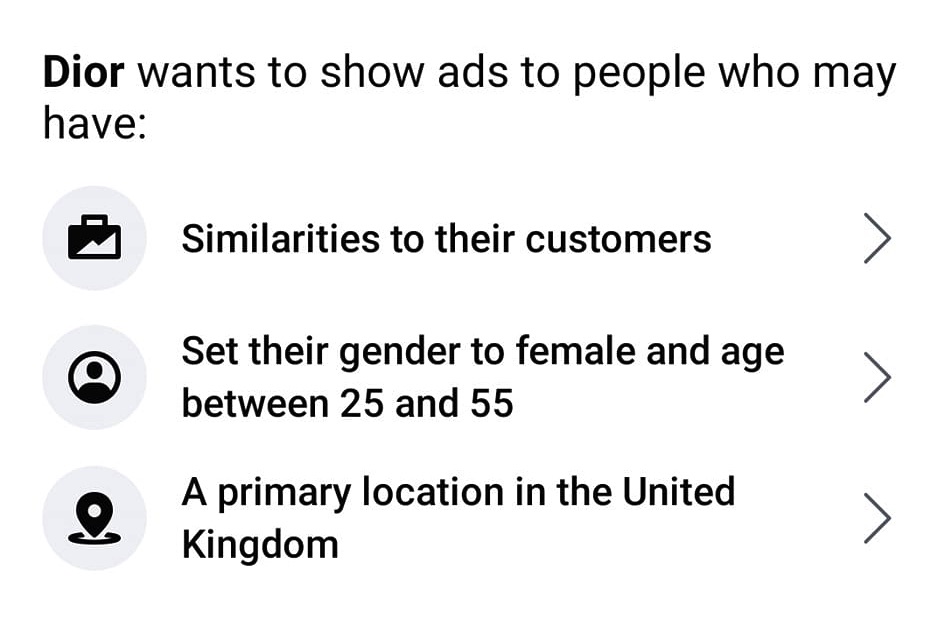 On TikTok – AVAILABLE
There are new samples exclusively available to select UK residents through TikTok. So, make sure to keep an eye on your TikTok feed for the sponsored post. But first, apply these tips to increase your odds of finding the sponsored post with the Dior L'Or de J'adore Fragrance sample:
Find and follow DIOR account on TikTok
Like their recent reels and watch them to engage with the brand
Use the search bar to look up the DIOR L'Or de J'adore Fragrance and check out some reels. While you're at the results page, check out for any sponsored posts… Most people find them there
Here is what it looks like: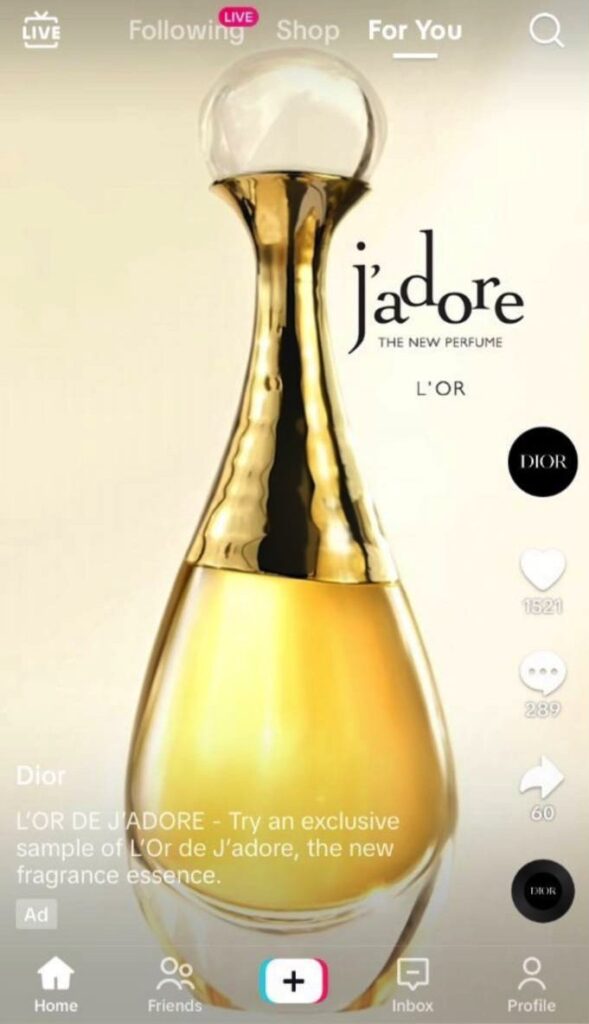 From My Exclusive Beauty Program
Check your emails for a new sample of the Dior Gold L'Or de J'adore Fragrance sample.
The brand sent out emails to its registered members to claim their sample before anyone else. It's an instant approval freebie but you need your unique link via email. So if you are already a registered member of the DIOR My Exclusive Beauty Program, I invite you to check your email inbox.
Here is a screenshot of the email: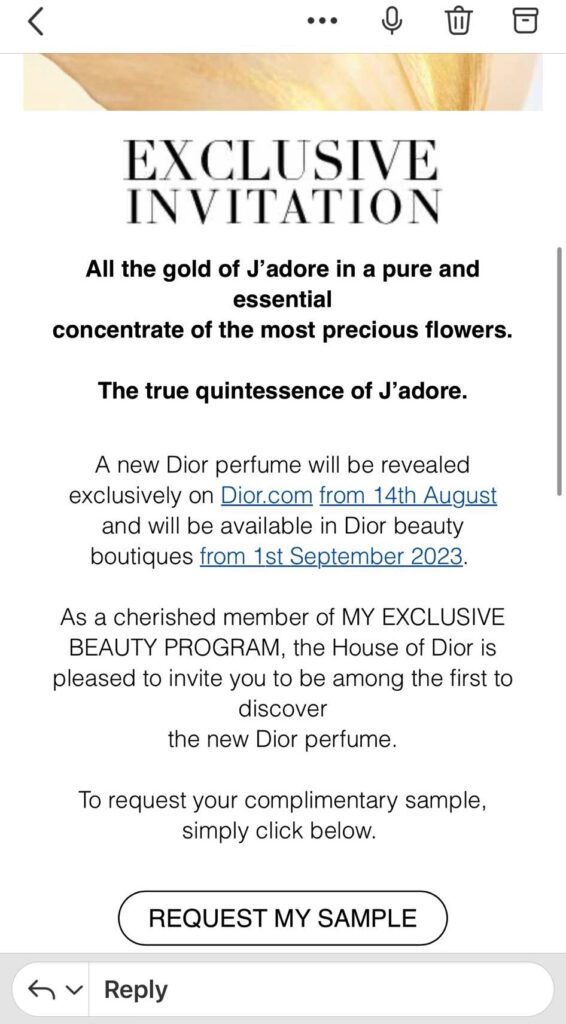 If you are not a member yet, I suggest you sign up for free to get started and receive future offers from DIOR.
NOTE: I received the email on August 7th, 2023.
From Marie Claire Beauty Drawer
Exciting news for all fragrance lovers! Dior is offering a delightful opportunity to get your hands on a free sample of their latest masterpiece – J'adore the new Parfum.
Experience the enchanting blend of floral and fruity notes that embody elegance and sophistication.
To claim this exquisite freebie, simply check your email or your Marie Claire Beauty Drawer Dashboard to see if you qualify for this one.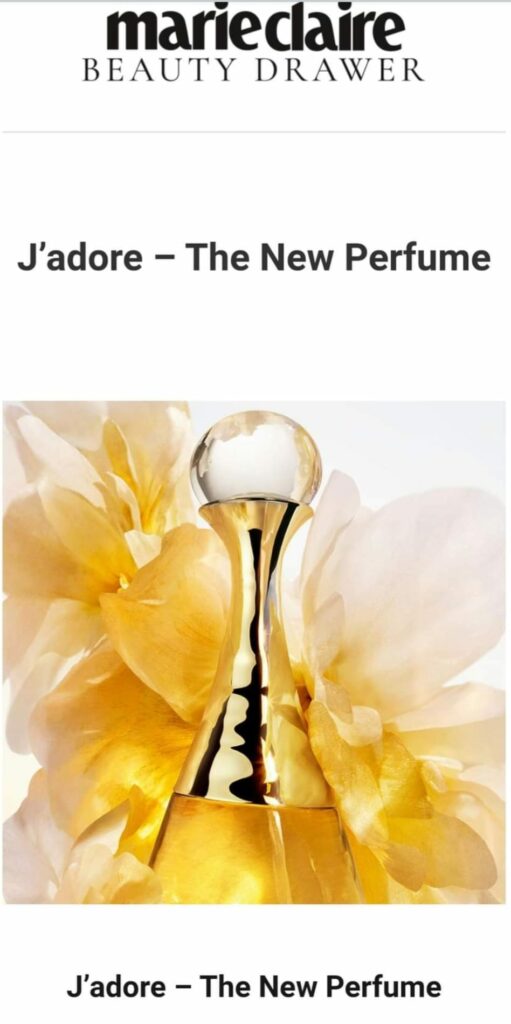 If you are not a member of the Marie Claire Beauty Drawer community yet, I recommend you sign in at beautydrawer.marieclaire.co.uk to get started. You can do so using the button below.
However, keep an eye on your email and dashboard for future exciting offers that await you.
From John Lewis – SOLD OUT
To claim this freebie without further delay, I invite you to follow the steps below:
Click on the button below to go to the offer page on the John Lewis website
Scroll down the page to the 'TRY SAMPLE' button
Click on it
Provide your email address to receive your unique SoPot link.
Check your email inbox right away and order your sample before they go out of stock.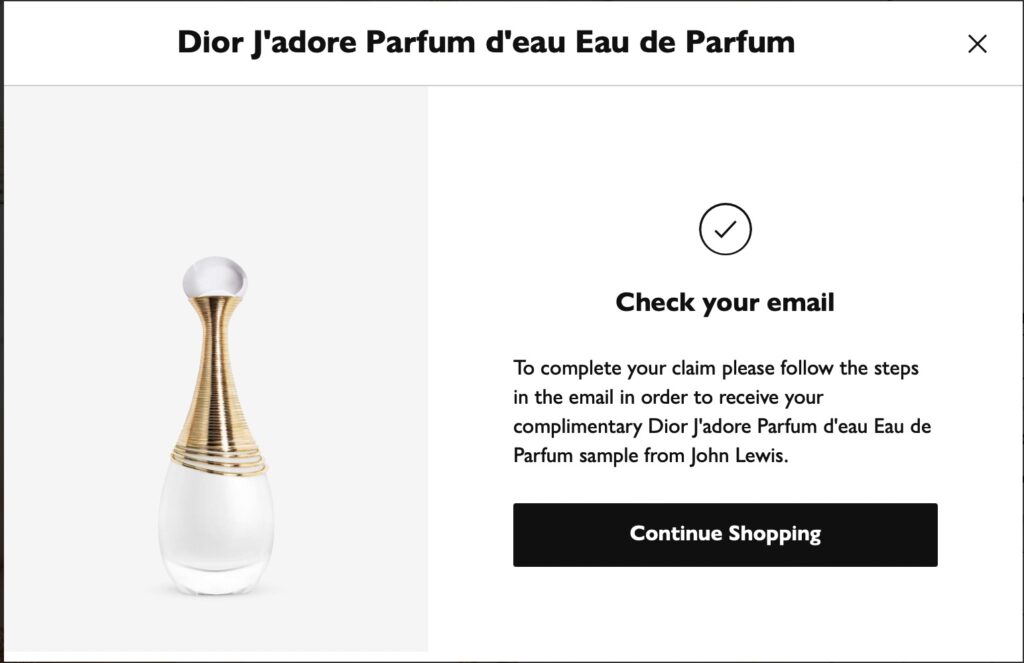 This offer is available for residents of the UK only.
Available for a limited time only or whilst quantities remain.
There are 2 other DIOR Fragrances you can claim from John Lewis. Check them out here.
With notes of Neroli, citrusy blend, jasmine, and magnolia. This perfume is a new take on the J'adore floral bouquet. It has a sensual, spontaneous feel with bright flowers and a new caressing light.
Don't hesitate to sign up for a free sample to try it free.
Be the first to get the latest freebies in your inbox