Last Updated on November 28, 2022
Residents of the UK, be quick to seize this new freebie offer to score a free Dior J'adore Parfum d'Eau sample by post.
Dior J'adore Parfum d'Eau perfume is the latest fragrance from the Dior J'adore iconic perfume collection. It's a potent concentration of flowers and water that are fresh, floral, and sensual—a great way to energize your day or evening with an intense and long-lasting scent.
In partnership with John Lewis, Dior is giving away free samples of their new J'adore Parfum d'Eau fragrance on a simple request. Here is how to get yours free of all charges.
How to get a free sample of Dior J'adore Parfum d'Eau sample in the UK?
NEW! Thru Facebook / Instagram – AVAILABLE
There is a new sponsored post on Facebook and Instagram from The Perfume Shop offering select UK residents a chance to claim a free sample of Dior J'adore Parfum D'eau Fragrance. Keep both eyes open on your social feed to be able to claim your sample. Here are some tips to increase your chances of seeing the sponsored advert.
Here is a snapshot of the sponsored post you should be looking out for.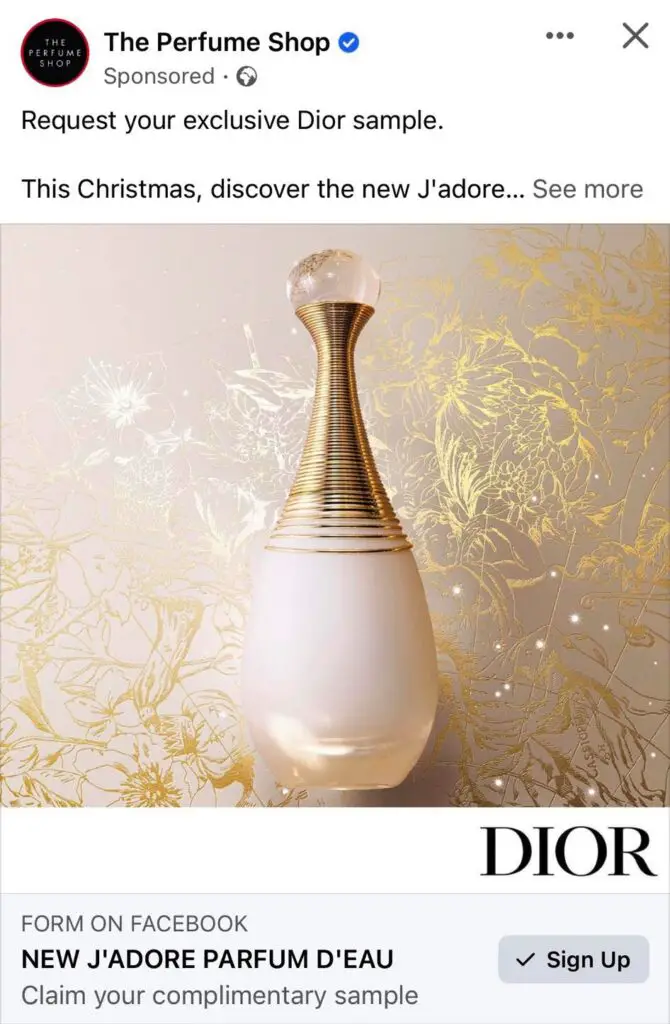 From John Lewis – SOLD OUT
To claim this freebie without further delay, I invite you to CLICK HERE to go to the offer page on the John Lewis website. Scroll down the page to the 'TRY SAMPLE' button. Click on it and provide your email address to receive your unique SoPot link. Check your email inbox right away and order your sample before they go out of stock.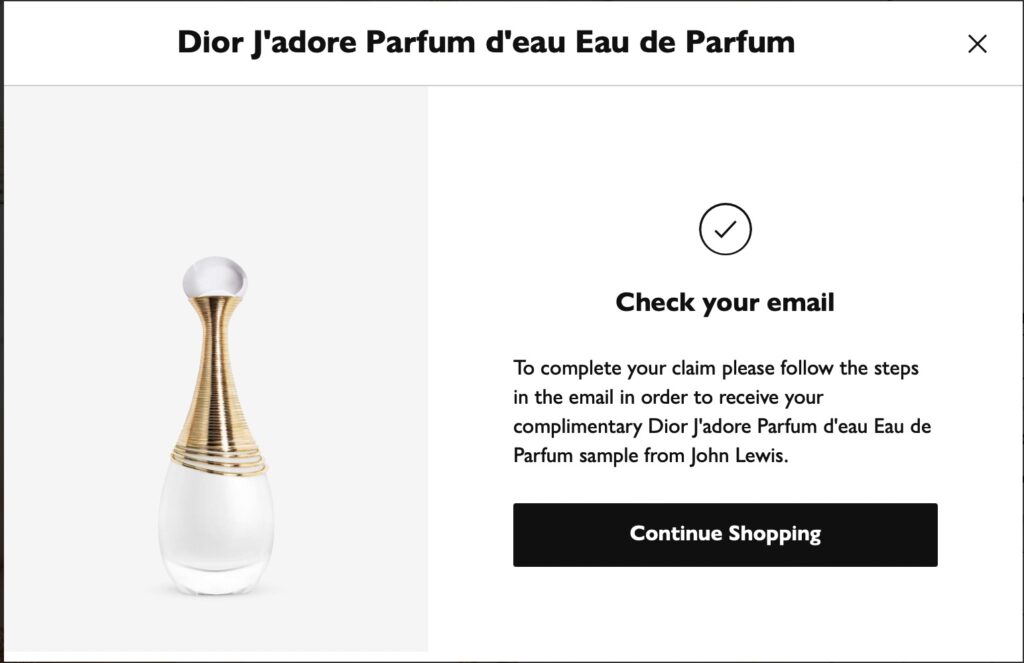 This offer is available for residents of the UK only.
Available for a limited time only or whilst quantities remain.
There are 2 other DIOR Fragrances you can claim from John Lewis. Check them out here.
With notes of Neroli, citrusy blend, jasmine, and magnolia. This perfume is a new take on the J'adore floral bouquet. It has a sensual, spontaneous feel with bright flowers and a new caressing light. Don't hesitate to sign up for a free sample to try it free.
Be the first to get the latest freebies in your inbox