Last Updated on July 24, 2023
Want to get a free Dior Capture Totale Serum sample to try? This is your chance to do exactly that.
The new Dior Totale Capture Serum is a revolutionary, multi-use moisturizer with a new and unique non-greasy texture. The age-defying Capture Totale Serum has a newly formulated hyaluronic acid that penetrates the skin three times more than regular hyaluronic acid to offer you up to 3 times the benefits of regular hyaluronic acid serums.
Dior Totale Capture Le Serum targets fine lines, and all kinds of aging signs to offer you a youthful and glowing complexion from the first week of use. You can give it a try for yourself with a free sample. Here is how.
How to get a possible free Dior Capture Totale Serum sample?
From Facebook / Instagram (US Residents)
NEW! On February 9th, 2023, DIOR Beauty Launched a new sampling campaign for US residents through a sponsored post on Facebook and Instagram. You can get your hands on a free DIOR Capture Totale Serum sample on a simple request, all you need to do is spot the advert in your feed to access the request form. Here are some tips and tricks to help you with that.
While there, like a bunch of posts on their pages (at least 5+)
Here is a screenshot of what the sponsored ad looks like.
Once you spot the ad, click on the 'SIGN UP' button to access the SoPost request form.
This is currently available on Facebook and Instagram for select users who are residents of the US.
From Marie Claire Beauty Drawer (UK residents)
Our friends at Marie Claire Beauty Drawer are giving away a free Dior Capture Totale Serum sample to select UK users whose beauty profiles match the product.
This freebie is for select registered members of the Marie Claire Beauty Drawer club. So if you are a member, you can see if you qualify for it :
By checking your email inbox
Or by logging in to your dashboard
In case you qualify, follow the instructions, as usual, to get your free Dior Totale Capture Serum sample by post.
Here is a screenshot of the email a chosen user received this evening.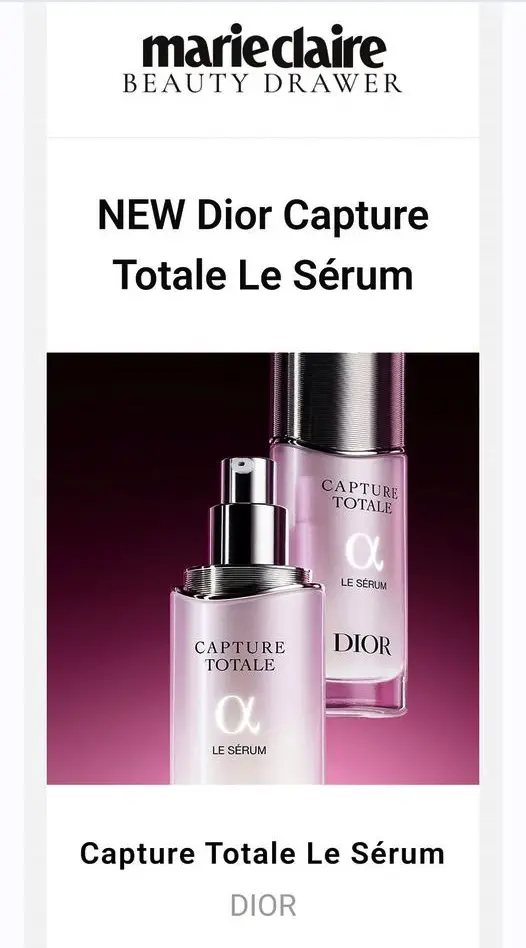 For non-members, you can register for an account and complete your beauty profile so you won't miss out on future product samples and freebies. It's easy and free to join, yet so rewarding.
Good luck to everyone. I hope you will qualify for this great freebie.
Be the first to get the latest freebies in your inbox