Last Updated on November 10, 2023
Vichy is offering you the chance to score a free Dercos Anti-Dandruff Shampoo sample to try without spending a penny.
Vichy's Dercos range has been a game-changer for many with hair and scalp issues. Their Anti-Dandruff Shampoo is specially formulated to tackle those pesky white flakes and the itchy scalp that often accompanies them.
Not only does it help eliminate dandruff, but it also rebalances the scalp, ensuring healthier hair from root to tip. Plus, its gentle formula is suitable for even sensitive scalps.
Without further delay, here is how you can score this freebie.
How to order a free sample of Vichy Dercos Anti-Dandruff Shampoo?
NEW! On Facebook / Instagram – AVAILABLE
Vichy is now giving away the Dercos Anti-Dandruff Shampoo sample through a sponsored post on Facebook and Instagram. You can complete the actions below, and hopefully, the post will pop up in your feed right after.
Follow Vichy UK page on Facebook if you haven't done so already
Engage with the brand online by liking a couple of recent posts on their page, or watching a recent video they shared
Search for the Derco Shampoo to increase the likelihood of the offer popping up on your timeline.
Once you're done, keep an eye out for this sponsored post offering the sample as shown in the picture below.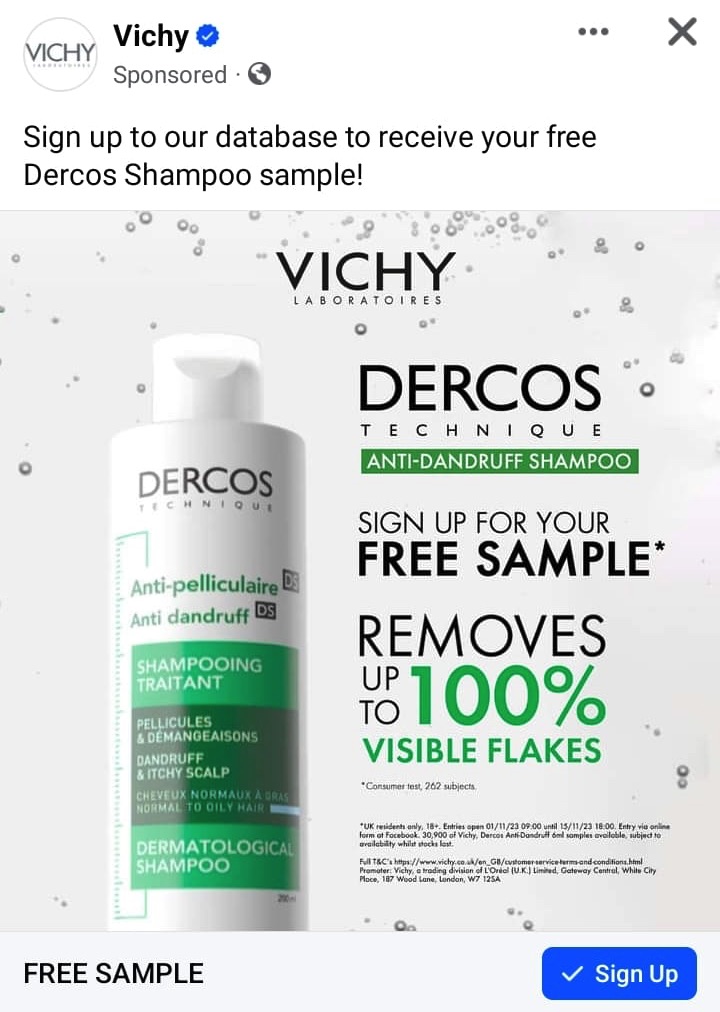 Once you spot the sponsored post, follow the instructions, and await your sample!
On TikTok – AVAILABLE
Vichy is giving away these samples on TikTok, the platform we're all scrolling through day and night… Follow the tips below to help you find the advert:
Open the TikTok App on your Smartphone and follow Vichy Laboratoires account
Engage with their content by liking a bunch of recent publications, etc… ( I recommend five or more)
Use the Search feature to look up Dercos Anti-Dandruff Shampoo, or Dercos sample and keep an eye on the results, sometimes the sponsored post appears there
Once you're done with these steps, simply keep both eyes open while scrolling through your TikTok feed. Here is what it looks like for reference: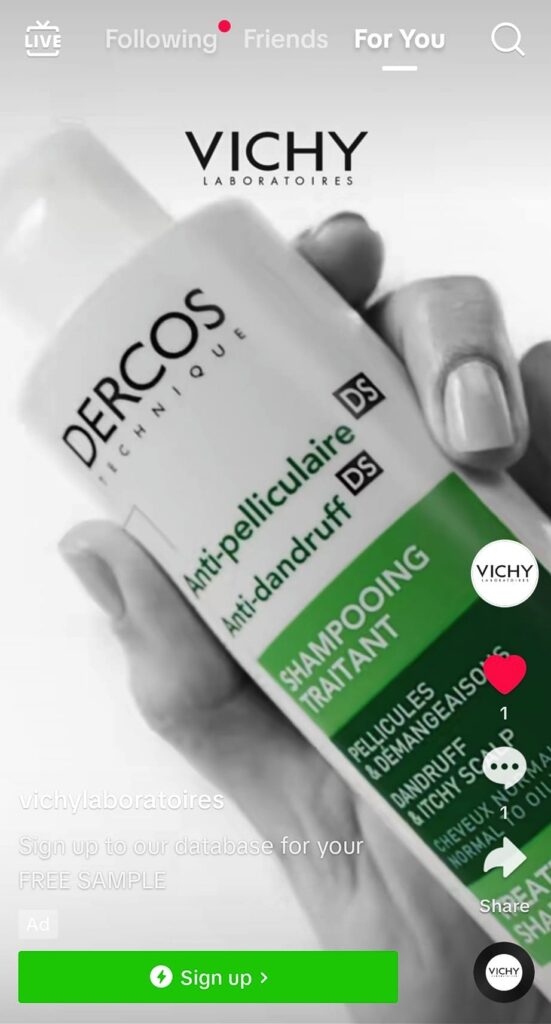 Once you spot it, be sure to claim it by Clicking on the button and filling out the form.
This promotion is exclusively for our readers in the UK.
Good luck to everyone.
Be the first to get the latest freebies in your inbox