Last Updated on June 1, 2023
In the world of skincare, where nature meets science, Decorté stands at the pinnacle. Known for its innovative skincare solutions that harmonize traditional Japanese herbal practices with modern science, Decorte is a revered brand that is now offering an exciting opportunity for you to order a free Decorté Herbal Concentrates sample pack to try their three products. Including:
Clay Blanc Purifying Smoothing Face Wash,
Vita de Rêve Soothing Balancing Lotion,
Prima Latte Cream Emulsion.
The Decorté Herbal Concentrates line has natural formulations that embody the essence of the brand's philosophy – achieving beautiful skin through the healing power of nature. So don't wait a second more and grab your sample pack right now. Here is how.
How to get a free sample pack of Decorté Herbal Concentrates products?
From Facebook / Instagram – AVAILABLE
Decorte is offering these free samples of their Herbal Concentrates through sponsored posts on Facebook and Instagram. This provides an excellent opportunity for skincare enthusiasts to experience the best of Decorte, right from their social media feeds. Here's how you can increase your chances of landing this offer:
Follow Decorté UK on Facebook and Instagram
Engage with Decorte's Content this could be through liking, commenting, or sharing their content. The algorithms of Facebook and Instagram are more likely to show you related content, including the Decorte Herbal Concentrates sample pack offer if they see that you are interested in it
Use the search bar to look up the Decorté Herbal Concentrates and check it on the internet as well
Now, all that's left is to keep an eye out for the sponsored post offering the Decorte Herbal Concentrates samples. Once you spot it, follow the instructions given in the post to claim your free samples. Here is what it looks like for reference.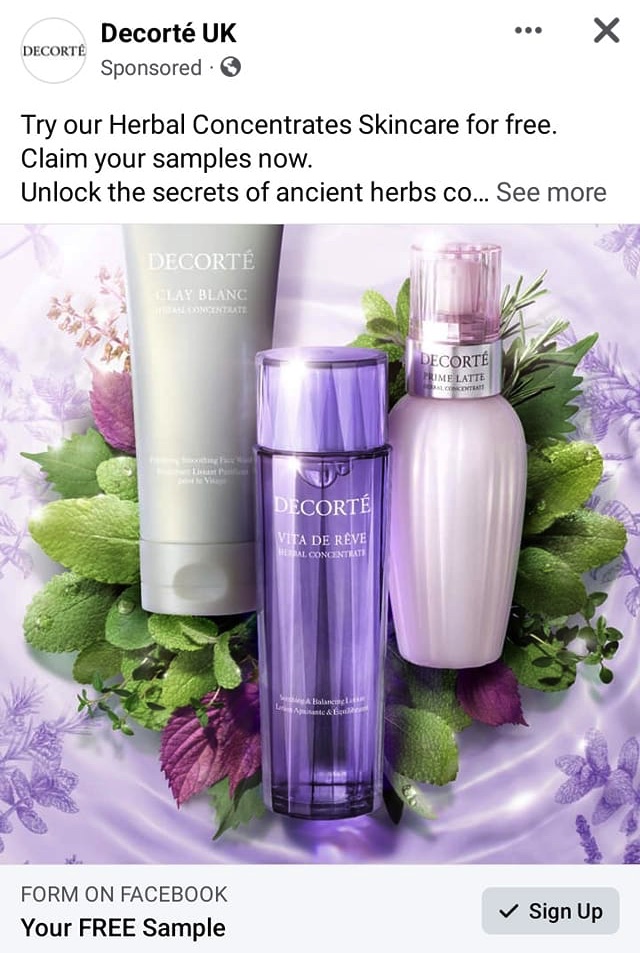 Remember, these opportunities often run on a "while supplies last" basis, so if you spot the post, don't hesitate to take action. And that's it… Decorté will then send the Herbal Concentrates sample pack to your doorstep.
The Decorte Herbal Concentrates sample pack is an amazing opportunity to try out some of the best products from the brand. Those are high-quality skincare that combines the wisdom of traditional herbs with modern science, so don't miss out on this chance to experience Decorte's Herbal Concentrates. Get your free samples today!
Happy sampling!
Be the first to get the latest freebies in your inbox